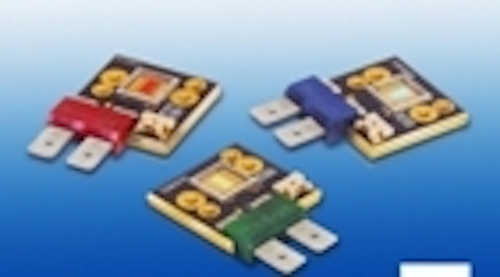 Luminus and TI
Luminus Devices has announced a collaboration with Texas Instruments DLP Products (TI) that brings together Luminus's PhlatLight LED technology and TI's digital light processing (DLP) technology to produce solid-state illumination for mainstream projection applications. The two companies demonstrated the 1080p prototype home theater projection system using their combined technology at InfoComm 2008 last week.
An ongoing collaboration between Luminus and TI has resulted in dramatic brightness improvements for DLP projection systems using PhlatLight LED illumination. These improvements are enabling several leading projection manufacturers to introduce DLP home theater projectors later in 2008. Further developments by TI and Luminus will lead to the introduction of LED-based DLP projectors for corporate and education markets in 2009.
LED-based projectors have been previously developed and commercialized, but until today brightness has limited their use to lower brightness ultra-portable pocket projectors. This announcements marks the first lamp-free projector for mainstream applications that delivers all the color and performance advantages without compromising brightness.
Luminus has been manufacturing its patented PhlatLight LEDs for HDTVs since 2006. The LEDs are unique in that they are larger than conventional LEDs and are designed to operate at significantly higher intensity.
Osram Opto Semiconductors
OSTAR-Projection LED modules and IR Dragon infrared emitters from Osram Opto Semiconductors are the LED light sources behind a new reconfigurable control and display interface designed by Digital Dash Ltd. of Hamilton, Ontario, Canada.
The Digital Dash reconfigurable tactile display (RTD) prototype model is a multi-touch interface that incorporates physical controls with a curved display surface. The display is well-suited for use in automobiles, sound mixing boards, and other control- and image-intensive, user-interface applications.
The RTD is composed of a rear projector/camera unit and a display/control surface. The system projects images such as audio controls, maps or other indicators on the screen, including images that interface with the physical controls (knobs, buttons, faders) on the display surface.
The camera senses the position of the controls or the user's touch on the screen, eliminating wires and electrical components found in conventional instrument panels. The control surface – which can feature plastic construction and curved/irregularly shaped designs – uses 3M Vikuiti beaded rear-projection film to provide a high-contrast, high-resolution image.
The visible projected image in the Digital Dash RTD is powered by Osram's OSTAR-Projection high-performance LED light sources, comprising six RGB LED chips.
Osram's IR Dragon infrared emitter floods the display area with infrared light, allowing the CMOS camera to detect touch contact, knob rotations and button movement at the dashboard or control surface, making it useful for continuous-use audio production and automotive designs.