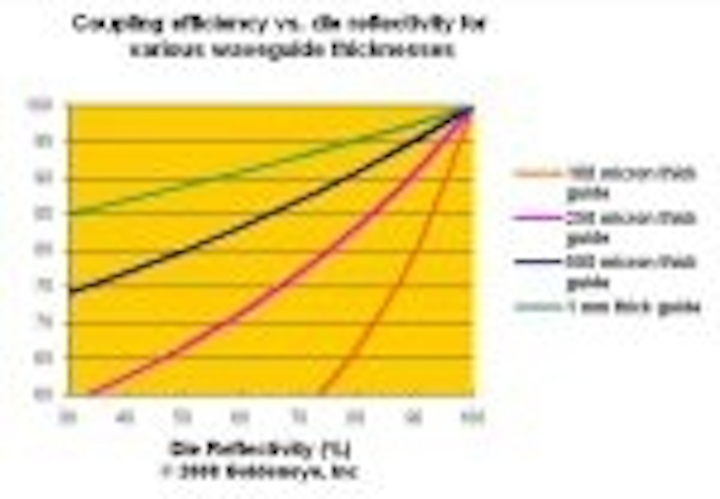 Patent no.
7,293,908
granted by the U.S. Patent Office for "Side Emitting Illumination Systems Incorporating Light Emitting Diodes" describes a new type of LED backlighting unit (BLU) device that will, says Goldeneye, enable brighter, more efficient displays.
Goldeneye's proprietary BLU technology is based on the elimination of losses at the die, package, and waveguide level. Color mixing, polarization recycling, and extraction efficiency in the backlight can all be enhanced using reflective LEDs, low loss packaging, and low loss waveguides. Light recycling structures efficiently redirect light sideways without the need for costly and bulky imaging or non-imaging optics.
The patent more specifically describes the use of reflective LEDs with greater than 40% reflectivity. As shown in the accompanying graph, as the reflectivity of the LED increases the amount of light coupled into a given waveguide thickness also increases dramatically.
With Goldeneye's BLU technology, large power LED devices can be efficiently coupled to waveguides with thicknesses less than 250 microns. Not only does this lead to reduced BLU thickness, it also enables the use of lower loss materials and enhanced extraction methods.
The output from several die can be efficiently combined within the viewing area of the display itself. This technique overcomes the limitations of more conventional edge-lit approaches by distributing the thermal load more evenly across the backlight, eliminating the need for a border, and reducing waveguide losses.
It also enables a low die count compared to large arrays of smaller LEDs as seen in most light-box approaches. This provides for the first practical approach to large-area-display backlights.
"Using this approach, Goldeneye will be able to provide a cost effective solution to the backlighting community," says Scott Zimmerman, Vice President of Technology for Goldeneye. "The whole point of recycling optics is to simplify the optical design."
Goldeneye's technology is also able to eliminate the need for expensive polarization and directional films presently used in most backlighting applications. It also provides for enhanced wavelength conversion and color mixing. Color tuning and segmentation of the backlight for contrast enhancement are also possible.
Goldeneye says that it has has several backlight products in the development pipeline, with prototypes expected to be ready by 3Q08 and commercial introduction by 1Q09.
With a strong and growing IP portfolio, the company expects to be able to manufacture and license technology in virtually all solid-state lighting applications.