Projects: G-LEC, Element Labs and LED Illumination Ltd
G-LEC has installed a giant PhantomFrame display, Element Labs' VersaTILE has been used at te Hard Rock London, and LED have been used to illuminate a hotel ceiling in Hong Kong.
Oct 27th, 2005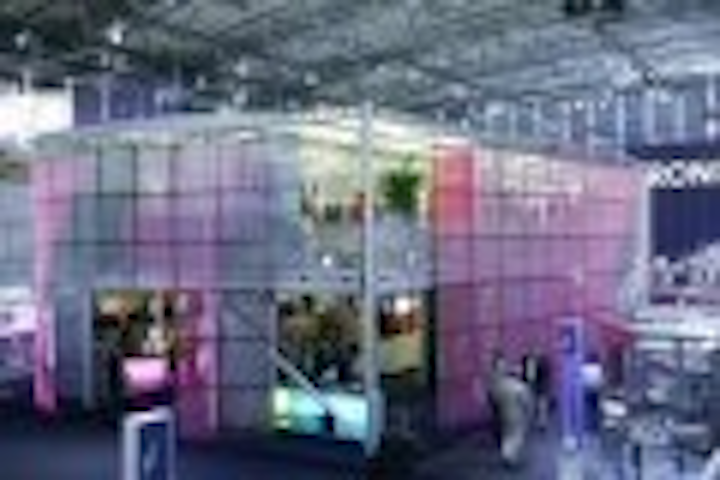 G-LEC's largest PhantomFrame system ever
G-LEC installed its biggest-ever LED PhantomFrame system at the Drinktec exhibition in Munich, Germany in September.
Krones AG, market leaders in the field of PET bottle production and labelling, built a two-storey construction known as the "Think Tower", which was clad with 288 PhantomFrames, each measuring 1 x 1 m.
The almost 300 sq.m of transparent display was fed with a combination of solid colours flowing through to graphics and video footage. The G-LEC frame is made up of linear LED strips inside polycarbonate rods, which are separated by empty space.
The architects felt PhantomFrame offered a wealth of design potential whilst being relatively light weight and flexible. The "Think Tower" would sometimes appear as a luminous cube and on other occasions display dynamic graphics and video. And being 75% transparent, the PhantomFrame tower allowed visitors on the exhibition floor to observe Krones AG staff conducting business within.
Element Labs tiles illuminate Hard Rock bar
Projected Image Digital has supplied the Hard Rock Café London with a bespoke Element Labs VersaTILE® installation for the newly refurbished Basement Bar.
The entire back of the bar area is covered top to bottom in VersaTILEs, complete with three different sized screens (1 plasma and 2 TFTs) embedded into the surface. The 350-pixel design measures 4 metres long by 1 metre high, with each pixel (i.e. VersaTILE) measuring 10 x 10 cm. Each of the tiles is edge-lit with 18 LEDs - 6 red, 6 green and 6 blue.
Each strip of VersaTILEs had to be individually fixed into a very tight space and fitted neatly around the screens and also around 10 mm thick glass shelves protruding from the rear surface.
The resulting "VersaWall" is hugely impressive - waves of color and movement roll up to the screens and around the other side and anyone entering the bar is immediately drawn to the display. The effect of light reflecting and refracting through the bottles lined up on the bar and shelves is also highly attractive.
LED Illumination Ltd lights Hong Kong hotel ball room
LED Illumination Ltd, a Hong Kong-based LED lighting manufacturer, has illuminated the ceiling of the 2500 square foot Ball Room in Hotel Nikko, Hong Kong.
LED Illumination Ltd supplied 64 linear meters of RGB LED strip lighting (FL168-3 RGB) which provide the required color-changing effects.
The fixtures are installed in the cove ceiling and replace the previous neon lighting system.