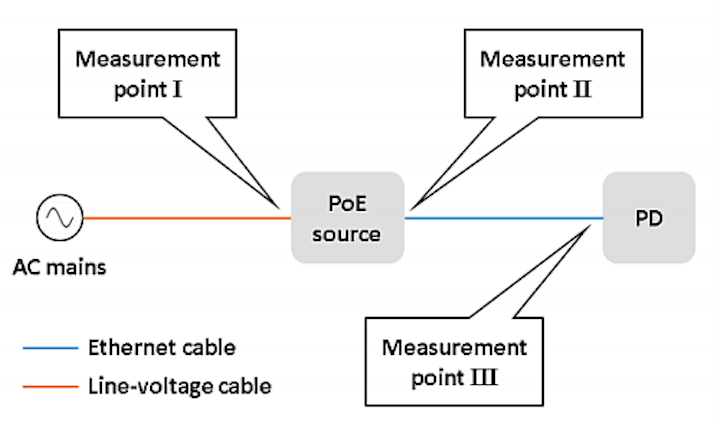 Power over Ethernet technology offers the inherent ability to connect and power smart luminaires, but will the commodity Ethernet cables used to carry the power suffer from losses that spoil the energy efficiency story?
The US Department of Energy (DOE) has released an energy-efficiency research study focused on the use of Power over Ethernet (PoE) technology to both connect and power luminaires in a smart lighting or Internet of Things (IoT) installation. PoE technology appears to be a good fit for many commercial building installations, especially new buildings or buildings undergoing a major retrofit. Still, the low voltages involved and relatively high currents combined with the Ethernet cables that use very-small-gauge wiring could compromise the energy savings that would presumably be afforded by a solid-state lighting (SSL) retrofit.
Interested in articles & announcements on PoE for smart lighting?
The new PoE study is the second published work to come from the new DOE Connected Lighting Test Bed (CLTB) that we first heard about last fall. The first CLTB research published was focused on interoperability among Connected Lighting Systems (CLS) software platforms. So the DOE clearly has broad plans for the CLTB in terms of areas of interest, but all would be tied together through the fact that smart lighting can further improve the baseline SSL savings through autonomous and programmatic controls.
Next week in The LED Show track at Strategies in Light, Igor CEO Dwight Stewart will explain how to select and scale a Power-over-Ethernet (PoE) platform to build the foundation of IoT in commercial spaces. View the full conference schedule and register at strategiesinlight.com.
Back to PoE, the technology concept is popular because of the connected lighting trend in the industry and in part because of the low cost of the cables in terms of the wiring and the ease of installation that does not require an electrician. We first covered these potential benefits more than three years ago when the concept seemed a long shot to gain a footing in lighting. Fast forward, and we have seen major new commercial buildings constructed around PoE-based lighting including a Dubai skyscraper.
So it would be ironic if the cables that are part of the PoE benefits might render the technology unsuitable for connected SSL. The DOE research doesn't suggest such a thing in a general sense, but does make it clear that lighting specifiers will need to carefully select cables and plan wisely to minimize the length of cable runs.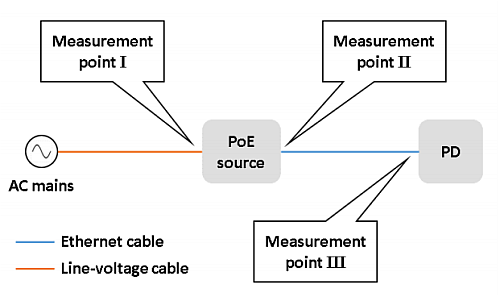 DOE studies power losses over cable runs in PoE-based smart lighting systems
The US Department of Energy's latest study on PoE for connected lighting indicates that cable runs could experience more than 5% power loss over runs longer than 50m.
The DOE tested a variety of cable at different lengths and measured power lost due to the resistance of the wiring. Such cables are generically referred to as Category 5 (Cat5) or Cat6, sometimes with alphabetic suffixes that specify other features such as fire rating or shielding. But the DOE noted that few cable companies published detailed DC resistance specifications.
The American National Standards Institute (ANSI) standards body, however, has published ANSI C137.3-2017 that specifies some characteristics of cables that would generally meet the needs of high-speed Ethernet signals and PoE. For the most part, the ANSI work focused on minimum diameters of individual wires or what is commonly called American Wire Gauge (AWG) in the US.
The DOE measurements reveal that for installations that use ANSI-compliant cable and keep cable runs to a maximum of 50m, losses will be capped at 5%. Lower losses would be better and could be accomplished by shorter runs or larger wires. But 5% has been deemed an acceptable loss.
It's worth noting that AC power distribution also suffers losses, but with higher voltage levels and lower current, the transmission loss is lower than in the DC PoE case. Still, the centralized power conversion in a PoE system can offer better efficiency relative to AC/DC conversion in a driver located in each luminaire. So it's a complex comparison.
The DOE had studied PoE before the formal launch of the CLTB facility. In April 2017, for example, the agency studied what might be gained in operational efficiency through PoE connected lighting.
You can access the full PoE report on the cable issue on the DOE SSL website.