In the lighting industry, management and ownership continues to churn.
Fagerhult Group CEO Johan Hjertonsson appears to have developed a taste for mergers, acquisitions, and investments, as he will soon resign to become CEO of investment firm Investment AB Latour, which owns nearly half of the publicly-traded Swedish LED lighting and luminaire company.
Interested in articles & announcements on the lighting industry?
Hjertonsson will remain in his post until Fagerhult finds a replacement, scheduled for some time this year.
The 4.49 billion Swedish krona ($550 million), 3300-employee international company quietly announced the plans a few months ago, going largely unnoticed. But the search has surfaced now that a sudden rash of management and ownership upheaval has erupted in the lighting industry.
LEDs Magazine has asked Fagerhult for an update on the four-month-old hunt for a new top boss. We will report more when we have it.
By joining Gothenburg-based Latour, Hjertonsson is not wandering far from the Fagerhult orbit. Latour owns 48.3% of Fagerhult. Its current CEO, Jan Svensson, is also chairman of the board of Fagerhult. And the Svensson family is Fagerhult's third-largest owner, with 7% of the Habo, Sweden-based company. A US group called SSB CL Omnibus AC is the second largest with 8.4%, according to Fagerhult's website.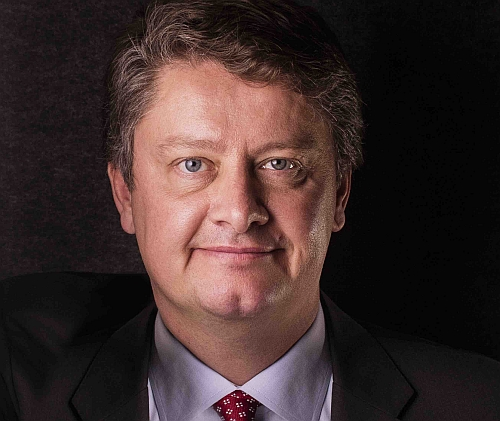 Fagerhult still searching for new CEO during lighting industry transition
Fagerhult CEO Johan Hjertonsson will leave to run the investment firm that owns 48.3% of the international Swedish lighting group. (Photo credit: Bruno Ehrs via Fagerhult/Creative Commons.)
The pressure will build to find a replacement, as Hjertonsson picks up his involvement in Latour.
"It is with great joy and confidence that I have accepted the offer to lead Latour," Hjertonsson said when Latour announced his appointment. "Before I start, my intention is to leave my present commitment in the best possible way, and I will gradually increase my engagement in Latour, for instance by joining some of the boards in Latour's holdings during 2018."
"As the main shareholder, Latour has had the benefit to follow AB Fagerhult's successful development under Johan's leadership," Latour chairman Olle Nordström said at the time. "Johan is a much-appreciated leader with the ability to build successful companies in an international environment."
Hjertonsson has been CEO of Fagerhult since 2009. A year ago he told LEDs' sister publication Lux that the company was more focused on organic growth than acquisitions, but that acquisitions played an important role. The emergence of the Internet of Things (IoT) in the lighting industry could also lead to more acquisitions, he said at the time. By April 2017, Fagerhult had acquired many of the assets of Australian IoT specialist Organic Response. That came soon after Fagerhult completed the acquisition of German international outdoor lighting maker WE-EF.
Other acquisitions that Fagerhult has made under Hjertonsson's watch have included LED Linear GmbH in Germany, Lighting Innovations in South Africa, Arlight in Turkey, I-Valo in Finland, Designplan Lighting Ltd in the UK, and LTS Licht & Leuchten GmbH in Germany.
At Latour, Hjertonsson should get plenty more opportunities to engage in similar deals. The company's investment portfolio has a market value of around 47.4 billion krona ($5.8 billion).
As stated, the executive transition at Fagerhult comes amid a flurry of top-level changes in the lighting industry, including GE's ongoing efforts to unload its conventional lighting operations and its newfangled LED and energy management group called Current. Earlier this month, GE found a buyer for part of its lighting unit operations.
In other recent or ongoing moves: Philips Lighting will soon change its corporate name, and has appointed a new head of its Americas business. And Zumtobel and LEDvance have both replaced their CEOs.
It all comes amid challenging times in which the lighting industry tries to morph into more of a service than a product industry, as it tries to turn the lighting infrastructure into an Internet-connected data gathering machine.
Fagerhult is due to report year-end 2017 results next week. For the nine months ended Sept. 30, profits increased 25% to 505.5 million krona ($61.8 million) over the same nine months of 2016. Sales of 3.9 billion krona ($470 million) registered an "overall" gain of 16.1%, "adjusted to 3.0 % for acquisitions and currency effects," the company reported.
MARK HALPERis a contributing editor for LEDs Magazine, and an energy, technology, and business journalist (markhalper@aol.com).