Sure, the lighting industry is pursuing IT mates for IoT purposes, but this partnership with VKW serves as a reminder that LED lighting continues to also be about energy savings. And illumination, too.
While the lighting industry is indeed busy seeking partnerships with information technology firms to help chase the Internet of Things (IoT), Zumtobel Group has served a reminder that another industry — energy — can also provide synergies worthy of alliances, as it has ratcheted up its lighting-as-a-service collaboration with an Austrian energy utility.
Interested in articles & announcements on lighting as a service?
Dornbirn, Austria-based Zumtobel said that its Zumtobel Group Services (ZGS) unit and utility Vorarlberger Kraftwerke AG (VKW) have now "signed an open-ended agreement for the joint provision of light contracting services."
As LEDs Magazine reported earlier this year Vorarlberger was the lead contractor working with subcontractor Zumtobel on a 6-year lighting-as-a-service (LaaS) project at the Aluminium GmbH Nachrodt (AGN) factory in Dortmund, Germany.
In that deal, lighting company Zumtobel replaced existing metal-halide lights with 400 new LED models across eight product halls covering around 81,000 ft2. AGN is not purchasing the lights but is paying a monthly service fee in an arrangement that doubles the lighting levels to between 200 and 400 lx, and which is expected to save 40% on energy bills. Vorarlberger is responsible for the lighting operations, while Zumtobel oversees yearly maintenance of the lighting, including annual inspections and replacement of any faulty luminaires.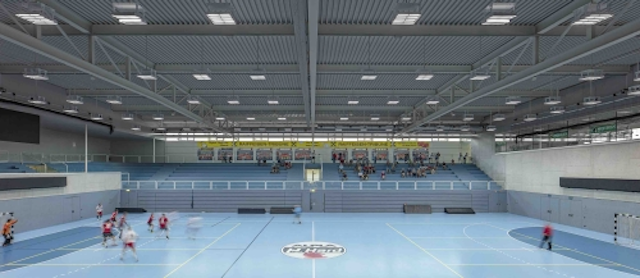 Zumtobel and Austrian energy utility gear up their lighting-as-a-service alliance
Early customers of Zumtobel's lighting-as-a-service partnership with VKW include the Harder Sport complex on Lake Constance in Hard, Austria.
That scheme is representative of how the two vendors will work together on other LaaS jobs under the new formal agreement between them.
"We see strong demand for light contracting among our customers," said VKW's head of building technology and energy services Helmut Burtscher. "The approach of 'leasing light' is in tune with current trends. Our new offering makes it easy for customers to save energy."
Zumtobel echoed that remark.
"Our full-service offering allows firms to replace their existing lighting systems and save on operating expenses without having to make costly investments of their own," said ZGS vice president of turnkey and finance services Herwig Burtscher. "It's about lighting that pays for itself." (It was not immediately clear whether Zumtobel's Herwig and VKW's Helmut Burtscher are related).
The two companies said that in a typical deal, savings from reduced power consumption and maintenance exceed the monthly light contracting charge. Zumtobel and VKW have implemented seven projects in total so far and are now planning more together. Another early customer has included the Harder Sport athletic complex in Hard, Austria on Lake Constance.
Zumtobel's partnership with the energy utility comes amid a rash of alliances and investments by the lighting industry in IT and networking companies. For example, Osram this month took a minority stake in a software company that develops algorithms to determine how well crops will do, and has invested in other IT firms such as beaconsmind AG, which makes software to engage in-store shoppers and analyze their spending. Osram is also working with Nokia on 5G mobile technology. The former Philips Lighting (now known as Signify) has partnered with telecommunications tower company American Tower, and is one of many lighting firms that work with networking giant Cisco on Power-over-Ethernet lighting.
The IT partnerships are all generally aimed at connecting lighting to the Internet in IoT schemes in which lighting serves to collect and analyze data, and in which lighting becomes far more controllable in many aspects including brightness, on/off, color, and color temperature.
MARK HALPER is a contributing editor for LEDs Magazine, and an energy, technology, and business journalist (markhalper@aol.com).