The commercial IoT lighting specialist teams with its close friend Aurora to release residential products in the UK and Australia, using ZigBee controls rather than Bluetooth.
IoT lighting specialist Gooee, known for making chipsets and sensors that tie luminaires on commercial premises into cloud analytics, has stepped up its foray into the home, teaming with Aurora Lighting to release residential systems in the UK and Australia.
St. Petersburg, FL-based Gooee said the Aurora AOne lighting system is now available in both countries, following a soft launch at last November's LuxLive 2017, where Gooee focused primarily on commercial installations such as at the offices of real estate giant CBRE.
AOne includes bulbs and app-based controls that let users dial up light settings including brightness levels, color, and color temperature. It works onsite as well as remotely, so users can change the look of their homes if they're away, or can turn the lights on before they arrive home, among other uses.
Aurora is also positioning the AOne for use in offices.
The AOne technology relies on ZigBee wireless controls rather than on Bluetooth, a technology that Gooee has championed and continues to deploy in other products for a wide range of partners including Aurora, Feilo Sylvania, and more.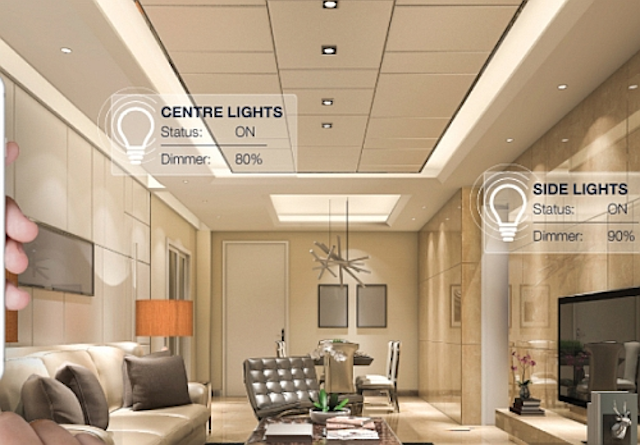 Commercial IoT lighting specialist Gooee teams with its close friend Aurora to release residential products in the UK and Australia, using ZigBee controls rather than Bluetooth.
Aurora's Gooee-based AOne home IoT lighting system relies on ZigBee wireless controls rather than Bluetooth. (Photo credit: Aurora Lighting.)
AOne differs from Aurora's Gooee-based AXiO line of smart products. AXiO consists of luminaires rather than bulbs, and Aurora equips them with a variety of sensors that can perform a wider range of functions than AOne. For example, AXiO can collect occupancy data that facility managers can analyze to make decisions on how to optimize space. It can also house indoor positioning chips that help offices and retail premises track assets and provide navigation services and more to customers.
Aurora is providing an AOne starter kit that includes six of its MPRO downlights, a small Gooee ZigBee hub that connects to a home broadband router, a wall-mounted wireless remote control, and an Aurora ZigBee dimmer control module. It is also marketing a retrofit kit that does not include the lights. Users can purchase Aurora's LED lights separately including the MPRO as well as the E8, CurveE, Spryte, and ICE.
The AOne is not Aurora's first move into home smart lighting. Before Gooee technology was available, its products in the residential market included smart bulbs it provided to British energy utility British Gas, as part of the utility's Hive smart home initiative.
Gooee works with scores of partners to connect lighting to the Internet, even recently adding lighting designers Klaasen to the mix. In November, it named two of its existing partners, luminaire makers Aurora and Feilo Sylvania, as the first two top-level "platinum" companies in a newly-tiered partnership structure.
Aurora CEO and co-founder Andrew Johnson is co-founder and chairman of Gooee, and served as its CEO until last year, when Aurora's former managing director of IoT Neil Salt took over as Gooee managing director.
MARK HALPER is a contributing editor for LEDs Magazine, and an energy, technology, and business journalist (markhalper@aol.com).