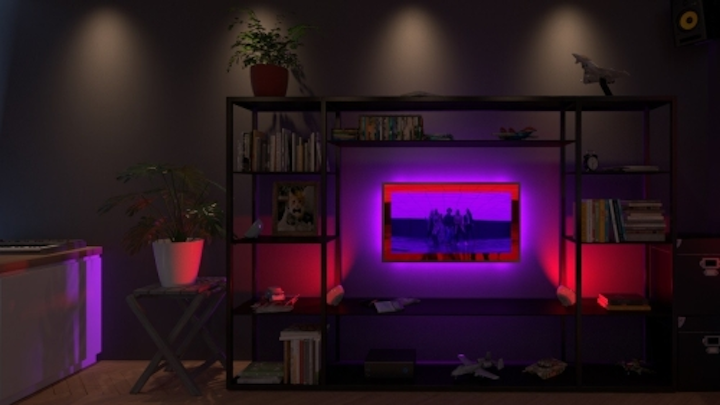 Living room lighting that responds to video and audio could be bigger than surround sound, the company says. Is this a novelty, a must-have, or something in between?
Delivering right on schedule, Signify — the lighting giant formerly known as Philips — has released software that synchronizes home users' Hue LED lamps so they change color and brightness in response to the action and sound of videos, television shows, music, and PC games.
Interested in articles & announcements on networked LED lighting applications?
The company had said in early January that it would spring the "Hue Sync" software in the second quarter, which it has now done worldwide, demonstrating it online in a music video that shows living room lights changing colors to the tune "Immortals" by Disney singing group DCappella.
Hue Sync works with any audio, video, or gaming content. It requires either a Windows 10 or later computer, or either of the last two releases of the macOS starting with Sierra (macOS 10.12), which came out in September 2016.
Unlike other Hue apps, it does not run on a smartphone, although Signify is expected to eventually introduce that capability, and might also support syncing directly from an Internet-connected TV, such as a smart TV or one that uses Amazon's Firestick dongle.
To use the current, first version of Hue Sync with a television (as opposed to with a computer), users must connect a Windows or Apple computer to the TV screen via an HDMI cable, or wirelessly via either AirPlay to an Apple TV, Google's Chromecast, or Miracast, which is a generic Wi-Fi technology. Windows can be configured to support Sync on Firestick, but Firestick does not support Sync natively.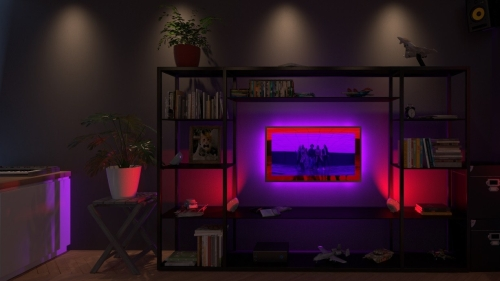 To help promote the new Hue Sync software, Signify set it to DCappella's music video of "Immortals," a song that featured in the Disney film Big Hero 6. Disney pushed out the demo to its extensive social media network. (Photo credit: Signify.)
Signify hopes that the technology emerges as nothing less than a staple of home multimedia entertainment, up there with features such as surround sound. Signify markets Hue Sync as "surround sound for your eyes."
But it remains to be seen whether the technology turns out to be niche, wildly popular, or somewhere in between. LEDs Magazine had a chance to ask Hue head of technology George Yianni, whose answer came as no surprise.
"We think it has the potential to be wildly popular," said Yianni.
"People don't [currently] consider lighting as a way to build out their home cinema, so that's a job that we have to do, to show that lighting can play a role in home entertainment," he added, noting that test users "considered it more immersive than surround sound."
Hue Sync uses algorithms that detect the dynamics of video, music, and games, and then adjust room lighting accordingly. Yianni noted that the algorithms don't just replicate screen colors. Rather, they gather information from audio and video action to make the viewer feel immersed in the action; for example, the room lighting might change behind the viewer if, say, an on-screen explosion happens behind a character.
"We're trying to bring 3D information out of the screen and into the room, so that you're immersed in the action rather than looking at it," Yianni said.
The algorithms work with any content. Looking ahead, Signify is in exploratory talks with different media companies including Disney to take things to a next level, in which content creators script home lighting into story developments. For example, scripted content could make the living room lights flash at the very moment of an on-screen gunshot.
"You can go pretty far with algorithms," said Yianni. "Over time, we may add richer experience of special bits of content and build up that catalog."
In fact, Signify already has one "scripted content" partner — the PC gaming company Razer. In recent years, it has also piloted scripted content for the Syfy channel, including in two seasons of Syfy's 12 Monkeys show, one season of The Expanse, and in three Sharknado made-for-television films.
Signify is also dabbling in immersive lighting in cinemas. In early 2017, it licensed its LightVibes technology — similar to Hue Sync but for movie theaters — to French cinema chain CGR.
"We're convinced that light can be a natural ingredient in any of these entertainment experiences," said Yianni. "It really adds a lot more immersion."
The full name of the home software is Philips Hue Sync, as Signify kept the Philips brand name for products while changing its corporate moniker.
Meanwhile, Philips recently released an updated version of its general Hue app for smartphones, making it easier for users to control lights and set lighting scenes.
MARK HALPERis a contributing editor for LEDs Magazine, and an energy, technology, and business journalist (markhalper@aol.com).