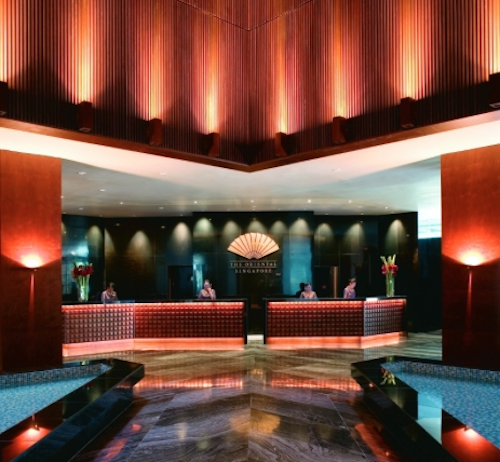 The connected lighting specialist strikes an alliance with Singapore's Klaasen, known for architectural projects in retail, hospitality, and commercial.
Gooee, a specialist in Internet of Things (IoT) lighting, has long insisted that Internet-connected lighting is something that should concern not just luminaire makers but the entire value chain of the lighting industry. It backed up that assertion today, striking a partnership with Singapore-based Klaasen Lighting Design.
Interested in articles & announcements on IoT lighting?
While both Gooee and Klaasen (KLD) revealed few details of how the partnership works or exactly how KLD will deploy smart schemes, the alliance served as a reminder that designers — normally associated with the look, feel, and effectiveness of lighting — are giving serious thought on how to integrate the principles of IoT lighting into their blueprints.
Gooee promotes what it calls "lighting as a host," providing chipsets that include communications chips and sensors which, when embedded in luminaires, help gather and act on data that they collect about what's happening in an office room, a lounge, a shop to name a few examples. It also provides Internet connections to cloud data analytics. An office facilities manager might thus gain insight into how to reassign space; a retailer might learn better how to arrange a shop or offer discounts. Smart lighting might also provide cues on when to change lighting levels and color temperatures to suit different activities.
"In a rapidly changing industry, a luminaire that is acting as a host will have many additional functions beyond illuminating a space," said KLD CEO and founder Martin Klaasen. "This requires a whole new design approach for specifiers and lighting designers. We value the flexibility the Gooee IoT platform offers us and our clients; it is the ultimate lighting ecosystem, allowing the designers to provide independent professional lighting solutions."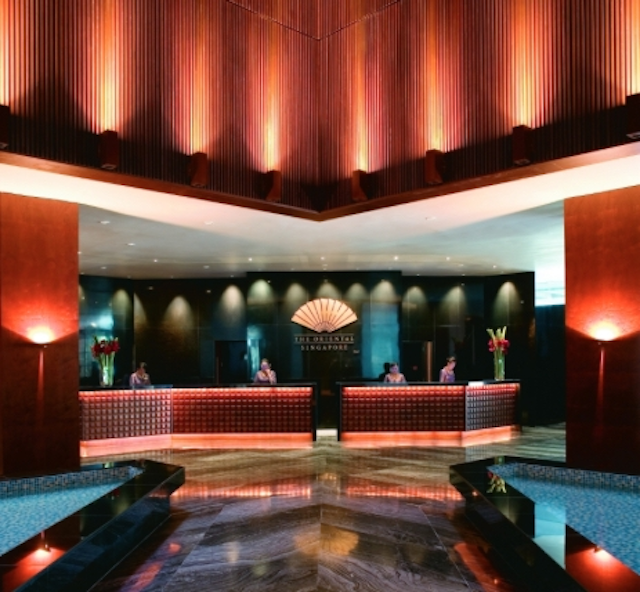 Latest Gooee partnership shows the IoT is for designers, too
Klaasen's many projects in the Asia-Pacific region include Singapore's Mandarin Oriental Hotel. (Photo credit: KLD website.)
KLD has many showcase installations in the Asia-Pacific region, including the Lippo Plaza shopping area in Shanghai; the Paradise Hotel & Casino in Busan, South Korea; the Paragon Shopping Mall and the Mandarin Oriental Hotel in Singapore; the Pullman Hotel in Jakarta; several Alila luxury hotels in China and Oman; and many others.
"KLD is taking a leading position in creating a new lighting-design approach that considers and plans its designs around the device integration into Gooee's data platform," said Jan Kemeling, Gooee chief commercial officer. "While the illumination of the space remains, key occupiers of the space might now also need sensors or beacons or other connected technologies, which might have an influence on the layout and location of these multi-purpose devices. Illuminating these spaces will be just one function of the device. The role of the lighting designer will therefore be redefined to include the data platform options while making sure that the integrity, quality, and standard compliance of the lighting design is upheld."
The design company is the latest in a growing list of Gooee partners, which most recently saw the addition of Dutch luminaire maker Koopman Interlight, one of three luminaire makers in Gooee's top "platinum" level of partnerships.
At the LuxLive 2017 conference and exhibition last November in London, Gooee managing director Neil Salt noted that companies across the lighting industry value chain, including designers, are tapping into smart lighting.
"The IoT is not something you can construct on your own," Salt said at the time. "It requires putting together multiple people to make something like this happen. From deployment to adoption, you need a whole mixture of people. And that's really what the idea is of this arena here today. You have installers, designers, engineers, communications companies, server companies. You see a lot of different people here you wouldn't typically see at a lighting show. I believe that demonstrates how a change is happening in how lighting is being perceived within the built environment. And it really is an infrastructure element, rather than something that just provides illumination."
For more on LuxLive 2017 click here, and watch for LEDs Magazine's feature in the February issue.
MARK HALPER is a contributing editor for LEDs Magazine, and an energy, technology, and business journalist (markhalper@aol.com).