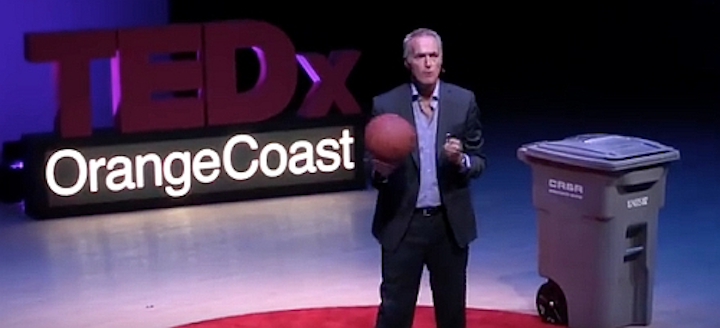 The lighting industry's push into "smart" is in overdrive. What's next for Philips now that GE's Current is on the block?
With the lighting industry's future ever more dependent on connecting smart luminaires, bulbs, and street poles to the Internet, Philips Lighting is replacing the head of its Americas division with an Internet industry veteran who has a long background at networking stalwart Cisco Systems.
Interested in articles & announcements on IoT and lighting?
The company named Chris White to take over the Americas from Amy Huntington, who has been CEO of the division which includes North America and Latin America. US boss Roger Karner will report to White.
It is not clear when the change takes place, and whether White's title will be CEO. Philips is scheduled to announce fourth-quarter and year-end financial results on Feb. 2, and is expected to provide more details then. The move could be a precursor to other smart lighting maneuvers by Philips, and comes as rival GE puts its smart lighting and energy unit Current, powered by GE on the block.
For now, a Philips Lighting spokesperson simply confirmed for LEDs Magazine that the changes are indeed taking place. They were first reported earlier this week by the website EdisonReport in a story that awaited Philips confirmation.
Across the globe, the lighting industry is turning increasingly to the sale of smart, Internet-connected lighting services now that the century-old business model of selling bulbs has become antiquated in an era of long-lasting LED lamps. Lighting companies are trying to position the lighting infrastructure as the backbone of connected cities and offices, and want to equip their gear with communications chips and sensors that help gather and disseminate valuable data, in an Internet of Things (IoT) scenario.
In tapping White, Philips is getting an individual whose resume is loaded with relevant Internet experience.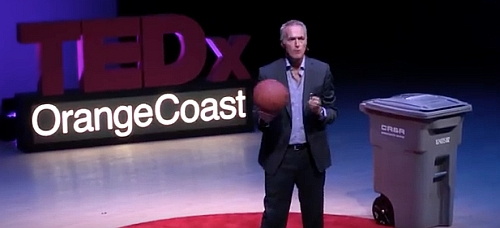 Philips taps ex-Cisco IoT exec as Americas boss
Back in a 2014 TED talk, Cisco's Chris White talked to the audience about the virtues of connecting basketballs and trash cans to the Internet. As a Philips boss, he'll hope lighting is a slam dunk. (Photo credit: TED via YouTube.)
White's LinkedIn page shows that he was senior vice president, IoT sales, strategy and "GTM" based in southern California from 2013 through November 2016, when he left to be become an independent advisor — it was around the same time that a number of IoT-related executives left Cisco, which was itself pushing heavily into the IoT. His departure at the time capped 20 years at Cisco, where he also ran a sports and entertainment group while heading his IoT unit, where he was global vice president of emerging technologies and home networking from 2008 to 2013, and where he served as vice president and chief operating officer of globalization from 2006 to 2008.
Philips has been working with Cisco as a key partner in Cisco's Digital Buildings program, which aims to route data and electricity over Ethernet cable — the hardwiring of office networks — to LED luminaires. The companies' showcase accounts include Madrid's Torre Europa, among others.
LEDsMagazine has wondered in the past whether an IT company such as Cisco might be interested in acquiring Philips. Cisco boss Chuck Robbins told LEDs in the summer of 2016 that Cisco would not go the acquisition route with lighting companies, but would carry on with a strong partnering push.
The lighting industry has been stepping up its smart lighting push, and vendors are continuing to broaden their information technology alliances and wherewithal. Lighting vendor Feilo Sylvania, for instance, positions itself as much as a systems integrator as it does a lighting company.
As LEDs wrote last week, Feilo could be interested in acquiring GE's Current division, which GE has put on the block. Lighting rival Osram is also expected to soon acquire a consulting technology company, and it could be interested in Current.
If Philips were also interested in Current, which has high profile accounts like Walmart in the US, having an ex-Cisco IoT specialist on board in the executive suite would make a good fit.
It could also help boost lagging performance in the Americas. In its third quarter ended Sept. 30, Philips stated that "Europe delivered robust growth, while the Americas continued to experience softer market conditions."
It's not yet known if Philips began to turn around North America in the quarter that ended Dec. 31. That should become clearer on Feb. 2.
In the third quarter, sales in the Americas fell by 5.6% from €560 million in Q3 2016 to €514 million ("comparable" sales dropped 3.2%). By comparison, European sales jumped 5% (5.6% on a comparable basis), from €530 million to €557 million. Total sales fell 3.5% (1.3% comparable) from €1.745 billion to €1.684 billion.
MARK HALPERis a contributing editor for LEDs Magazine, and an energy, technology, and business journalist (markhalper@aol.com).