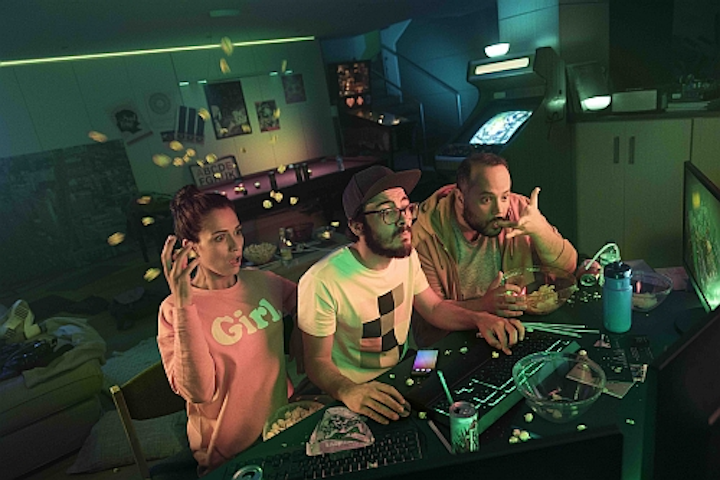 In a hook-up with Razer, it's offering "surround sound for your eyes," an immersive Hue system in which colors and brightness dynamically change with the game's action.
In what Philips Lighting is calling "surround sound for your eyes," the Dutch giant has teamed with PC gaming company Razer so that home illumination will change colors and intensity in response to the action of video games.
Interested in articles & announcements on smart lighting applications like immersive lighting?
Razer has integrated prompts for Philips Hue smart bulbs into its Razer Chroma software, which already triggers multicolored LED light effects across Razer gear including keyboards, mice, mousepads, server consoles, and screens.
The two companies, including a group that Philips calls Philips Hue Entertainment, jointly announced the hook-up at CES, the sprawling consumer electronics show running this week in Las Vegas.
Philips has dabbled in similar offerings for television shows, such as 12 Monkeys in partnership with US cable network Syfy, as reported on the Lux website. The gaming world might be one ripe for such immersion.
"We're excited about this first integration to bring Philips Hue Entertainment to life for consumers," said Chris Worp, leader of the home business group at Philips Lighting. "We have seen high demand from gamers for a richer game-play experience. Our smart lighting can deliver just that. Philips Hue takes the content beyond the screen and extends it into the living room. For gamers, this 'surround sound for your eyes' is incredibly powerful when synced with the Razer Chroma-enabled devices."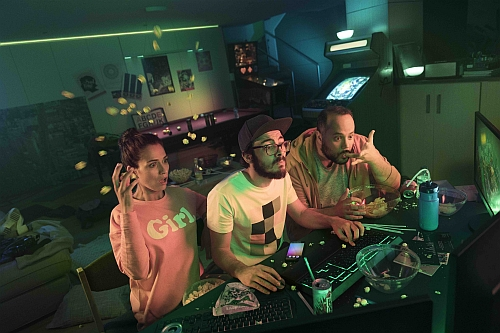 Philips teams with PC gaming giant on interactive lighting
Popcorn! Potato chips! Cellphones! Internet! Soft drinks in cans! And now, immersive and interactive lighting! What more could a gamer ask for? (Photo credit: Philips Lighting.)
Razer, based in Singapore and San Francisco, is putting application programming interfaces (APIs) into its development kits, so developers can create games that tap into the Hue capability, making lights change dynamically during the course of a game.
"This takes gaming immersion to a whole new level that has never been seen before," said Razer co-founder and CEO Min-Liang Tan. Razer, based in Singapore and San Francisco, specializes in gaming hardware and accessories. In 2015, Fortune valued it at over $1 billion, earning it a spot on the magazine's Unicorn List of private companies valued over the billion-dollar threshold. Razer went public two months ago through the Hong Kong Stock Exchange.
End users will need extra hardware, as the two companies said the lighting feature requires a "Philips Hue V2 bridge." It also requires the latest update to the Hue app. Another extra step is involved, as Razer Chroma users will have to add Hue functionality via Razer Synapse 3 software. But gamers are the sort for whom such fiddling is almost part of the fun.
For both Philips and Razer, the new light immersion marks the latest in both companies' efforts to tie products into the Internet of Things (IoT). It is yet another example of how the lighting industry is increasingly turning to the information technology world to move beyond simple illumination and to offer products and services that take advantage of LEDs' digital and programmable capabilities. The transformation is causing lighting companies to both collaborate with and compete against the IT industry.
Philips and Razer did not immediately reveal pricing for the interactive lighting system.
MARK HALPER is a contributing editor for LEDs Magazine, and an energy, technology, and business journalist (markhalper@aol.com).