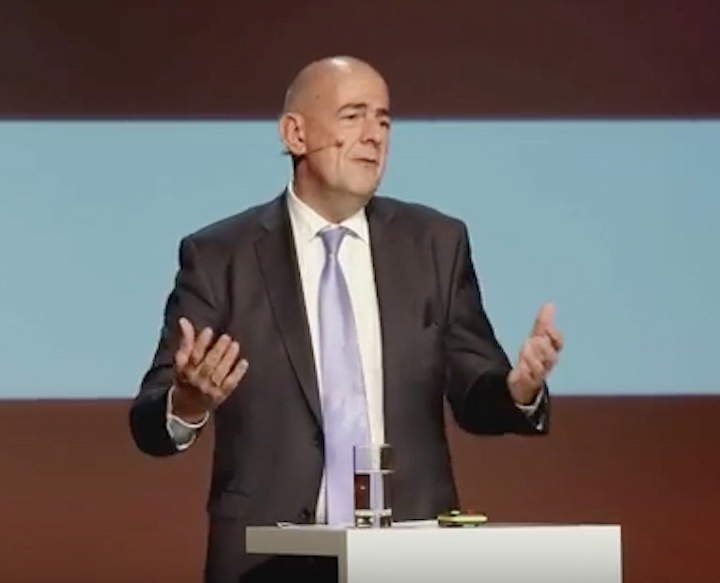 No one said the era of IoT lighting would be easy. The Austrian vendor provides the latest example, as a sudden rash of management upheaval hits the industry.
Nobody expected the transition to the smart lighting era to be easy. Zumtobel Group is the latest to prove that, as it slashed its fiscal year 2018 earnings forecast by as much as 70% barely a week after its CEO offered to resign in one of several sudden instances of industry-wide management turmoil.
Interested in articles & announcements on IoT lighting?
"The general development of the professional lighting industry has...remained below our expectations throughout the third quarter," the venerable Dornbirn, Austria vendor said in a statement posted on its website. It said it would provide more information for the quarter, which ends Jan. 31, on March 6.
For the fiscal year ending April 30, it warned that earnings before interest and taxes (EBIT) will fall way short of previous expectations, cutting its low end forecast by 70% and its high end by nearly 60%.
"The management board now expects adjusted EBIT of €15 to €25 million based on a decline in revenues of approximately 8% for the 2017/18 financial year," the company said. "The previous forecast called for adjusted EBIT of €50 to €60 million and a decrease in revenues of roughly 5%."
The tumble marks a reversal from last year, when fiscal year 2017 adjusted EBIT rose 23.4% to €72.3 million, and net profit more than doubled from €11.9 million to €25.2 million. In a possible harbinger of this year's difficulties, Zumtobel achieved those 2017 earnings increases despite a 3.9% revenue decline between 2016 and 2017, to €1.3 billion.
At the time of last year's revenue dip, Zumtobel cited the decline in value of the British pound as a reason. The pound had suffered freefall following British voters' June 2016 Brexit decision to exit the European Union.
While Zumtobel did not mention currency or Brexit in this week's warning, it did cite the UK market for general softness.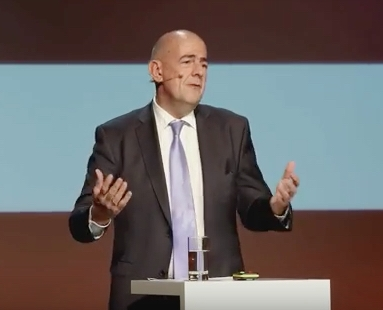 Zumtobel Lighting slashes profits forecast after CEO offers to quit
Zumtobel CEO Ulrich Schumacher, who has a deep background in semiconductors, has spoken often about the importance of intelligent, connected lighting. (Photo credit: Zumtobel Lighting via YouTube.)
"Business has been negatively affected, above all, by a sharp drop in revenues in Great Britain, the most important single market for the Zumtobel Group AG, as well as aggressive price competition in both the lighting and components business and revenues that has not yet been realized due to internal operating challenges," Zumtobel said.
The company did not elaborate on the "internal operating challenges."
Zumtobel, whose luminaire and components brands include Zumtobel, Thorn, and Tridonic among others, has like the rest of the lighting industry been struggling to find business models that suit the new era of Internet-connected digital lighting. Deprived of its century-old "replacement bulb" strategy by LEDs that last purportedly for 20 years or more, the industry is morphing into an information technology business that is trying to use lights and the lighting infrastructure to help gather, analyze, and disseminate data, and to use intelligent controls to better operate lighting.
The quest for the right formula has recently led to major management changes at top lighting companies. Philips is replacing the head of its Americas unit with a Cisco veteran who some expect to help sharpen the company's acumen for the Internet of Things (IoT) and information networks. And LEDvance, the former Osram bulbs division, this week replaced CEO Jes Munk Hansen with Samsung and LED industry veteran Jacob Tarn.
Zumtobel itself could be in for a top-level change as CEO Ulrich Schumacher last week offered to resign. Chief financial officer had also offered to resign. Both are still in their jobs.
"The supervisory board of Zumtobel Group AG announces that it has received a letter from Ulrich Schumacher in which he states his preparedness to begin discussions over the mutual termination of his management board contract if this is desired by the supervisory board," the company stated on Jan. 15. "A similar offer from CFO Karin Sonnenmoser was rejected by the supervisory board. The supervisory board expressed its full support in Ms. Sonnenmoser and asked her to continue her work for the company."
Schumacher has a rich technology background, having been CEO of chipmaker Infineon from 2000 to 2004 and before that he ran Siemens' semiconductor group, which was Infineon's predecessor. He has been CEO of 68-year-old Zumtobel since Oct. 2013. Soon after taking the helm he articulated a strategy of "developing increasingly...into a software supplier, a kind of Google of the lighting industry," as LEDs sister publication Lux wrote at the time.
If not clear if that strategy has agreed with the Zumtobel board.
Under Schumacher, Zumtobel has pumped up its services offerings with the formation of the Zumtobel Services Group. ZGS has announced a number of lighting-as-a-service (LaaS) contracts such as with Austrian plastics factory Faigle Kunststoffe GmbH. Its LaaS jobs so far have been more focused on light levels and energy savings rather than on data-gathering implementation.
In one colorful recent win, ZGS sold color-temperature tunable LED lighting hardware and a maintenance contract — but not a service operation — to Oslo Airport. In a high-profile design victory, the company also outfitted the architecturally-acclaimed Elbphilharmonie concert hall in Hamburg. It is dabbling in three different smart lighting experiments at the new headquarters building of Land Securities in London.
Zumtobel's Tridonic components group last year entered the US market as a key leg in its smart lighting push.
In other IoT-related industry flux, GE is believed to be trying to unload its Current, powered by GE lighting and energy services group. The sale has led to speculation that vendors such Feilo Sylvania and Osram could be interested in buying. It's also not farfetched to consider Philips a candidate to buy.
MARK HALPER is a contributing editor for LEDs Magazine, and an energy, technology, and business journalist (markhalper@aol.com).
*Updated Feb. 1, 2018 9:43am for name correction.