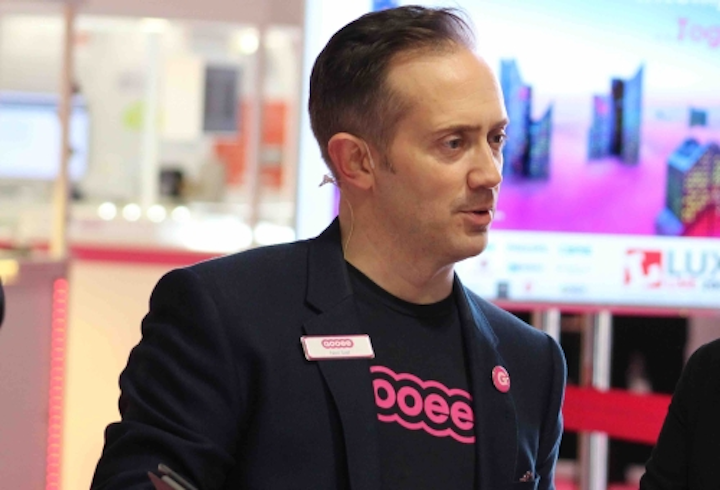 The Dutch luminaire maker joins Aurora and Feilo Sylvania as the third member of Gooee's "platinum" program, aimed at jointly developing Internet-connected lighting and services
Gooee has added a third luminaire maker to its top tier of partners, naming Holland's Koopman Interlight as the latest company in the "platinum innovation" program that provides early access to Gooee's Internet of Things (IoT) software and hardware.
Interested in articles & announcements on IoT lighting?
Interlight joins Aurora Lighting and Feilo Sylvania in the platinum group, which Gooee launched two months ago at the LuxLive 2017 exhibition and conference in London.
Gooee makes chipsets that connect luminaires to the Internet and that include sensors to detect room activity. It also provides cloud software connections and data analytics that help users make sense of data collected by the luminaires. For example, retailers can get a good idea of what's driving foot traffic in their shops by analyzing motion maps generated by sensors. And facilities managers can figure out how to better use spaces such as offices and conferences rooms — real estate giant CBRE is experimenting with the technology for that purpose at its Amsterdam office.
Gooee markets its technology as "the data brain of buildings," and positions its business model as lighting as a service (LaaS).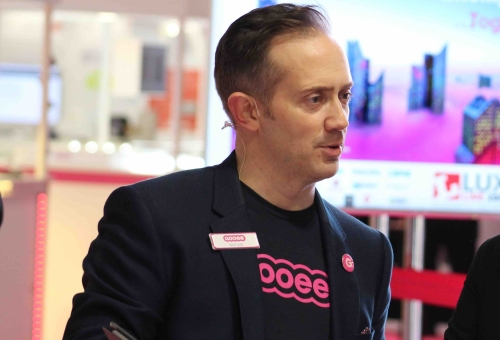 Gooee adds Koopman Interlight to top partnership tier for IoT lighting
Gooee managing director Neil Salt explains that the platinum program is all about innovating together. (Photo credit: Mark Halper.)
Platinum partners participate in the Gooee innovation process. As LEDs Magazine reported last summer, Koopman Interlight had provided luminaires to Gooee's test center in St. Petersburg, FL to help trial Bluetooth Mesh, a technology that is expected to catalyze the uptake of smart, IoT lighting in offices.
"We are confident that Gooee and Interlight will successfully launch our Gooee-enabled products in the Dutch building market during the second part of 2018," said Casper Vulling, owner and CEO of Interlight. "As a medium-sized company, this program enables us to take on much larger competing brands and offer the most flexible and agnostic full-stack IoT proposition to our customers, guaranteeing them maximum flexibility."
The growing importance of information and Internet technology to lighting vendors has set up a "frenemy" dynamic in which IT companies are intermittently competitors and partners to the lighting industry.
"The platinum innovation program was launched to accelerate the integration of customer products with the Gooee IoT platform and enables members to work together with Gooee — as partners — rather than as suppliers and customers," said Gooee managing director Neil Salt.
Koopman Interlight is the second former constituent of the old Organic Response community to join Gooee's platinum program. Feilo Sylvania had also previously tapped Organic. Organic Response was an Australian company that made IoT technology until it entered financial administration early last year. Swedish luminaire vendor Fagerhult purchased many of its assets and rebranded the technology as OR, for use in Fagerhult products. It has been unclear whether Fagerhult will also make OR available to rival luminaire makers.
Both Interlight and Feilo are believed to have been working with Gooee before the Organic Response collapse, but both have now elevated the Gooee relationship to platinum status, for which they pay Gooee an undisclosed sum. All platinum partners gain access to Gooee's test center.
The platinum partners are the upper echelon of a wide range of Gooee partnerships that includes somewhere between 50 and 100 companies.
MARK HALPER is a contributing editor for LEDs Magazine, and an energy, technology, and business journalist (markhalper@aol.com).