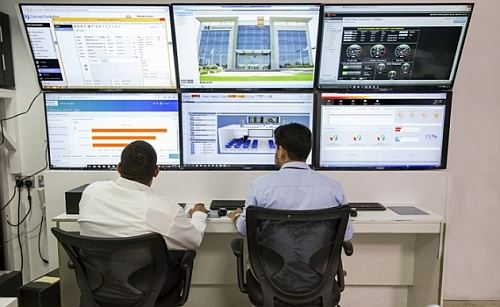 The IoT lighting at HBMSU enables faculty staff to control and personalize light settings using a smartphone app, while students can be guided to rooms using lighting-based indoor positioning technology.
The world's smartest university has become a showcase for IoT lighting – and there isn't a light switch in sight.
Interested in articles & announcements on IoT lighting and indoor positioning?
Students attending Dubai's Hamdan Bin Mohammed Smart University (HBMSU) need never flick a light switch or search for a tutorial or classroom again.
The facility has been equipped with state-of the-art lighting controlled by a cloud-based technology, both provided by Philips Lighting. The system enables faculty and staff to control and personalize light settings using a smartphone app, while students can be guided to rooms using lighting-based indoor positioning technology.
HBMSU students receive a combination of web-based and classroom learning that places it at the forefront of modern university education.
Instead of using light switches, HBMSU's lighting is controlled in a variety of ways: by occupancy sensors in luminaires that detect people's presence, switching lighting on and off; by automatic adjustment of light levels according to the availability of natural daylight; by a smartphone or tablet app; or from a central console.
Some industry insiders have been predicting the demise of the traditional light switch with the advent of software-enabled IoT lighting controls - although just prior to the recent Light+Building exhibition, Philips had also announced that new partners will be delivering wall controls compatible with its well-known Hue LED lamp offerings, a move that recognizes a desire for familiar controls even while newer smart technology is being embraced across many demographics.
The Interact Office platform recently announced by Philips enables the university to deliver new experiences and services. The software system is integrated with the university's Building Management System (BMS) so that all the building systems work together seamlessly.
The heating, ventilation, and air conditioning (HVAC) system is also synced with the class schedule so air conditioning is switched on before a class starts and students don't have to enter a warm room. As staff or students enter a room, the lights switch on using presence detection, and when the room is vacated, the lights and HVAC switch off.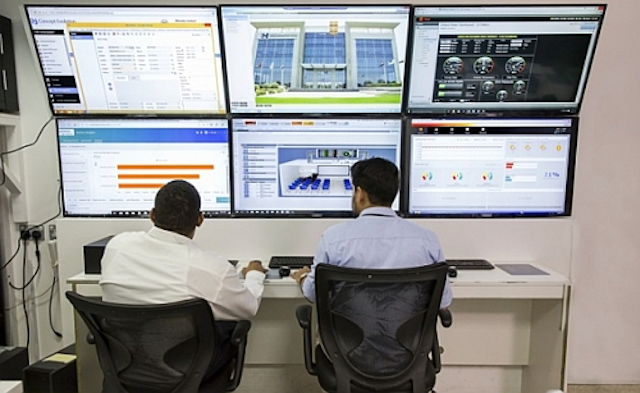 University shows its smarts with cloud-based IoT lighting controls and indoor positioning
The university BMS receives data from Interact Office courtesy of the IoT lighting, enabling cloud-based control of lights and HVAC systems and improving building energy efficiency.
The indoor positioning service uses the university's smartphone app. LED light points, installed in the hallway, lobby areas, and corridors, transmit a light code containing their individual geographical location. This is achieved by a modulation in the light waves, which is invisible to the human eye but may be detected by a smartphone camera. The geo-location information is then used by the app to locate the user's position in the building and guide them to their destination.
The university BMS receives data from Interact Office. Information on energy consumption, the performance of each light point and the occupancy of each room can be accessed on a mouse click. These insights help site managers to maintain and maximize the building to its full potential and respond to requests, produce reports, and predict trends.
In the Chancellor's Office, the Grand Meeting Room, and the Auditorium, university staff can easily adjust the light settings; the IoT lighting in these areas is controlled via wall-mounted iPads. In addition, the faculty team members use the smartphone app to personalize the lighting in their offices, with options to select the brightness level and color temperature of light.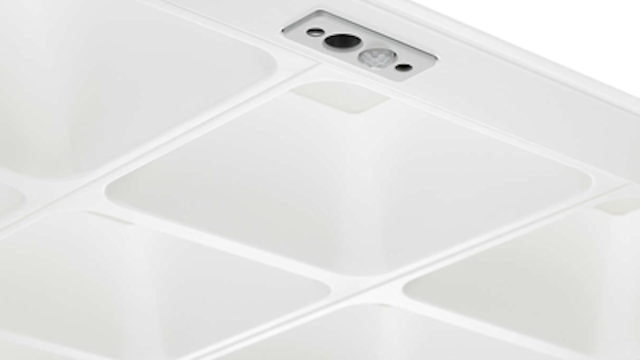 Power over Ethernet (PoE) technology and 100 PowerBalance PoE luminaires help to form the basis of HBMSU's IoT lighting system. Indoor positioning is enabled by 600 Philips LuxSpace luminaires and Philips Bluetooth beacons in high-ceiling areas such as the atrium.
"Hamdan Bin Mohammed Smart University has always been at the forefront of realizing the vision of the Dubai government as it implements forward-looking initiatives that position Dubai as the smartest city in the world. Our collaboration with Philips Lighting means we're able to deliver a better environment for our students and faculty and a highly personalized learning experience. This lighting network will enable us to intuitively support and complement the university's needs, both today and into the future. As the first university globally to incorporate this technology, we're paving the way for future smart learning institutions," Dr. Mansoor Al Awar, chancellor of HBMSU, told Lux.
Lux's first Property Technology conference - which covers smart buildings and IoT lighting platforms - takes place on Wednesday, November 14 and Thursday, November 15, 2018 alongside the LuxLive 2018 exhibition at London ExCeL. Entry is free to those with a relevant lighting estate. For more information, visit luxlive.co.uk.
The luminaires are connected in a Power over Ethernet (PoE) arrangement in which power, control, and data are all transmitted using Ethernet cables. The low-energy LED luminaires can also supply data back to the BMS about their status and energy use. Last month, LEDs reported that Philips outfitted a Danish commercial office building with a PoE-based system connecting the company's PowerBalance and SmartBalance LED luminaires.
"Our first collaboration with Hamdan Bin Mohammed Smart University demonstrates the many ways our connected lighting and software applications can support Dubai's most forward-thinking university, improving the daily life for staff, students and visitors. We are not just providing good quality, energy-efficient lighting but data-based insights that help the university's site management team to maximize use of their building and help to deliver a first-class learning environment," said Goktug Gur, president and CEO of Philips Lighting Middle East and Turkey.
RAY MOLONY is publisher of Lux (luxreview.com) and Lighting magazine (lighting.co.uk), publications of Revo Media Partners Ltd and part of PennWell's LED & Lighting Network.
*Originally published on luxreview.com, March 21, 2018. Republished with modifications through partnership.