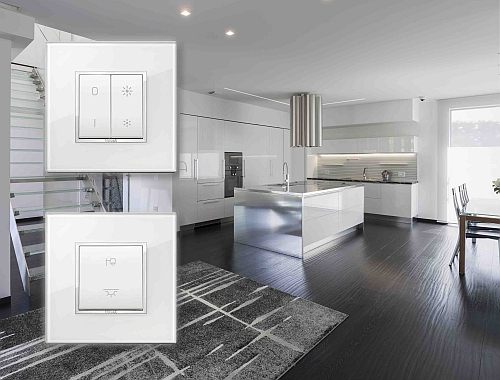 Reports of the humble switch's death might have been greatly exaggerated. Philips' partners are adding familiar tactile buttons to augment app and voice commands.
To paraphrase The Godfather's Michael Corleone, every time the humble light switch tries to get out, someone pulls it back in. In the world of IoT lighting, where we're all supposedly going to dial up light settings with apps and phones, Philips Lighting has reserved a future for the switch as well.
Interested in articles & announcements on smart lighting controls?
The world's largest lighting company today announced that three new partners will offer stylish wall switches to control Philips' range of Hue smart LED lighting for residential use. The switches will support on/off and dimming, and they will let users call up preset scenes.
They don't completely avoid the use of phones and the like. If users want to change the color or color temperature, they must program in specific color and CCT settings using an app. The switches also require the Hue bridge, a modem-like device that existing Hue users already have, or that is available either through a Hue starter kit including LED bulbs, or for $59.99 separately.
But the switches provide familiarity for those who prefer a customary tactile approach, and will be available in different colors and styles to suit home décor when they are ready in the fourth quarter.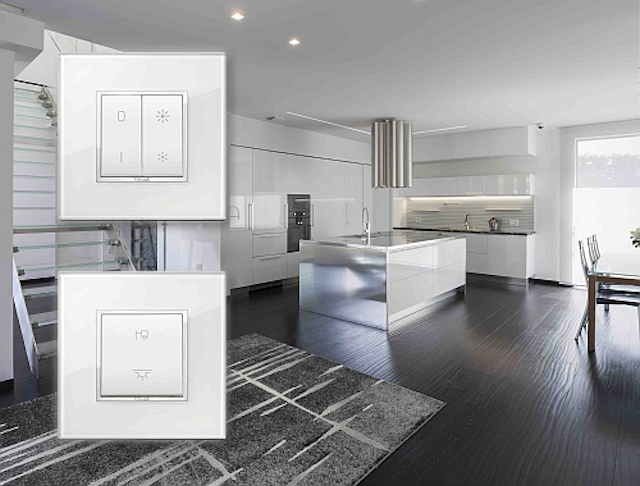 Coming soon: Wall controls for Philips Hue
Switches such as this one from Vimar will turn Hue lights on and off, and will be able to change lamp color and color temperature when pre-programmed with an app.
The three companies — Niko Group, of Sint-Niklaas, Belgium; Vimar of Marostica, Italy; and Schneider Electric's Zurich-based Feller — have all joined Philips' Friends of Hue partnership program.
Philips did not reveal pricing for the new wall switches, nor did the vendors.
"These new Friends of Hue switches provide the perfect way to bring the benefits and features of Philips Hue to a wider audience and are an addition to the existing control options such as the Philips Hue app, wireless dimmer switch, voice control, schedules, and sensors," said Evert Schaeffer, Philips' Friends of Hue head of product management.
"With the flick of a switch, you and your guests can use the smart wall switch to control your Philips Hue lights, without interrupting power to the system, as would be the case with a standard wall switch," he added. "This is part of our ongoing commitment to grow the Philips Hue ecosystem to make connected lighting experiences more accessible for our customers in their homes."
Indeed, Philips has been busy on the Hue front this year. As LEDs Magazine wrote yesterday, it added a range of outdoor Hue products, marking its first venture with Hue beyond the home's walls.
In early January at the CES consumer electronics show, Philips introduced software that lets interactive Hue LED lighting respond to the action of video games, movies, and television programs played on Windows and Apple machines. Also at CES, Philips said it had partnered with PC gaming giant Razer to integrate interactive home lighting into Razer hardware and software.
In an upcoming move, Philips plans to introduce a new Hue app early in the second quarter.
MARK HALPERis a contributing editor for LEDs Magazine, and an energy, technology, and business journalist (markhalper@aol.com).