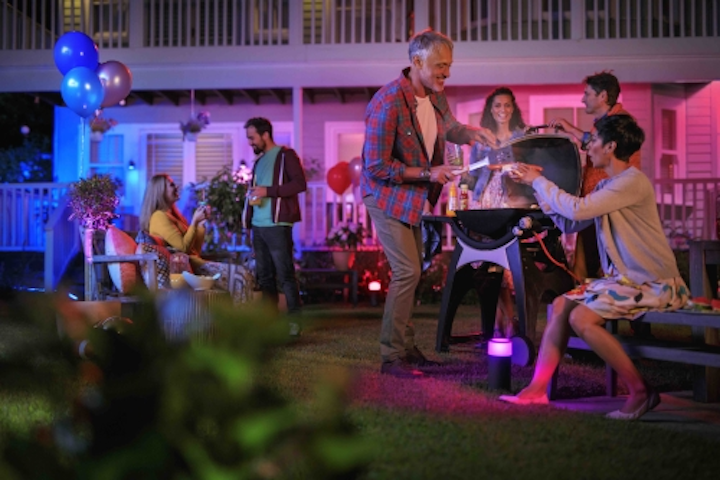 The company adds a range of color- and CCT-changing luminaires to add ambience to gardens, yards, porches, driveways, paths, you name it. Just in time for summer BBQs. Almost.
Philips Lighting is taking ambience to the outdoors, announcing a range of al fresco Hue luminaires that, like the company's indoor Hue lamps, allow home users to dial up different colors, color temperatures, and brightness using smartphone apps and voice controls to change lighting scenes in gardens, yards, porches, footpaths, and the like.
Interested in articles & announcements on color-tuned outdoor LED lighting?
The new line includes wall-mounted luminaires as well as a short post luminaire for the ground, all requiring wired electrical connection. They support a warm-to-cold CCT range of 2200K to 6500K. Those that support palettes can mix 16 million colors.
The announcement backs up Philips' statement early this year that it would unveil an outdoor Hue LED lighting line for the summer.
But anyone hoping for a head start on the warm season will have to wait, as the new outdoor products will not be available until July, when Philips will begin selling them in the US and Europe.
Still, that should give Philips plenty of time to test the market for people who want to use wirelessly-controlled digital lighting to add atmosphere to their yards and gardens.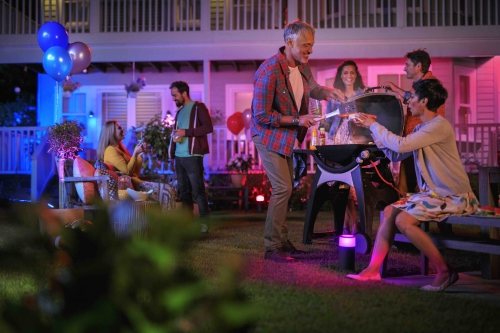 Philips Lighting takes Hue LED lighting outdoors
The new outdoor Hue line from Philips Lighting brings colors to barbecues.
"While Philips Hue bulbs and luminaires are available for every area inside your home, we wanted to traverse the threshold and offer connected luminaires designed for outside areas," said Sridhar Kumaraswamy, Philips Lighting's business leader, home systems & luminaires, at Philips Lighting. "The Philips Hue outdoor range enables you to make the most of your outside areas, be it creating the ideal ambience to host a BBQ at the weekend or beautifying your garden."
The color products in the new range include a spot luminaire called Lily, priced at $279.99 in the US and €299.99 in Europe for a pack of three; and the Calla ground-mounted bollard, priced individually at $129.99 and €139.99.Both have integrated LED light sources rather than bulbs.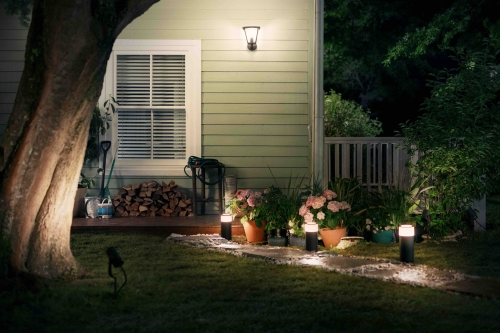 Wall-mounted and ground luminaires in the Hue lineup offer different color temperatures.
The variable white range in Europe includes three models — the Lucca, Tuar, and Turaco — starting in price at €69.99. In the US, the three models are called Lucca, Ludere, and Inara, starting at $49.99. The Lucca is the same in both markets, while Europe's Tuar and Turaco differ from the US' Ludere and Inara. All of the variable white-tuning models use LED bulbs. The Ludere floodlight in the US uses a PAR38 bulb, which can be dimmed from its 1300 lm. Philips implied that it does not change color temperatures. LEDs Magazine is seeking clarification.
The prices do not include the bridge — a small box roughly the size of broadband modem that is required for the lights to respond to commands. Philips said it is aiming the outdoor range at home users who already have indoor Hue systems including the bridge. For newcomers, a bridge costs $59.99 or €59.95; or users can buy a starter kit that includes a bridge and some indoor bulbs, and then use the same bridge for their outdoor Hue luminaires.
All products can be controlled through the voice systems that Philips supports: Amazon's Echo, Apple's HomeKit and HomePod, the Google Assistant, and Microsoft's Cortana, Philips told LEDs Magazine.
The company said availability of the new outdoor range is not currently planned beyond the US and Europe.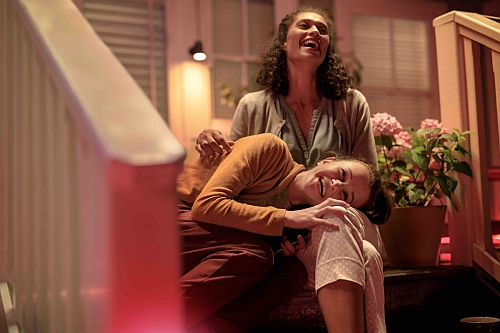 The Lily spot can be mounted on a wall as in this porch scene, or it can sit at ground level, where it might not be far from a Calla pedestal luminaire.
The new outdoor range is the latest development in what's been a busy year for the Hue line. In early January at the CES consumer electronics show, Philips introduced software that lets interactive Hue LED lighting respond to the action of video games, movies, and television programs played on Windows and Apple machines. Also at CES, Philips said it had partnered with PC gaming giant Razer to integrate interactive home lighting into Razer hardware and software.
In an upcoming move, Philips plans to introduce a new Hue app early in the second quarter.
Philips will show the new outdoor products at the Light+Building exhibition in Frankfurt next week, where some observers expect it to reveal its new corporate name. The moniker will most likely reflect the general move by the lighting industry to leverage the digital capability of LEDs and turn lighting into a service in which users can control lights remotely, and in which lights help gather data and become important nodes in the Internet of Things.
Lighting rival GE attempted such a name change itself over two years ago, when it made its commercial lighting service a key component in a newfangled energy group dubbed "Current, powered by GE." But Current is one of the several groups that the troubled conglomerate is now selling. It is also selling its conventional lighting business, having found a buyer recently for the European, Middle East and Africa arm.
Some industry pundits wonder whether another lighting company such as Philips, Osram, or Feilo Sylvania might be interested in buying Current.
MARK HALPERis a contributing editor for LEDs Magazine, and an energy, technology, and business journalist (markhalper@aol.com).