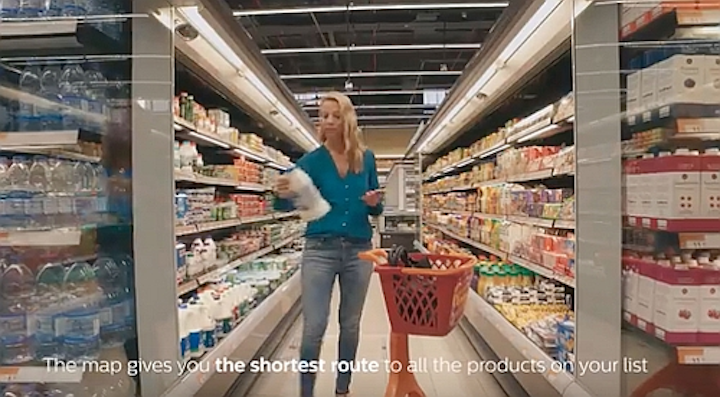 With location-based services still stuck on the launchpad, the company's new "Location Lab" reaches out to data and app developers. Meanwhile, Philips finally acknowledges that Bluetooth, not just VLC, can light the way.
In two moves to jump-start the stalled indoor-positioning business, Philips Lighting said it has rounded up IT companies including Microsoft and SAP to develop compelling data-linked uses that might actually attract customers. And in an underlying wireless technology change, Philips quietly revealed that it is now embracing radio-based Bluetooth in addition to the visible light communication (VLC) that it has long preferred.
Interested in articles & announcements on indoor positioning and other IoT/smart lighting applications?
Indoor positioning — also known as location-based services — transmits signals to smartphones in order to guide and engage people around buildings such as retail stores and offices. Lighting companies want to use ceiling luminaires to send the signals. Philips has persistently championed VLC, which embeds signals in the modulation of lightwaves emitted by LEDs. Other vendors such as Osram and startup Gooee prefer Bluetooth beacons that send signals from chips inside light fixtures.
Regardless of the technology, one of the big early adapters is supposed to be the retail industry, which would guide shoppers around physical stores, pinging them with discounts of interest to the individual based on buying history, loyalty programs, and the like. The schemes represent a potential bonanza in the buying and selling of data that can be analyzed, scrubbed, and repurposed across many industries.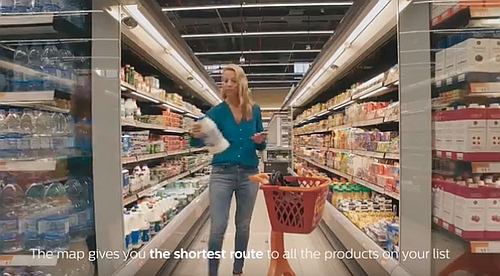 Philips taps Microsoft as part of indoor-positioning partnering push, adds Bluetooth to the mix
In a Philips promotional video from an aswaaq store in Dubai, the shopper kept the phone in one hand pointed up to the lights in order to find directions to the milk, which she grabbed with her other hand — presumably enabled by VLC. Philips has now added Bluetooth to its indoor positioning, perhaps to make things a bit easier for the shopper. Bluetooth does not require line of sight. (Source: Philips Lighting.)
Success in the retail area will require the buy-in of large retail chains and brands. But nearly two years after first announcing a trial deployment with a single Carrefour store in Lille, France, Philips has publicly announced only one additional deployment — a small trial with Dubai retail chain aswaaq, nearly a year ago. Some industry observers say that retail chains and other industries are balking because they don't envision enough use cases, and because consumers might simply not see any overwhelming need for phone-based guidance around a store.
To help develop broader applications for the technology, Philips today launched a new initiative called the Location Lab partner program, whose initial members include Microsoft, SAP, and Capgemini, among others.
"Our Location Lab partners are as important to us as apps to a smartphone," said Parik Chopra, Philips Lighting's segment leader for retail and hospitality. "The value a building owner derives from our indoor-positioning system increases with the number of complementary products and services we offer. With our partners, we are able to turn our customers' vision into reality and enable them to differentiate through shopper convenience and staff efficiency."
Echoes of GE
Other companies to join Location Lab include Zebra Technologies and SES-imagotag, both of whom Philips described as "strategic enterprise technology advisors and market leaders in handheld computers and electronic shelf labels." Also included as seminal members of the Location club are location-based service software companies Favendo, Adactive, Vipera, Nakko, and Mapiq, as well as robotics company Blue Jay. Philips has an ongoing partnership with digital mapping and shopper analytics provider Aisle411; it also certifies other vendors' luminaires for indoor-positioning performance via a program Philips calls YellowDot.
"The Location Lab partner program enables collaboration with industry leaders and startups to explore novel uses of the Philips indoor-positioning system that appeal to innovation leaders in retail, malls, offices, and other industries," Philips said.
The fortified partnership emphasis echoes a strong push by Philips rival GE, where the newfangled lighting division — called Current, powered by GE — has over the last year signed a number of indoor-positioning partners.
Like Philips, GE has had a notable dearth of public indoor-positioning announcements, even though GE began heavily promoting retail use some three years ago, even before it formed Current. Its former indoor-positioning boss Jeff Bisberg left the company last year. The company has had five pilot retail deployments, according to Current's John Gordon, who recently told LEDs Magazine that indoor-positioning, while important to the company, has a lower priority than Current's main mission of providing energy savings.
Another large Philips rival, Osram launched its indoor positioning a year ago but has yet to announce a retail deployment, although it recently said the German town of Wipperfürth will use similar technology outdoors to send information about events. Osram calls its technology Einstone.
Acuity looks on target
One lighting company that could be making headway is Atlanta-based Acuity Brands, which last month said it has now installed Internet of Things (IoT) lighting in nearly 40 million ft2 of retail space. Lighting-based indoor positioning is a type of IoT lighting.
Acuity declined to reveal the names of retailers that are using its IoT lighting. The company did say last summer that it is providing retail giant Target with smart lighting technologies aimed at improving illumination and reducing energy. But neither Target nor Acuity have ever confirmed that Acuity is also providing Target with indoor positioning technology.
Target is known to be trialing lighting-based location systems in around 100 stores. The trials go back to before April 2015, as LEDs' sister publication Lux Review first revealed. Target has never identified its indoor-positioning supplier, now believed to be Acuity, who is also believed to be working in trials with Walmart.
Target uses both VLC and Bluetooth technologies in its indoor-positioning trials.
Until now, Philips has steadfastly backed VLC, a light-based technology that provides better accuracy than Bluetooth does — VLC will steer a shopper closer to the beer or soap or whatever they desire. But one of VLC's drawbacks is that it requires a phone to be in direct line-of-sight with a luminaire. Bluetooth, which uses radio frequencies rather than lightwaves, does not require such direct contact.
Welcome Bluetooth
Philips has now added Bluetooth to its positioning topography, even if it did not go out of its way to proclaim the move. A single line in its press release announcing the Location Lab program reads, "Philips Lighting utilizes a combination of its Visible Light Communication technology, Bluetooth, and the smartphone's inertial sensors to deliver an indoor positioning system that offers 30 centimeters accuracy plus orientation, in-pocket notifications, and analytics."
By expanding its wireless technologies and its partners, Philips hopes to stake out a claim in what it hopes will be a large market.
Citing ABI Research, Philips' Chopra noted, "The market for indoor positioning is forecasted to triple by 2020, to over 1 million installations. Together with our Location Lab partners we are looking forward to offer scalable systems that fulfill the needs of this growing market."
Indoor positioning and other IoT lighting are crucial to the lighting industry's future, which is expected to head more towards data and services now that long-lasting LED lighting has arrived and obliterated the old business model of selling replacement bulbs that burn out every 18 months or so.
Whether or not services like indoor positioning even catch on is one question. Even if they do, another challenge for the lighting industry will be to convince customers such as retailers that positioning should be part of the lighting infrastructure. Bluetooth beacons, for instance, do not have to reside in luminaires.
Philips' Location Lab announcement comes on the heels of its acquisition of French VLC specialist Luciom. Philips is expected to invest in Luciom's work in a sophisticated two-way version of VLC called Li-Fi, in which lights provide Wi-Fi-like Internet services. By comparison, indoor positioning uses a more rudimentary, one-way version of VLC that transmits signals from the luminaire to a person's phone, but does not have a return path.
In its incipient form, one of Li-Fi's principle advantages is that it can augment the amount of bandwidth available for wireless Internet, because the light spectrum is somewhere between 1000 and 10,000 times wider than the radio spectrum (depending on where you draw the radio lines) that includes Wi-Fi and many other transmission technologies. In the future, it could also become much faster than Wi-Fi, if general lighting moves from LEDs to laser diodes.
MARK HALPERis a contributing editor for LEDs Magazine, and an energy, technology, and business journalist (markhalper@aol.com).