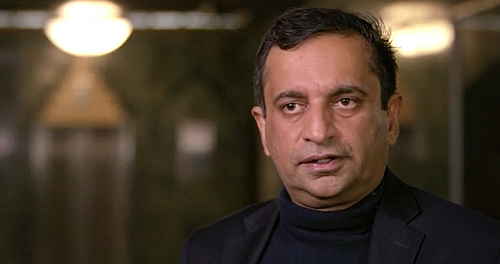 The IT company's Digital Building Ethernet box will support lighting, heating, security, and other building operations without the electricity losses associated with some PoE schemes.
Hoping to solve some of the shortcomings of Power-over-Ethernet technology, Cisco Systems today introduced a new Ethernet data switch optimized for building operations including lighting, and said that a Marriott Hotel and a Swiss commercial office headquarters are pioneering its use.
Interested in articles & announcements on smart lighting & IoT?
Cisco designed the new Catalyst Digital Building Switch to sit inside the ceiling close to lighting fixtures, rather than on a rack of data switches that are typically further away. The proximity reduces the loss of Ethernet-borne electricity that occurs when cable travels longer distances within a facility. Such transmission inefficiencies have deterred some potential users from deploying Power-over-Ethernet (PoE) lighting, an Internet of Things (IoT) technology that transmits not only data but also electricity via standard Ethernet cable to LED lights.
Like Cisco's general line of Ethernet switches, the new box knocks voltage down from the 120V and 240V electrical lines that feed it, transforming it into a lower voltage that is sufficient to power LED lights — renowned for low energy needs — and that can travel safely over standard Ethernet cable, commonly referred to as Cat5 and Cat6.
In another improvement to PoE operation, Cisco claimed that administrators can update and reboot the switch while keeping the lights on. Reboots until now have required turning off the lights. The lights will also now come back after a power failure in seconds rather than minutes, Cisco said. While PoE has been making headway such as at a Madrid skyscraper, some showcase smart building accounts like Toronto's 42-story EY Tower have bypassed it in IoT implementations.
Cisco has been promising a tailored switch for nearly a year as a way to rectify concerns that some potential end users have expressed for PoE lighting, as LEDs Magazine reported last March.
"One of the things that has been missing has been the purpose-built switch — this is the industry's first," Cisco senior director of digital transformation solutions marketing Pankaj Gupta told LEDs Magazine.
With the introduction of the new switch, Cisco is moving its marketing away from the "Digital Ceiling" flag and rebranding it with the broader banner of "Digital Building," Cisco vice president of enterprise switching Sachin Gupta said. The switch combines different building automation controls into one common system, rather than running different siloed systems for lighting, HVAC, security and other functions.
Cisco stokes PoE lighting push with dedicated Ethernet switch, signs up Marriott
Sinclair Holdings is converting an art deco building in Fort Worth into a Marriott Autograph Collection boutique hotel replete with PoE systems that Sinclair president Farukh Aslam (shown) says will provide rich management and monitoring of interior and exterior lighting as well as other building systems. It will even allow frequent guests to dial up their stored optimal room settings. (Source: Cisco.)
The data rate of the new switch is much slower than on conventional switches — 100 Mbits/s to the lighting fixtures, and 1 Gbit/s back to the network, compared to Cisco's 10-times faster general IT switches. But the pokier pace suffices because the switch is dedicated primarily to carrying information to and from lighting and other building operations, rather than supporting enterprise information networks.
"On this particular switch, the data rates are less important, but the ability to deliver power efficiently at a low cost is much more important, and the ability make sure the power is uninterrupted during changes to the switch is more important," Sachin Gupta told LEDs Magazine. The switch is not geared for typical IT networks, he said, but is "more for these new kind of IoT end points, so we've innovated this switch for the IoT space."
Each switch has 8 ports and can thus deliver data and electricity to 8 different fixtures. An $895 version of the switch supports 30W per port, and a $1395 model supports 60W. The 60W version can deliver brighter or more light than the 30W version, by supporting either higher wattage or more light sources within each fixture. Cisco calls 30W "PoE+" and refers to 60W as "Universal PoE."
Neither version requires a cooling a fan, which Cisco said will be key to quiet operation in hospitality, retail, office, hospital, and other settings.
Ethernet connections run in and out of the Building Switch to tie them into the building's faster IT backbone. Cisco has adapted the Constrained Application Protocol (CoAP), one of several schemes intended to help alleviate the incompatibility of myriad digitized devices expected to tie into the IoT.
Early users include a Marriott hotel in Texas and Swiss energy company Alpiq InTec.
Marriott is deploying a PoE building system at a Fort Worth site, where property developer Sinclair Holdings is refurbishing an art deco office building into a 160-room Autograph Collection boutique style hotel. The switch will tie into lighting as well as other automated features including window blinds and temperature settings.
Sinclair president Farukh Aslam said that each light can potentially have an Internet Protocol (IP) address, and that the PoE system will allow central control and data analytics of lighting and other building systems. Frequent guests will also be able to store settings for room comfort control, and can interact with lighting and other features via Bluetooth on their phones, he said.
Sinclair is installing Cisco Digital Building switches to power and control PoE luminaires from Carlsbad, CA supplier NuLEDs, one of over 20 partners in what Cisco had been calling its Digital Ceiling program.
"The Cisco fanless Catalyst Digital Building Series Switch 8-port switch is ideal for modular installations like the Marriott Hotel," said NuLEDs chief business development officer Lisa Isaacson. "It offers a quiet, compact, unique design. The suspended mounting system creates a code compliant hot-swappable Ethernet switch that fits nicely in tight spaces."
Alpiq InTec is tying new Cisco switches at its Zurich headquarters into PoE luminaires from Philips Lighting, and into other building systems.
"We were able to converge our siloed building systems onto a single IP platform," said Alpiq business development manager Stefan Tschanz. "As Switzerland's market leader in the fields of building technology and facility management, this allows us to offer our customers new digital products and services. We can also deliver real-time analytics, reduce energy costs, and respond to the demand of agile services in digital marketplace, today and in the future."
Cisco said it will make the new switch generally available in the second quarter of this year.
The Digital Building push comes in the wake of key personnel departures from Cisco's PoE and IoT campaign. Former vice president of IoT Tony Shakib took a similar post with Microsoft in early January. And in November, John Baekelmans, the former chief technology officer for Cisco's IoT solutions group, became a managing director at the Holst Centre, a Dutch sensors and flexible electronics research group in Eindhoven.
Editor's note: Formerly Cisco's business development manager, Platformatics CEO Matt Laherty will be speaking about why and how customers are moving to PoE lighting during a session titled "Enabled Things" in The LED Show track at Strategies in Light on March 1. Visit strategiesinlight.com for program and registration details.
MARK HALPERis a contributing editor for LEDs Magazine, and an energy, technology, and business journalist (markhalper@aol.com).
*Updated at 10:33am Eastern for Strategies in Light program information.