The LED smart lighting stalwart adds another arrow to its navigation quiver, joining forces with LocusLabs, which has outfitted DFW and others
Another day, another matchup between a lighting company and an IT firm in an effort to turn lighting infrastructure into intelligent data networks. This time, LED lighting stalwart Acuity Brands has teamed with LocusLabs, an indoor mapping software specialist which has provided wayfinding programs to major airports such as Dallas/Fort Worth International.
Interested in articles & announcements on indoor positioning and smart lighting applications?
LocusLabs is enabling its "location as a service" technology to work with Acuity's Atrius, which is Acuity's catch-all brand of an ever-widening set of smart lighting and lighting-based Internet of Things (IoT) services.
Acuity already offers indoor positioning services (IPS) through Atrius, so LocusLabs adds another arrow to the Acuity IPS quiver. LocusLabs has already installed its technology at airports including DFW as well as Houston's George Bush Intercontinental Airport and William P. Hobby Airport, helping passengers call up maps on their phones that guide them to terminals and shops. The lights are not involved in those cases.
Atlanta-based Acuity said LocusLabs' LocusMaps application "powers navigation in hundreds of millions of mobile devices used at airports, retail malls, multi-floor buildings, and campuses, making it easy to search, discover, and navigate large, complex indoor spaces."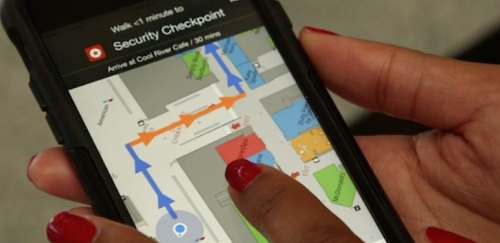 Smart lighting specialist Acuity teams with indoor mapping firm that has big airport presence
LocusLabs provides wayfinding at DFW International Airport, where in this case a map shows directions between the security checkpoint and the Cool River Cafe. (Photo credit: CNN video on the LocusLabs website.)
That is just the sort of thing that Acuity itself claims to have already provided at last count at over 50 million ft2 of retail space, to help shoppers find their way around sprawling aisles, and to engage those shoppers with information and discounts sent to their phones.
For example, Acuity is providing smart lights to US retail giant Target, which recently said it will roll out lighting-based indoor positioning systems accessible through a Target app at nearly half of its 1800 retail stores by Christmas.
The lighting industry is pushing retailers and other building operators to embed location services into lights, thus taking advantage of an existing infrastructure and eliminating the need to construct separate networks of beacons that require their own maintenance and power.
That logic was compelling to San Francisco-based LocusLabs.
"Through its Atrius IoT platform offering, Acuity Brands is incorporating location-based services into the fabric of buildings, and a ubiquitous solution is exactly what is needed going forward for an optimal user experience," said Campbell Kennedy, LocusLabs CEO and co-founder. "By using Atrius IoT services and sensory network, LocusLabs' location-as-a-service software platform can deliver the most accessible solution in the market for all building stakeholders to leverage their smart building investment."
Kennedy further explained to LEDs Magazine that LocusLabs has used battery-powered Bluetooth beacons, Wi-Fi, and other technologies in the past, but that lighting-based technology could potentially strengthen the systems' capabilities.
"The battery-powered BLE beacons make sense for certain applications and have really helped us and our customers understand the key use cases and the value of indoor location technologies," Kennedy told LEDs. "There are huge advantages to baking the technology into the building, as Acuity is doing, especially as we move into enterprise applications which are more mission-critical."
While the lighting and IT industries are increasingly working together in the smart building market, they are also competing against each other. Not all end users who deploy indoor sensors and communications chips will choose to embed them in the lighting. LocusLabs itself, for instance, has not always worked through lighting.
And when Barclays plc outfitted its London investment banking headquarters with sensors that track room occupancy, for instance, it mounted those sensors under employees' desks, and not in the lighting.
For location services, Acuity offers at least two different technologies. It will embed Bluetooth beacons into luminaires. In those cases, the beacons draw from the same electricity supply as the lights. It can also turn on a technology called visible light communications (VLC), which encodes data in the modulating light beams of an LED light source. A smartphone can pick up that data via the phone's camera.
Alliances between lighting vendors and IT companies are now happening on a regular basis. Last week alone, smart lighting company Gooee (which is really as much of an IT firm as a lighting outfit) gave an equity share to IoT cloud software company Evrythng, and lighting giant Osram bought a minority stake in retail software firm beaconsmind.
MARK HALPERis a contributing editor for LEDs Magazine, and an energy, technology, and business journalist (markhalper@aol.com).
*Updated Oct. 24, 2017 at 1:02pm for additional details from source.