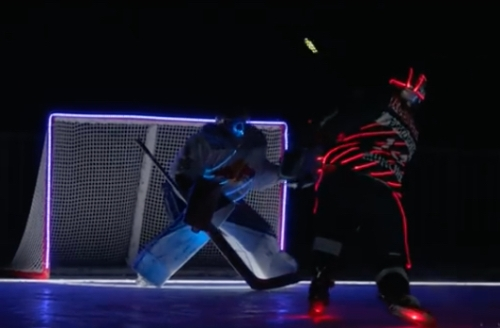 A cycling jacket that illuminates when you hit the brakes could be coming. First, Osram will stitch LEDs into workwear.
Osram has taken a first step toward weaving smart lighting into clothes, announcing workwear that lights up with LEDs, while strongly hinting that interactive apparel is coming including a cycling jacket that illuminates when you hit the brakes, and lights that flash when your pulse rate rises too high.
Interested in articles & announcements on IoT lighting applications?
Working with Fürth, Germany-based safety and sportswear company uvex, Osram is stitching LEDs into safety vests and work jackets. Osram's first stab at textile illumination stops short of interactivity. It simply focuses on giving visibility to workers on job sites.
"The textile illumination is incorporated into the safety clothing and ensures greater visibility and hence safety in day-to-day work, for example, on construction sites or in road traffic," Osram said. "The key advantage of the new technology: Reflector strips on conventional work clothing only reflect incident light, while the light modules ensure active illumination at all times, thus improving safety when working in the dark or in poor visibility conditions."
Osram has been testing the technology for some time. The company used it to help illuminate ice hockey players, sticks, and pucks in an outdoor night game nearly10,000 ft high in the German Alps last year, for example.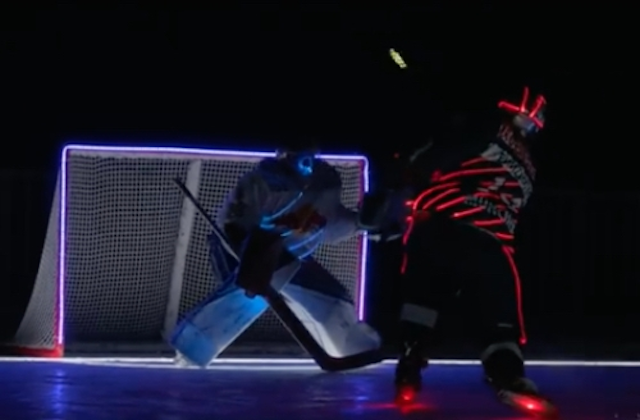 Osram will weave IoT lighting into clothing
The integrated LED lighting is more impressive than this particular slap shot, which sailed high over the goal into the alpine night, as you can see from the illuminated puck. Play improved at this game at the Zugspitze, Germany's highest mountain. To watch more, click here. (Photo credit: Screen grab from Osram video.)
With sportswear as part of the mix, Osram plans to eventually add sensors that will enable integrated LEDs to respond to physical stimuli, providing health alerts, safety measures, and more.
"This will in the future allow various applications to be controlled using an app," Osram said. "Possible examples include sports clothing that warns the wearer about a high pulse rate via the light guides, or a cycling jacket with an integrated brake light."
It would mark yet another way to deploy LED lighting as "things" in the Internet of Things (IoT). Like many lighting companies, Osram is trying to establish LED lights and luminaires as nodes and backbones of information technology networks. Just this week, Osram acquired a significant minority stake in retail industry software company beaconsmind, to help outfit retail stores with lights that communicate with in-store shoppers, offering discounts and useful information. Osram already has deployed the technology at Guess and Marc O'Polo retail outlets and at shopping malls in Switzerland.
While some industry observers expect that one day, OLED technology will prevail for integrated textile illumination, Osram has chosen instead to stitch LEDs, as have other illuminated clothing providers. OLED (organic light-emitting diode) is a patch of material that emits light in response to a current, whereas LEDs are single light points. Osram told LEDs Magazine that it has no plans to use OLEDs for lighting textiles.
MARK HALPERis a contributing editor for LEDs Magazine, and an energy, technology, and business journalist (markhalper@aol.com).