Two months after its move to Budapest, Feilo boosts its systems integration efforts by welcoming partners into the labs.
LONDON – Two months after relocating headquarters from London to Budapest, Feilo Sylvania has fortified its smart lighting push with two new innovation centers. The centers are an integral part of a smart lighting group that forms one of four new pillars in a revamped corporate structure. They are reaching out to technology and lighting partners.
Interested in articles & announcements on smart lighting?
The new SylSmart Lighting Innovation Centers (SLIC) mark an extension of Feilo's new SylSmart integration program, launched last June.
Chinese-owned Feilo has opened one of the centers at its new headquarters in Budapest, and the other in London where it still maintains offices.
In announcing the SLICs at the LuxLive 2017 exhibition and conference here in London, Feilo global director of strategy and new business development Bastiaan de Groot described a changing industry ecosystem in which lighting, technology, and other companies are increasingly hooking up in an attempt to embrace Internet of Things (IoT) lighting opportunities. This partnership approach is replacing the old model of selling in one direction through the supply chain from manufacturer through to end user.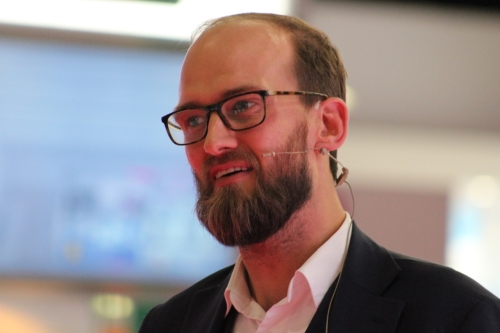 Feilo Sylvania opens two smart lighting innovation centers
Feilo Sylvania's Bastiaan de Groot says that with smart lighting, the industry now works more through a changing web of partnerships than in a conventional linear approach of selling in one direction through the supply chain. (Photo credit: Mark Halper.)
"The industry used to have a linear approach, but now it's much more of a web structure of companies working together, where the right company leads at the right time," de Groot told LEDs Magazine.
Feilo is hiring full-time staffers with specialties across many areas including strategy, entrepreneurship, lighting, IT, and finance. It is also opening the center for its SylSmart partners to come and go and collaborate.
SylSmart partners include smart lighting chip, sensor and software specialist Gooee, Bluetooth controls company Casambi, and others.
In an extra weave to de Groot's "web of companies," Feilo is paying Gooee to be a top-tier "platinum" partner in Gooee's newly created tier system, as LEDs reported yesterday. In that arrangement, Feilo gets early access to Gooee chipsets and sensors that Feilo could build into smart lighting products. Gooee does not pay to be part of SylSmart and the SLIC centers.
In another example of the web partnership approach, de Groot noted that Feilo might hire installers on one project, but sell to them on another.
The new SLIC centers will focus on smart lighting and IoT innovations with near-term commercial potential.
De Groot described lighting-to-HVAC integration as the number one area for immediate growth in smart lighting, as data about room climate gathered by lights triggers HVAC actions and greatly improves the efficiency of HVAC operations. Such integration "delivers higher energy savings possibilities per square meter than the installation of LED does," de Groot said.
Two other areas high on Feilo's list for smart lights are using them to optimize building space by analyzing occupancy data — such as what Feilo is doing at the NEN headquarters building in Holland — and using them for predictive maintenance.
SylSmart and the SLIC centers are part of a smart lighting group that de Groot said is one four "pillars" in a new Feilo corporate structure. The other three pillars are energy markets, fast moving goods, and research and development. Feilo is focusing its energy initiatives on helping commercial buildings meet stricter incoming energy regulations — the company launched a financing scheme to help underpin it earlier this year.
Fast-moving goods consists of lights and luminaires. In research and development, Feilo has now established a regional structure of R&D groups to work more closely with customers, de Groot said.
The new structure and the SLIC centers come two months after the official opening of Feilo's new Budapest headquarters, a move that LEDs tipped earlier this year. The relocation aligns Feilo with China's One Belt One Road Initiative that aims among other things to build massive infrastructure projects across Asia and beyond.
Feilo Sylvania is now 100% owned by Shanghai-based Shanghai Feilo Acoustics Co., which has purchased the additional 20% it did not buy when it acquired the company from India's Havells Sylvania early 2016. Shanghai Feilo Acoustics is a subsidiary of Shanghai-based Inesa Group, a large IoT and smart technologies company.
Meanwhile, as Feilo ramps up its smart lighting business, de Groot noted that the company will not move to a full-on lighting-as-a-service model for several years, although it is already selling various elements on a service basis. For example, it sells subscriptions to portal software that give facilities managers a clear view of information gathered by smart lights, such as room occupancy.
But a complete lighting-as-a-service package would entail retaining ownership of luminaires and networks, and accounting standards are making it more difficult to keep those items off the balance sheet and treat them as a service, de Groot noted.
MARK HALPERis a contributing editor for LEDs Magazine, and an energy, technology, and business journalist (markhalper@aol.com).