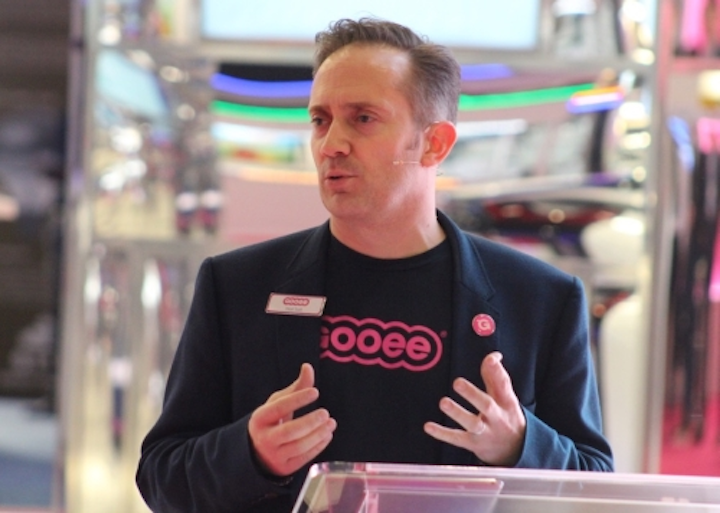 CBRE to test lighting-based building analytics at its Amsterdam office as Gooee builds partner and product momentum. Vodafone now in the mix.
LONDON – Smart lighting pioneer Gooee boosted its IoT momentum today, revealing that commercial real estate giant CBRE will soon pilot its technology, while also making a raft of announcements including new product, security, and partnership deals that bring mobile network Vodafone into the Gooee mix.
Interested in articles & announcements on IoT lighting applications and technology?
Kicking off the LuxLive 2017 exhibition and conference here, Gooee said $13.1 billion Los Angeles-based CBRE will begin trialing Gooee-powered smart lighting at CBRE's Amsterdam offices, starting in January.
Speaking to LEDs Magazine,Gooee managing director Neil Salt and chief commercial officer Jan Kemeling both pointed to a blog posted by CBRE last week. In the blog, CBRE lauded the potential for Gooee-based smart lights that can collect data to help commercial property operators both analyze building use and intelligently control lighting and heating.
Gooee is now referring to its technology as "the data brain for building activity." The company provides sensors, beacons, software and cloud computing that turn office lights into information technology networks, making lights valuable "things" in the Internet of Things (IoT) for analytic and operational purposes.
Real estate giant to trial Gooee IoT lighting
"Our vision is to be the data brain of buildings, using lighting as a host," said newly appointed Gooee managing director Neil Salt. (Photo credit: Mark Halper.)
CBRE is one potential commercial end user to take note.
"CBRE Amsterdam will be undertaking a trial of this sensor system in January 2018 to test whether it has broader commercial applications," CBRE global research analyst Siena Carver said on a CBRE blog site. "It will significantly improve both the management and the sensory experience of the workplace. The future is beaconing!"
If successful, CBRE is expected to outfit commercial properties with the technology. CBRE's holdings include The Edge office building in Amsterdam, highly regarded as a green and "smart building." It already uses a form of wired smart lighting there called Power over Ethernet. It would not necessarily deploy Gooee, although CBRE is believed to have at least one commercial client interested in Amsterdam.
Gooee's chips and sensors can map room occupancy, show motion and its direction, provide positioning information, detect temperature and lighting changes, and generally record and track people, products, place, and time.
"Our vision is to be the data brain of buildings, using lighting as a host," said Salt.
Meanwhile, Gooee broadened its go-to-market IoT strategy through a couple of maneuvers. Salt and Kemeling said the company is now teamed with three technology companies led by Britain's Utilitywise, a consultancy that advises businesses on energy and utilities usage, and that integrates building systems such as lighting and automated building management.
The Utilitywise team includes Vodafone as well as Dell EMC, the data storage and cloud computing subsidiary of computer company Dell Inc. Both Vodafone and Dell EMC have considerable data-collection operations. And with Vodafone being a company based on a service business model, "you could imagine them selling lighting, too," noted Gooee's Kemeling.
In another move, Gooee has fleshed out its existing partnership program by creating new tiers including a top "platinum" tier. It named existing partners Aurora Lighting and Feilo Sylvania as the first two platinum companies.
Gooee's Salt described the platinum category as a "joint innovation" initiative. Platinum companies like Aurora and Feilo pay for the distinction and then receive six months of access to non-commercial Gooee IoT lighting technology. Gooee also works with them on pilot installations, training, hardware and software integration, and in other areas.
Both Aurora and Feilo were among the several LED luminaire makers to ceremoniously receive Gooee's first development kits to kick off last year's LuxLive. Aurora has deployed a Gooee-based smart lighting system at a BMW showroom in Munich, where the lights help turn on features such as engine noise as a customer approaches. They can also change the illumination to draw attention to a car, and can deliver information to apps tailored to a particular opt-in individual on the showroom floor.
Salt said Gooee now has somewhere between 50 to 100 partners including luminaire makers as well as designers, installers, facilities managers, hardware and software companies, and others. It recently gave an equity share to cloud software partner Evrythng and began marketing the "lighting as a host" concept.
Gooee's target markets include space and occupancy analytics, lighting and energy analytics, wireless lighting control, and beacon networks, among others, Salt noted.
Salt recently took over as Gooee managing director, effectively replacing CEO and co-founder Andrew Johnson, who serves as Gooee chairman and who will focus CEO activities on his CEO position at Aurora, which he founded. Salt had been Aurora's managing director of IoT.
Meanwhile, in an attempt to address general IoT security concerns — the IoT is vulnerable to hackers — Gooee announced that international testing agency TÜV Rheinland will evaluate the Gooee system for IoT certification, both for cloud services and for the security of products.
"The program will ensure Gooee's platform not only meets the European Union's upcoming General Data Protection Regulation (GDPR) coming into effect in May 2018, but provide assurance to users of the Gooee system that data is secure and user privacy is properly handled," Gooee said.
The company is believed to be the first to undergo a review for the new TÜV IoT certification.
"Security and privacy are amongst the top requirements from our customers, and with GDPR coming into effect next year, Gooee is committed to meeting this regulation and providing peace of mind to end users," said Gooee chief technology officer and co-founder Simon Coombes.
Gooee is believed to be paying around $200,000 to $250,000 for the evaluation. If it receives certification, it is then expected to sell certifications on to its OEM customers.
In another new twist at the show, Gooee added new bits of hardware to its line, including a "core" chip to provide communication capabilities on smart drivers, and a dongle that allows external control of Philips drivers.
Gooee is based in St. Petersburg, FL, where it runs its cloud engineering and data analytics operations. It has significant operations in London including field application engineering, partnerships, and commercial and embedded engineering. It also has research and development facilities in Taiwan. Much of its early customer potential is in Europe.
The commercial smart lighting business has been slow to take off but momentum is building. As Gooee's Salt told LEDs earlier this year, "disruption can take a while." Gooee and Salt are hopeful that its time has now come.
MARK HALPERis a contributing editor for LEDs Magazine, and an energy, technology, and business journalist (markhalper@aol.com).
*Updated Nov. 16, 2017 at 9:35am for location and operations details.