The Wipperfürth Bluetooth-based light-to-smartphone system marks the first known deployment of Osram's "Einstone" IoT technology.
The German town of Wipperfürth is using outdoor LED luminaires to transmit wireless information to residents and visitors about things happening in the city, marking the first known public deployment of Osram's Bluetooth-based Einstone location-based service technology.
Interested in articles & announcements on outdoor smart lighting & smart cities?
Wipperfürth has installed about 20 of Osram's Siteco-branded City Light columns in pedestrian areas and parks, each equipped with Bluetooth transmitters mounted within the luminaire at the top of the columns, which also include Osram's new 540 Plus LED Module for illumination. Smartphone users who download the town's free WippApp receive information about events, shops, promotions, restaurants, churches, and more in Wipperfürth, an old town of about 22,000 people near Cologne in the western part of the country.
Einstone, an Internet of Things (IoT) scheme which Osram introduced last March, can provide location-specific information.
"Street luminaires offer the ideal infrastructure for this because they're distributed throughout a town or city in a tight grid," said Andreas Pickelein, project manager for Osram Lighting Solutions.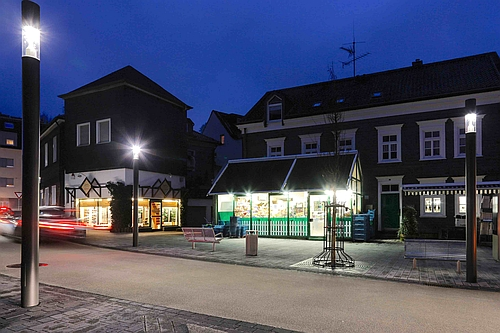 German town taps Bluetooth-enabled outdoor LED luminaires to transmit information about what's happening
Bluetooth transmitters within the Osram luminaires on Wipperfürth streets let app-equipped people know what's happening in the town by communicating with smartphones. (Source: Osram.)
Wipperfürth is using the LED luminaires to illuminate walkways and public places, but not for roadway lighting.
Batteries power Einstone during the day, and they charge up at night when the lights switch on.
The town controls the lights centrally with Osram's Street Light Control (SLC) software, which can change light colors to provide different scenes, and which also provides remote monitoring of operations. Lights communicate with a wired router via the wireless IPv6 Internet protocol. Earlier versions of Osram's SLC relied on powerline-based Internet transmission from one fixture to another.
Osram did not reveal business terms of its deal with Wipperfürth, so it's not clear whether it's providing the lighting and information on a service basis or as a product.
MARK HALPERis a contributing editor for LEDs Magazine, and an energy, technology, and business journalist (markhalper@aol.com).