The city withdraws after a pilot IoT deployment because it "had other priorities." Meanwhile, GE's San Diego trial advances to a commercial stage.
Amid all the hubbub about how smart street lighting will underpin an Internet of Things (IoT) push by cities to operate more efficiently and intelligently, Jacksonville, FL has served a stark reminder that digital things aren't necessarily what they're cracked up to be, as it has ditched a ballyhooed pilot installation by GE.
Interested in articles & announcements on smart lighting & IoT?
Florida's most populous city had launched the project two year years ago, equipping some of its street lights with chips and sensors that would eventually do everything from improving lighting controls and efficiency to detecting free parking spaces for motorists to alerting the public about hurricanes, all the while collecting reams of valuable data.
Jacksonville had partnered with GE and with community-owned electric utility JEA, but somewhere along the way the plans went awry.
"Upon the pilot's conclusion, the city did not move forward with the program," a City of Jacksonville spokesperson told LEDs Magazine.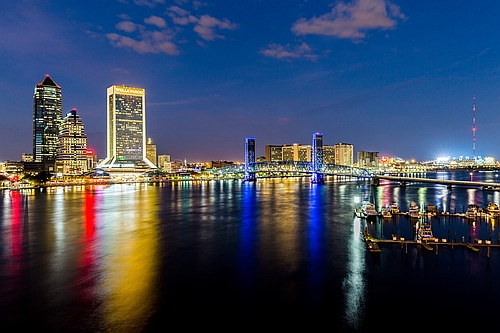 EXCLUSIVE: Jacksonville jilts GE smart lighting for city streets
Jacksonville has decided it can think and operate without the use of intelligent street lighting from GE's Current group. (Source: Ryan Ketterman for Visit Jacksonville.)
It is not clear exactly what discouraged Jacksonville from proceeding. The spokesperson declined to elaborate when LEDs asked if costs or operability stymied the smart lighting project, or whether Jacksonville was concerned with things like data protection, data ownership, privacy, and security.
Politics could also have intervened, as the city signed up to the pilot in April 2015 under Democratic Mayor Alvin Brown, who gave way to Republican Lenny Curry a few months later in July.
The spokesperson would only say that the city pulled the plug in early 2016 because it "had other priorities that took precedence."
That's hardly how Mayor Brown characterized the project at its kickoff, when he enthused, "This technology has the potential to transform how our city solves problems by allowing us to use the power of data to drive outcomes that give us flexibility, efficiency, and new, creative actions to enhance life in our city."
GE had been equally effusive. "We're thrilled to be piloting our most innovative lighting technologies with the City of Jacksonville and JEA," said Maryrose Sylvester, who was then president and CEO of GE Lighting, and who now serves the same top roles for GE's year-and-a-half old lighting and energy group called Current, powered by GE. "As the lighting industry continues to transform, GE is committed to delivering the most advanced solutions that will provide value and the greatest outcomes for our customers. We're confident lighting combined with big data analytics will have a major impact."
GE's Current group did not respond to several requests from LEDs Magazine for an update on Jacksonville. Current chief digital officer John Gordon told LEDs a few months ago that Current is more focused on indoor smart lighting than on outdoors. Its loss in Jacksonville squares with that report.
The company has enjoyed better outdoor fortunes in San Diego, where it launched a Jacksonville-like pilot scheme at around the same time as the Florida project. The San Diego smart lighting trial ended in August, and last month Current announced that San Diego was now investing $30 million to deploy 3200 of GE's CityIQ sensor nodes on street-light poles starting in July, with the possibility of another 3000 nodes later this year. San Diego is also upgrading 14,000 light fixtures — about a quarter of the city's street lights — to Current's Evolve LED luminaires.
San Diego aims to use the system to save energy by more intelligently turning lights on, off, up, and down as needed, and also to gather information to help with parking, traffic, and in fighting crime. The system includes the ShotSpotter technology that detects gunshot and communicates to police.
"Fostering innovation and improving infrastructure are important to enhancing the lives of all San Diegans," San Diego Mayor Kevin Faulconer said, sounding a lot more convinced than his seemingly disillusioned counterparts in Jacksonville. "This new technology will give the city and developers the opportunity to make our neighborhoods safer and smarter."
In a curious omission in San Diego, GE's announcement made no mention of the company's Predix by name, which is the cloud software that GE uses to analyze data collected by a universe of things connected to the Internet, and which GE routinely mentions as part of its overarching IoT strategy.
When GE originally announced San Diego and Jacksonville in 2015, it said that Predix would "drive" its smart city technology. Back then, GE's Sylvester noted, "In the pilots with San Diego and Jacksonville, we will be working with the cities to analyze data trends and determine where the solution holds the most value and how it will ultimately be used."
Since announcing the San Diego and Jacksonville pilots, GE formed Current and has recently ratcheted up a reliance on partnerships, anointing about 60 official Current partners. It's possible that the partners have taken over certain data analysis functions, or that GE simply left out specific mention of Predix.
After this article first appeared, a San Diego spokesperson contacted LEDs to say that the Current installation does indeed rely on Predix.
MARK HALPERis a contributing editor for LEDs Magazine, and an energy, technology, and business journalist (markhalper@aol.com).
*Updated Mar. 21, 2017 at 4:17pm to add Predix information.