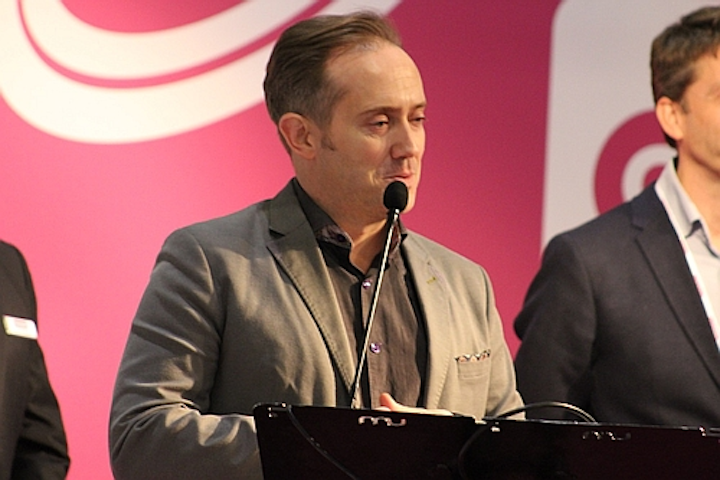 The lighting company reveals that it will sell the forthcoming Gooee-enabled line both as a product and on a subscription basis.
Aurora Lighting has been talking the talk of Internet-connected lighting for some time, and now it has moved closer to walking the walk: Last week it previewed a set of lights with built-in sensors and Bluetooth chips that let retailers collect data and communicate with in-store shoppers, which it plans to sell as a service as much as a product.
Interested in articles & announcements on smart lighting & IoT?
The company's AXiO line embeds Internet of Things (IoT) circuitry from Gooee, a startup founded by Aurora founder Andrew Johnson, who is CEO of the two separate companies.
Aurora is one of about 30 lighting companies that has committed to building the Gooee Inside engine into its LED lighting products. It was among the three who ceremoniously received the first development kits from Gooee last November at the LuxLive 2016 show in London, along with Feilo Sylvania and John Cullen Lighting.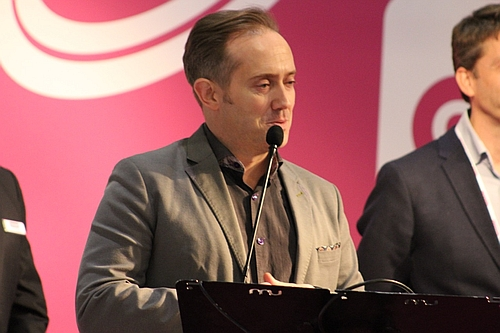 Aurora draws closer to IoT luminaires, previewing AXiO and talking up services
Aurora managing director of IoT Neil Salt says the company will sell subscriptions to retailers for lighting-based services such as customer engagement. It will also offer both a service model and a more traditional capex approach for the lighting itself. (Source: Mark Halper.)
Aurora showed AXiO last week in Dusseldorf at the EuroShop exhibition, one of the world's largest trade fairs for retailers. EuroShop features the latest offerings in retail technology, lighting, shop designs, store fittings, merchandising, and the like.
While Aurora stopped short of staging an introduction, it used EuroShop to provide a glimpse of AXiO to people who booked time slots in advance. Neil Salt, managing director of Aurora's IoT division, told LEDs Magazine via email that Aurora is marketing AXiO as a "platform" that combines hardware and software. Aurora will offer different lighting formats including linear, spots, and accents.
IoT-enabled lighting holds promise across different industries, but Aurora is focusing its initial AXiO efforts on retailers, who could use it to track and guide customers around stores, to offer discounts delivered to individual shoppers' smartphones, and to collect data on customer behavior. Those are the same sorts of activities that prompted Philips and Zumtobel to announce IoT lighting users at EuroShop last week.
"Our IoT integrated lighting platform enables retailers to harmonize their customers 'click and brick' experience across a wide range of application and installation scale, from convenience to targeted brand promotion and enterprise initiatives," Salt said. "By designing and creating a lighting platform with Gooee Inside, an Aurora network of lighting is not only generating incredible visual and stimulating displays but valuable data and consumer insights for the retailer. Now decision makers have the ability in real time to enjoy clear information based on timely trends that they can use to create even more value and advantage, for example, creating special offers to enhance a product's sales."
Aurora declined to reveal specific pricing information. But Salt revealed to LEDs that the company will go to market with two different business models, both of which include a software-as-a-service subscription model for activities such as customer engagement. One charges for the lights in a traditional capital expenditure (capex) manner, while the other charges for them in a lighting-as-a-service, operational expenditure (opex) approach.
"Our connected IoT lighting platform offers retailers everything as a service, and as such we can deliver exceptional value beyond illumination," Salt said.
Presumably, Aurora might try to structure deals around the value that it could create by collecting data on activities such as how and when people are moving around stores. Retailers could use such information to help determine new aisle layouts, promotions, and such. The lights also gather information about their own energy efficiency.
Both Philips and Zumtobel cited data as a key attribute to IoT lighting when they announced separate indoor-positioning deployments last week — Philips with an EDEKA Paschmann supermarket in Dusseldorf, and Zumtobel with an E.Leclerc "hypermarket" in France.
Aurora declined to say if it has lined up any customers for AXiO. It described its EuroShop activities as a preview of AXiO.
AXiO uses embedded Bluetooth beacons to transmit meshed signals to smartphones and provide shoppers with a map of the store, with product information, and with tailored promotions and discounts. It does not use visible light communication (VLC), a more accurate technology but one which has the drawback of requiring end users to constantly keep their phone pointed to the light. Philips, an early champion of VLC, is now also talking up the use of Bluetooth, which can direct a shopper to within 6-to-10 ft of a product, compared to VLC's ability to steer them to within a foot.
"It would be possible to include VLC technology alongside Gooee if the customers' requirements benefit from this integration," an Aurora spokesperson said.
Some industry observers believe that VLC will be more useful as a two-way Wi-Fi type technology than as a one-way transmitter of location information, where Bluetooth suffices.
One lighting vendor, Osram, is so convinced of Bluetooth's usefulness as an on-premise retail tool that it will sometimes sell Bluetooth even when it does not sell lighting, as it has done with Swiss fashion chain operator Bollag-Guggenheim.
Similarly, Aurora IoT technology provider Gooee has branched outside the lighting industry, working with non-lighting companies such as Israel's PointGrab Ltd. to tie room sensors into Gooee back-end data analysis systems.
While Aurora focuses AXiO for now on helping retailers to engage customers, lighting vendor Feilo Sylvania in contrast has said it will concentrate on using IoT lighting to help building managers improve facility operations. IoT lights can keep track of room occupancy in office buildings and help in decisions on how to reassign or jettison space, as Feilo has done at the headquarters of Dutch standards group NEN. (It's an office building equivalent of helping retailers rearrange the store.)
Intelligent lights can also monitor their own operations and can help track room climate and trigger actions in the heating and ventilating system.
MARK HALPERis a contributing editor for LEDs Magazine, and an energy, technology, and business journalist (markhalper@aol.com).