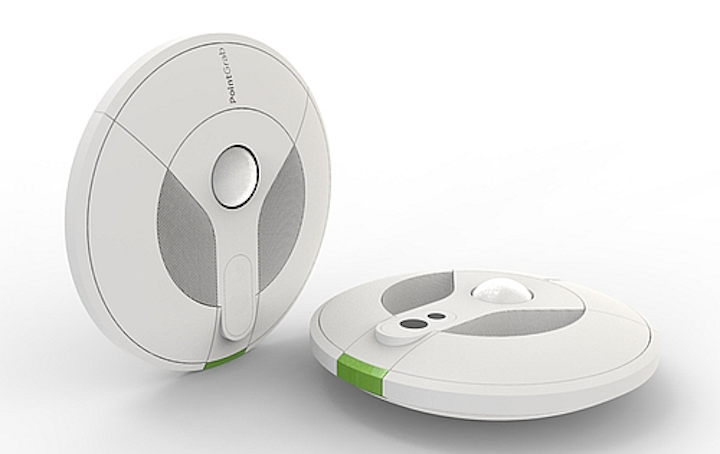 The smart lighting startup turns to Israel's PointGrab for occupancy detection sensors that are richer than what can fit inside a light housing.
Smart lighting startup Gooee has added another arrow to its quiver of Internet technologies. This time, it is expanding its presence by going outside of luminaires and into room-mounted sensors.
Interested in articles & announcements on smart lighting & the IoT?
St. Petersburg, FL-based Gooee has partnered with Israel's PointGrab Ltd. to tie that company's CogniPoint sensor into the Gooee cloud data analysis system.
CogniPoint, typically used for building automation purposes, detects detailed levels of occupancy and motion to help optimize building utilization and improve energy efficiency. It complements existing Gooee technology, which can provide similar information from chips mounted on the Gooee Internet of Things (IoT) engine designed to fit inside luminaires.
While the CogniPoint sensors are too bulky for the Gooee design, they stand to provide richer information than what is possible from inside the luminaire. About 30 lighting companies, mostly luminaire makers, have agreed to embed the Gooee chipset when it becomes commercially available early next year to help make lights and luminaires and integral part of the IoT.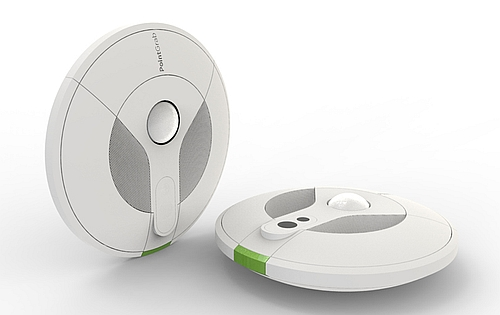 Gooee broadens its IoT technology by going outside the luminaire
The PointGrab CogniPoint sensor adds IoT functionality beyond what can fit neatly inside a smart luminaire. (Source: PointGrab.)
Gooee is offering CogniPoint as an optional add-in, chief technology officer Simon Coombes told LEDs Magazine.
"We have integrated PointGrab's sensor so the data it generates is handed off to Gooee's IoT gateway, streamed to our cloud for analysis, and can be used to automate the lighting environment," Coombes said. "We are developing our own IoT sensor with its own use cases and sensing inputs. We see the CogniPoint sensor a complementary product within our ecosystem — this gives the end user more options. The CogniPoint sensor has some advanced object tracking capabilities that because of the miniature size, cost, and smaller on-board processing we do not presently do. Therefore, for users wanting more advanced object tracking features than Gooee's sensor can offer, it's very beneficial and helps to cover multiple use cases for our customers."
By taking detailed note of how many people and objects occupy a space, of how they move, and of the shifts in occupancy, PointGrab's CogniPoint sensors can help trigger other actions, such as lighting and heating levels.
In the IoT lexicon, Hod Hasharon-based PointGrab is a specialist in edge processing and analytics. Its founders are steeped in computer-vision technology. They deploy algorithms in the CogniPoint processor that analyze the picture of what the sensors "see" in a room. This information feeds into Gooee's cloud.
"Integrating our technology into Gooee's ecosystem expands our market reach and enables customers to access the complete joint solution," said Itamar Roth, PointGrab's chief business officer.
The CogniPoint sensor "provides positions on one or more objects it tracks within the sensor's field of vision, and part of the value of the sensor is the ability to differentiate between types of objects," Gooee's Coombes explained.
CogniPoint can help end users cut energy consumption by automatically turning lights off or dimming them when applicable, and by instigating similar actions in heating and cooling systems.
"These are the near-term energy saving opportunities," Coombes added. "We are also working on predictive analytics and machine-learning algorithms to determine usage trends and product performance, and then using these to propose more efficient adjustments to lighting schedules and rules."
Gooee's "Full Stack" IoT system is also designed to help facilities managers decide how to better use or even relinquish space based on patterns of occupancy. It has myriad other potential uses. For example, Gooee is marketing it as a tool to help retailers communicate from lights to smartphones and thus engage in-store shoppers. It can also physically track goods on shelves.
PointGrab is the first of what is expected to be other IoT partnerships from Gooee, as Gooee broadens its smart lighting and building offerings. (Learn more about Gooee and other smart lighting startups in our July/August issue feature.)
MARK HALPERis a contributing editor for LEDs Magazine, and an energy, technology, and business journalist (markhalper@aol.com).