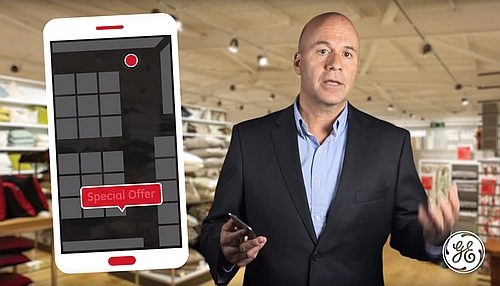 Jeff Bisberg gives up IoT duties at Current, powered by GE. He takes over as CEO of horticultural LED lighting specialist Illumitex.
The executive who had been leading GE's push into lighting-based indoor location services has left the company to head up a Texas outfit that specializes in LED lighting for horticulture and vertical farming, LEDs Magazine has learned.
Jeff Bisberg took over as CEO of Austin-based Illumitex this month, according to his LinkedIn page.
Interested in articles & announcements on indoor positioning & smart lighting applications?
Bisberg had served since December as chief strategy officer of GE's new energy and lighting group called Current, powered by GE. He had responsibility for "IoT platform – enterprises and cities" and for "cloud native – technology and culture," he says on LinkedIn.
Bisberg had been a key executive in GE's efforts to establish lighting-based indoor positioning systems within retail stores. Before taking the chief strategy officer role, he was global general manager of indoor location for what was then called GE Lighting.
Bisberg joined GE in 2012 when GE acquired Albeo Technologies, a Boulder, CO manufacturer of LED fixtures which Bisberg co-founded in 2004 and where he was CEO. He continued as the boss of Albeo within GE until taking over indoor location in 2013.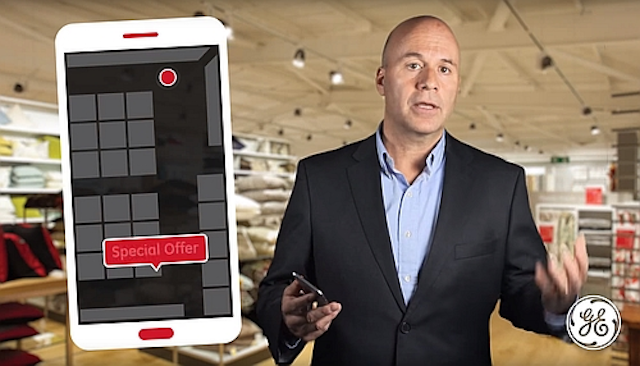 GE indoor positioning boss exits company
Jeff Bisberg, seen here in a GE video promoting lighting-based indoor positioning for retail use, now has a new location. He's in Austin, TX, as CEO of vertical-farming LED lighting specialist Illumitex.
Lighting-based indoor-positioning is a nascent LED technology in which ceiling luminaires send signals to in-store shoppers' smartphones, guiding them around cavernous stores and sending them to discounts of interest to the shopper. The technology ties into a person's shopping history and can thus individualize information.
It has many other possible applications, including inventory and asset management, as well as retail trend analysis. Those benefits can extend beyond the retail trade and into general building optimization, which is the driving force behind a Feilo Sylvania smart lighting deployment at the offices of Dutch standards institute NEN, which uses rudimentary motion sensors to track room occupancy and help facility managers reassign rooms and floors.
Although GE has been promoting indoor positioning for two or three years, it has yet to publicly name even a trial customer in retail. It has stated that it has pilots under way in both Europe and the US. When Current last month trumpeted five expansive new installations at retailers including Walmart and Sainsbury's, it said nothing about indoor positioning at any of them.
Rival Philips has identified a few trial users, including the CapitalLand Mall in Singapore, a Carrefour store in Lille, France, and Dubai-based retail chain aswaaq. Earlier this month it began offering its location technology to other luminaire manufacturers.
US retail giant Target is also experimenting with the technology at 100 locations, as our sister publication Lux Review has reported.
Vendors and retailers could be reticent about in-store indoor positioning for various reasons: It raises privacy and security questions; retailers typically don't want to reveal their secret technology weapons; there are possible patent disputes; or retailers might simply not want it.
The technology is also still unproven. Vendors are experimenting with different approaches. Philips prefers visible light communication (VLC), which sends signals via flickering LED lightwaves in a manner similar to Li-Fi, the technology that is emerging to play the same role as Wi-Fi. Other vendors prefer to embed Bluetooth beacons in luminaires. VLC requires direct line of sight whereas Bluetooth does not, although VLC is more accurate.
The lighting industry is also competing against the technology industry to lead the way on indoor positioning.
Indoor positioning matches well with Current's Internet of Things (IoT) mission of tying things together via the Internet, collecting data from them, optimizing their performance, and lowering their energy needs. Along those lines, Current created the new role of chief digital officer late last year and named a former executive from IBM, John Gordon, to that post.
It is not clear how Current delineated the Bisberg and Gordon roles.
Illumitex, the company that Bisberg is now heading, earlier this year expanded its vertical farming presence into five countries outside the US: Israel, Japan, France, Norway, and Italy.
Neither GE nor Illumitex has yet released a public statement on the management change.
LEDs Magazine will bring you more on this story as we get it.
MARK HALPERis a contributing editor for LEDs Magazine, and an energy, technology, and business journalist (markhalper@aol.com).