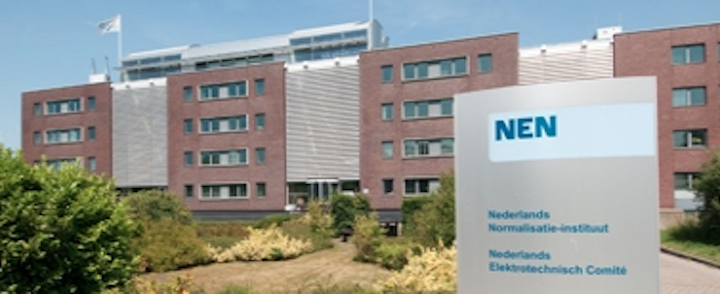 The LEDs save energy, but the real value comes from insights the IoT system provides on facility utilization at the headquarters for standards body NEN. It's the data, stupid.
Feilo Sylvania will soon turn on a lighting-based smart building services installation at the national headquarters of Dutch standards body NEN in a deployment that could save NEN more money in facilities utilization than in energy savings, LEDs Magazine has learned.
Interested in articles & announcements on smart lighting & smart buildings?
Chinese-owned, London-based Feilo is installing about 1000 luminaires equipped with motion sensors and tied wirelessly into a web-based information portal provided by Australian startup Organic Response. Operations staff from NEN's Delft headquarters can view the portal onsite or remotely to gain real time insights not only into how the lights are working and how much energy they are consuming, but also to see how different floors and rooms are being used.
Feilo Sylvania smart lighting will help Dutch group manage property
NEN will start making better use of space at its central facilities when the LED-based smart lighting gathers data about occupancy.
The system also includes web-based controls for turning lights on and off and altering their brightness. Using embedded Bluetooth Mesh and Organic Response algorithms, each light also talks to the other lights intelligently in order to automatically adjust brightness and on/off states.
NEN's biggest long term financial benefit from the smart lighting system could come from the knowledge it gains on how better to utilize space within the sprawling multi-story headquarters complex. Analytic systems like Organic Response's can help reveal that areas of a building are vastly underused and thus prompt corrective measures such as leasing or selling the space or implementing hot-desking.
Feilo is providing the analytical portal to NEN as a monthly service. NEN is free to terminate the service and keep the lights and the control system, which it is outright purchasing.
While the ceiling fixtures provide the classic benefits of LEDs including energy savings and longevity, it is the data collection and analysis that will provide the greatest value, Feilo global director of strategy and new business development Bastiaan de Groot told LEDs Magazine.
"We can see exactly how buildings are being used over time," de Groot said. "So we can see what meeting rooms are being used, by how many people, and we can start advising our customers on the efficient use of their real estate. And we believe that information will generate significant benefits to our customers in terms of their ability to reduce their square-meter footprint of their organization."
Meeting rooms are famously underutilized. British research group AWA claims that they are only used 39% of the time and typically at 20% of their capacity.
"We believe that the value of the data is around 12 times bigger than the value we create in terms of reducing the energy consumption in the building by installing energy-efficient lighting," de Groot said. Feilo expects to complete the installation by November.
The Feilo/Organic Response Internet of Things (IoT) system does not yet include sensors for detecting things other than motion. De Groot said Feilo expects to add climate detectors over the next year. That would allow lighting to help adjust heating and cooling and further save on energy and operation costs.
Feilo also plans to add technology that will allow customers to alter the color temperature of white lighting, a development that will help bring on the emerging area of human-centric or circadian lighting.
The company is also partnering with smart lighting startup Gooee to add IoT features to its Feilo hardware.
NEN is a non-profit institution that helps set standards for everything from electrical wiring to milk to bicycle helmets. It manages about 31,000 standards.
Feilo Sylvania, formerly Havells Sylvania prior to the 80% acquisition by China's Shanghai Feilo Acoustics Co. last year, is pushing hard into service-oriented, smart lighting projects in Europe, where NEN marks its first such customer. Feilo is expected to announce another key customer, in the UK, later this year.
MARK HALPERis a contributing editor for LEDs Magazine, and an energy, technology, and business journalist (markhalper@aol.com).