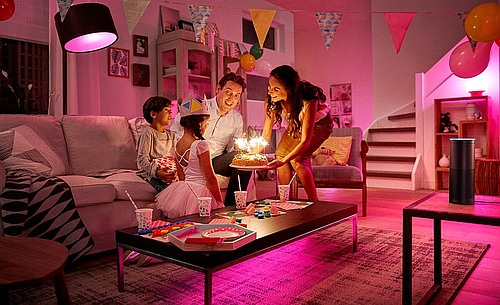 The residential smart lighting also now supports the Internet giant's Echo and Alexa system in Europe, as the Dutch giant extends its LED IoT push.
Philips said users can now verbally command its Hue smart bulbs to render pre-determined light scenes using Amazon's Echo voice control gear. Philips is also now offering Echo compatibility in the UK and Germany, in line with Amazon's expansion into those two countries this week.
Interested in articles & announcements on smart lighting?
The light scene feature marks an extension of Hue's Echo capabilities, which already included vocal commands for turning lights on and off, and dimming them.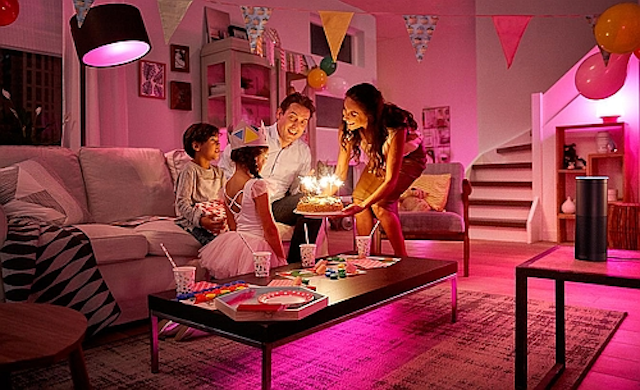 Philips adds scene-setting feature to Amazon voice commands for Hue smart bulbs
Alexa is a genie inside the bottle of the Echo speaker on the table to the right. Here it has granted a spoken wish to create a festive light scene. But it won't clean up the crumbs, even if you tell it to.
Echo is a stylish speaker with microphones. It connects to the Internet. Users address it as "Alexa," asking it for information, or commanding it to do things such as turn up the heat or alter the lighting. Alexa responds vocally, either with answers or with a repeat of the command which it then carries out.
If a user says, "Alexa, set a party scene in the living room," the Amazon system would turn on different colors. "Alexa, set the wake-up scene in the kids' bedroom" would turn on an ambient white light that changes color temperatures to mimic sunrise.
Philips said it will support Echo on Hue smart bulbs in the UK later this month, and in Germany next month.
The new scene-setting feature works in both countries as well as in the US, it added.
Other smart lighting vendors also support Amazon Echo. For instance, LIFX added Echo compatibility early this year.
MARK HALPERis a contributing editor for LEDs Magazine, and an energy, technology, and business journalist (markhalper@aol.com).