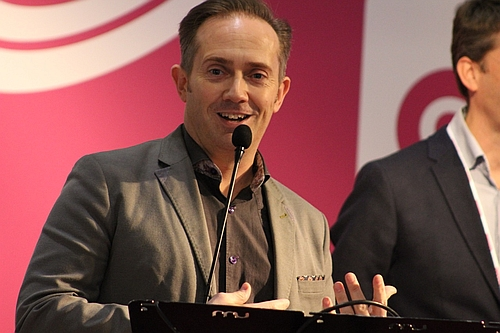 The smart lighting startup hands over hardware and software to three vendors, with more to follow soon. Gooee-enabled products are expected to hit the market in 2017.
LONDON – Smart lighting startup Gooee today released development kits to indoor LED luminaire makers, hitting a milestone on the path to commercializing Gooee-enabled Internet of Things (IoT) lighting in 2017.
Interested in articles & announcements on IoT & smart lighting?
Gooee kicked off the LuxLive 2016 exhibition here by ceremoniously handing over hardware and software to Aurora Lighting, Feilo Sylvania, and John Cullen Lighting. The three LED lighting vendors are among approximately 30 OEM customers — mostly luminaire makers — that have committed to building Gooee chips and sensors into their systems. The trio will now kick the tires and help St. Petersburg, FL-based Gooee work out final tweaks so that Gooee can start manufacturing in March.
IoT lights equipped with components from Gooee will be able to take note of factors such as room occupancy, lighting levels, climate, and motion, and then communicate that information to individuals and systems to act on. Actions could range from automatically adjusting lighting and heating levels, to engaging customers in retail stores, to spotting patterns in room usage via cloud data analysis that might lead to reassigning facilities or to designing new layouts in stores. It also gives lighting companies more of an entree into selling services as opposed to products.
"The disruption that the IoT will bring will dwarf the disruption that the introduction of the LED has brought our industry," said Bastiaan de Groot, Feilo Sylvania's global director of strategy and new business development.
Feilo Sylvania will focus on developing lighting that collects data about room usage and helps companies optimize space utilization and property allocation.
"The demand is for occupancy data," de Groot said. "We want to provide our customers with this valuable data and that is why we have chosen to partner with exciting new startups such as Gooee." The value of such data in an office "is about eight to ten times bigger than the value of installing the most energy efficient lighting," he told LEDs Magazine. Earlier this year, de Groot noted that just like voice moved down the list of primary uses for smartphones, so lighting is falling as a driving factor in luminaires as the importance of data rises.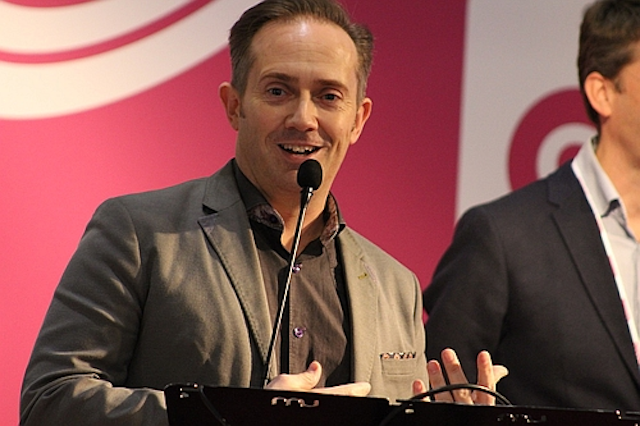 Gooee releases development kits for IoT lighting engine
Neil Salt, managing director of the IoT division of Aurora Lighting, said the IoT is the "next generation" for the lighting industry. (Source: Mark Halper.)
Chinese-owned, London-based Feilo has already deployed an occupancy-centric IoT lighting system using similar technology from Gooee's Australian rival Organic Response at the headquarters of Dutch standards body NEN in Delft, the Netherlands.
In that deployment, Feilo is providing about 1000 intelligent luminaires that not only know how and when to adjust their own lighting levels, but that also send off occupancy data for analysis. Facilities managers can gain real-time insights not only into how the lights are working and how much energy they are consuming, but also to see how different floors and rooms are being used, and thus make decisions about possibly selling space, converting to hot-desking, paring conference rooms, and things of that nature.
In announcing the maiden handover of development gear, Gooee revealed that its system includes a management portal — basically a web-based application — that helps facilities managers automate the lighting system through rules, scenes, scheduling, and device management. (Rival Organic Response also provides a portal management interface). It will eventually also include management for cloud analytics, dashboard reporting, and activation capability for communication beacons that are embedded in the Gooee hardware.
The Gooee Development Kit includes hardware called the Gooee IoT Gateway, which is required for the IoT system. It also includes sensors; boards for wireless interface modules (WIMs), which connect to lighting fixtures, handle controls, and contain the beacons; application process interfaces (APIs) for enhanced security; and access to the Gooee portal. The beacons can help with functions such as indoor positioning, in which they track customers around stores. Operators can switch on the beacons through the portal or the APIs.
Initially, Gooee is providing its own sensors but will eventually also supply others'. The first batch of sensors focuses on movement, direction, ambient light, and the hue of the light fixture.
The company expects to supply development kits to more of its 30 vendors soon.
"We are releasing all development kits now and throughout the first quarter," Gooee chief technology officer and co-founder Simon Coombes told LEDs Magazine. "We want to manage the release of these so we can dedicate the appropriate resource to customers as they receive equipment."
Gooee said that a "Gooee Inside" system connected to the Gooee Cloud can help drive down end users' costs by improving lighting control, energy management, and analytics. Gooee is also positioning its smart lighting for use in retail environments where, when combined with beacons, it can help engage in-store shoppers with promotions, discounts, information, and other forms of direct marketing.
"The necessity for lighting within most business applications is obvious, and the IoT can capitalize on this to save money in all aspects of a building's efficiency," said Gooee's Coombes. "With the Dev Kits now in the OEM's hand, it won't be long before the market can realize its true potential." Gooee believes that luminaires with Gooee Inside will reach the market in 2017.
Peter van der Kolk, chief executive of development kit recipient John Cullen Lighting, said that his company aims to embed Gooee technology into high-end residential lighting, its mainstay market. Van der Kolk told LEDsMagazine that users in that market are simply interested "in gadgets" and are increasingly interested in trying smart lighting as a result, tying their lights into things like security systems.
"Not everyone knows yet exactly what [IoT lighting] is, but you have to get involved and get in there and try," said van der Kolk. "The business is changing from a product business to a more service-led business."
Neil Salt, managing director of the IoT division at Aurora, called the IoT "the next generation" for the lighting industry, and lauded the Gooee technology as "an enabler for this to happen." Aurora's CEO and founder, Andrew Johnson, is also Gooee's CEO and founder. Aurora was one of Gooee's first customers.
The number of Gooee OEM customers has expanded from seven last year at this time to around 30.
Most recently, the company added China's Leedarson Lighting, in a broad partnership that calls for Leedarson to manufacture the Gooee engine. The two companies already have some OEM and design customers in common, so the agreement will make it easier to jointly build and design for those customers. Leedarson could also use Gooee technology for lighting customers that have not signed up directly with Gooee, a Gooee spokesperson told LEDs Magazine. Leedarson's customers reportedly include GE, Osram, Ikea, and others.
Gooee is also marketing its hardware and software beyond lighting companies. Last month, it partnered with Israel's PointGrab Ltd. to tie that company's CogniPoint room-mounted sensors into the Gooee cloud data analysis system.
CogniPoint, typically used for building automation purposes, detects detailed levels of occupancy and motion to help optimize building use and improve energy efficiency. While the CogniPoint sensors are too bulky for the Gooee design, they stand to provide richer information than what is possible from inside the luminaire.
LuxLive is co-located with the Strategies in Light Europe conference. The two gatherings continue today and tomorrow.
MARK HALPERis a contributing editor for LEDs Magazine, and an energy, technology, and business journalist (markhalper@aol.com).