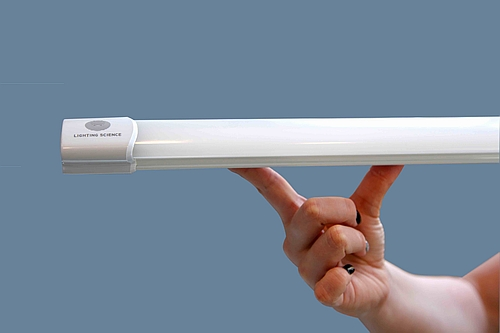 Lighting Science strikes three-year deal with hospital products facilitator Vizient, connected to Mayo, Cleveland Clinic, UCLA, and many more.
A leading contract negotiator for US hospitals has signed a three-year agreement for human centric and other LED lighting products from Lighting Science Group, a company with circadian lighting ties to NASA.
Interested in human-centric lighting applications?
Irving, Texas-based Vizient Inc. facilitates purchases of about $100 billion worth of goods annually for members including the country's top hospitals such as the Mayo Clinic, the Cleveland Clinic, Massachusetts General Hospital, Johns Hopkins Hospital, and UCLA Medical Center.
Those members can now obtain Lighting Science's circadian lighting and standard LED products at reduced rates via the Vizient terms, in a pact expected to be worth millions of dollars to West Warwick, RI-based Lighting Science. The hospitals and other members are free to buy lighting products from vendors outside of the Vizient arrangement.
Circadian lighting helps people sleep, think, heal, learn, and generally perform better by tailoring light frequencies and brightness to different situations and environments. Many people regard it as the next wave in the LED lighting industry, now that the energy savings benefit of LEDs has become entrenched. It's also known as human-centric lighting and biological lighting. Lighting Science brands its line as HealthE.
"In addition to helping Vizient members benefit from the significant energy savings that LEDs are known for, we look forward to helping them positively impact patient care with our HealthE biological lighting solutions," said Lighting Science chief executive officer Ed Bednarcik.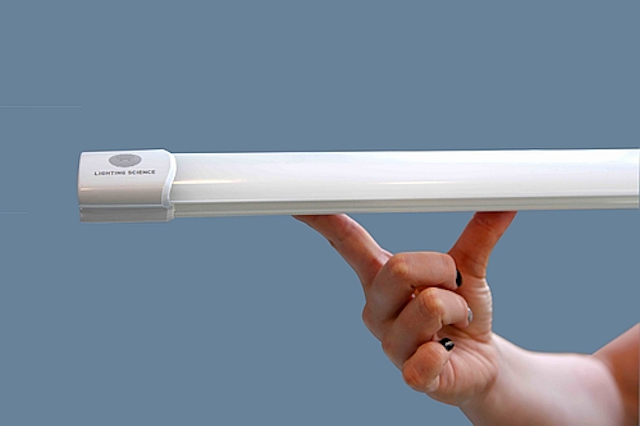 Pact puts circadian lighting on the buying list for thousands of US healthcare providers
Lighting Science hopes to soon offer a human-centric lighting version of its new L-Bar ceiling luminaire.
Different vendors take different approaches to human-centric lighting, but the concept is generally built on the premise that light enriched with frequencies in the blue spectrum stimulates and can therefore buoy alertness during the day and can help keep people's circadian rhythms tuned properly. Conversely, blue light at night can undermine sleep, so circadian lighting schemes call on heavier amounts of reds and ambers in the evening.
LEDs are well suited to providing human-centric lighting because they are digital and thus they make it easier for operators to tune their frequencies to different levels of blue-enriched and red-enriched light. Blue frequencies stir up a pigment called melanopsin in the retina which in turn stokes the brain's master clock, helping to keep people alert. But blue at night can have a double whammy, because it also suppresses melatonin, a hormone that's conducive to sleep.
As LEDs Magazine recently reported in a two-part series, hospitals are leading the early deployments, and the technology is also beginning to take hold in the workplace.
The LSG/Vizient deal is aimed at the healthcare sector. Vizient has about 3,100 members including many academic medical centers, community hospitals, pediatric facilities and others. Hospitals are beginning to adopt circadian lighting to try to keep patients' day/night patterns in balance, which in turn can assist the healing process.
"We think this Vizient relationship will give us access to the partners in the network to show them our differentiated technology, our spectrum specific technology," Lighting Science executive vice president of business development Pete Rumsey told LEDs Magazine.
The company has helped to develop circadian lighting technologies for NASA and the International Space Station. It houses its research and development operations at Cocoa Beach, FL, near NASA's Kennedy Space Center. Earlier this year it relocated headquarters from Cocoa Beach to Rhode Island.
Lighting Science focuses its circadian lighting development on light sources rather than on controls. It designs its lamps and luminaires with a control-agnostic perspective, Rumsey said. It offers a mix of table lamps and ceiling lamps.
It also hopes to soon provide a biological-lighting version of its recently introduced L-Bar luminaire, a lightweight LED ceiling light that it rates at a highly efficient 130–140 lm/W (see photo). Lighting Science claims that the L-Bar weighs 19 oz compared to 25 lb for a conventional fluorescent troffer; that it uses 95% less material, making it easier to mount and to package; and that it sells for less than half a conventional fluorescent tube fixture.
Editor's note:See what's to come in the discussion of circadian lighting and its effects on human wellbeing at Strategies in Light 2017 with updates on the science by speaker Mariana Figueiro of the Lighting Research Center at Rensselaer Polytechnic Institute.
MARK HALPERis a contributing editor for LEDs Magazine, and an energy, technology, and business journalist (markhalper@aol.com).