CARRIE MEADOWS reports on why potential SSL investors will be schooled in the value of lighting as part of the Internet of Things during the Strategies in Light Europe Investor Forum at LuxLive.

European Investor Forum brings lighting financiers up to speed on IoTThis November, the Strategies in Light (SIL) Europe Investor Forum will take place during the LuxLive exhibition and conference at the ExCel Centre in London (Nov. 15–16, 2017; silinvestorforum.com). Held in association with longtime PennWell LED & Lighting Network partner and technology investment bank Canaccord Genuity, the one-day forum caters to venture capitalists, fund managers, investors, and lighting industry leaders who recognize the unique position of connected solid-state lighting (SSL) to enable the Internet of Things (IoT) and deliver actionable insights and value that will provide a measurable return on investment in the technology.
Interested in articles & announcements on IoT and solid-state lighting?
Approximately 90 delegates will converge on the ExCel campus on Thursday, Nov. 16, with representatives from both private and public companies debating the hot topics impacting investment in the lighting industry. Past Investor Forum attendees include lighting suppliers Acuity Brands, Dialight, and Zumtobel Group, as well as investors such as Barclays and CleanTech Capital. Top executives and decision makers this year will come from organizations such as LightingEurope, Fagerhult, Future Energy Solutions, iGuzzini, and many more.
In this year's program, delegates will take a deep dive into IoT and networked lighting and controls, and discuss how this disruptive movement will affect the lighting business. How will the industry improve its position? Who will come out on top? And, of course, why is IoT important to the investment community? A little historical reporting will put the top theme of this Investor Forum into context.
During last fall's SIL Europe, LuxLive, and lightspace.london co-located events, LEDs Magazine staff noted that smart lighting and the IoT resonated soundly throughout the European lighting community in London's ExCel Centre.
As well they should. Over the past several years, the evolution of controls and smarter technologies and systems has become a developing theme at SIL Investor Forums and in the conference programs. Back in 2013, LEDs Magazine chief editor Maury Wright reported that speakers from lighting manufacturer Dialight, LED component developer Xicato, and controls provider Digital Lumens all made impactful statements foreshadowing that digital lighting controls would drive industry progress over the next several years. During that event, Dialight group finance director Mark Fryer emphasized that the bill of materials cost would increase by about 10% when controls were added, but since the payback would be helped along by energy reductions, these additions to the final cost would likely still enable payback on LED installations within the company's preferred timeframe of two years.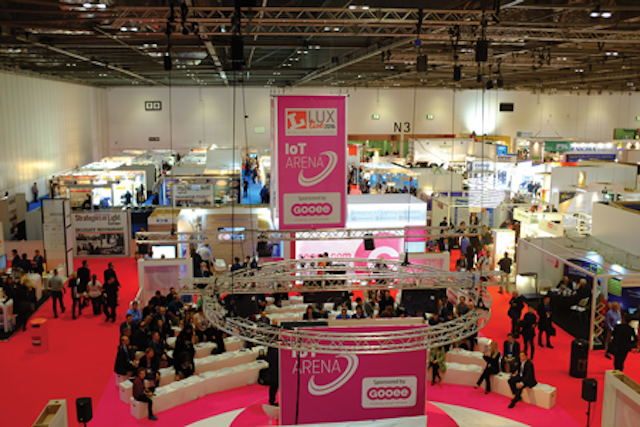 In 2016, the LuxLive and Strategies in Light Europe events pinned a bright spotlight on the Internet of Things and the role of lighting in that movement with a dedicated IoT Arena.
Fast-forward to SIL Europe 2015. Keynoter Klaus Vambersky, now chief technology officer of Zumtobel Group, proposed that instead of relying on the stagnating business of simple general illumination products, the lighting industry should grow business by moving into a new phase in the SSL market: developing new luminaire form factors and leveraging smart lighting and networking technology.
During the plenary at the same event, Andrew Parker of Schneider Electric France identified SSL as the ideal option to serve as a building network backbone and central point for data collection. One of the challenges in moving networked lighting forward has been the abundance of networking protocols available and the lack of standardization that would make various systems interoperable, which Parker admitted could be stymying. But over time we have seen changes in collaboration amongst lighting and networking companies (see our blog on smart buildings, for example). More industry experts and companies are also putting their weight behind specific networking technologies, such as Bluetooth Mesh with its extended communication range, as they attempt to accelerate lighting into the IoT.
At the 2013 conference, Digital Lumens CEO Tom Pincince gave a presentation at the SIL Europe Investor Forum in which he stated unequivocally, "The future of lighting is intelligent. The future is here today." And indeed, that astute observation has been echoed even more recently.
In an interview with Lux and Lighting Magazine publisher Ray Molony last fall, Harvard Technology executive Paul Hussey advised the LED and lighting supply chain to get on board with IoT and the services it enables, predicting that those who continued with the traditional lighting-product business model would find their offerings relegated to commodities in the furthest links of the supply chain. Hussey opined that lighting manufacturers ought to become service and solutions providers, collaborating with teams of hardware and software engineers to advance connected lighting, digital lighting controls, and associated electronics that will deliver on potentially lucrative IoT applications.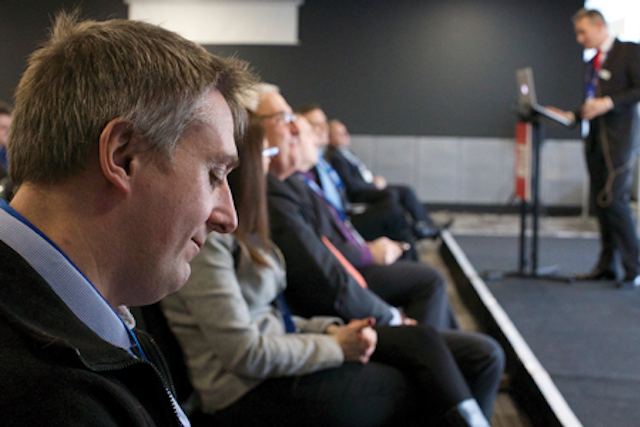 Participants in the Investor Forum will be privy to high-level discussion and presentations on the plays to make in smart SSL, and what investment in IoT could mean to the lighting industry's prospects in continuing to evolve beyond general illumination.
In a 2016 post-SIL Europe wrap-up, Maury Wright reported on the Green Investment Bank presentation by Dominic Noel-Johnson, in which he demonstrated that LED lighting adoption is on a marked upswing with 28% of the US market being LED, and the UK LED market segment growing at 40% year over year. In Wright's report, Noel-Johnson said the technology and manufacturing sides of the industry were solid; the less-positive news was that third-party investment was slow to arrive. He projected the value of the lighting market at £100 billion ($122 billion) in 2020, noting that for this boom to come to fruition "requires very large and deep pools of capital to propel and finance these actual capital investments."
Contributing editor Mark Halper's recap of the 2016 tradeshow focused entirely on the LuxLive IoT Arena, where he played host to a number of professionals, including security consultant and "ethical hacker" Ken Munro, who showed just how much more the industry has to learn about securing its devices in the IoT. Investors may be reluctant to pay for security mistakes in this disruptive market, so the upshot is that the lighting industry must be proactive and even more committed to making software and hardware communicate properly and securely.
Investment in control components, hardware, and software has helped move SSL toward advanced technologies such as tunable lighting and smart lighting for use in various applications. Without such an infusion of capital, the market and the uptake of smart lighting into IoT applications could surely slow down.
Philip Smallwood, research director at Strategies Unlimited, recently presented market data at the US SIL event, and stated that although connected LED lamps (aka smart bulbs) have "changed the dynamics of the industry in terms of connected lighting," the market opportunity going forward will be in the luminaire segment. For example, he expects the installed base of connected ceiling troffers to hit 13% by 2022 because it is such a prevalent product in commercial buildings. Outdoor connected lighting is anticipated to grow to 15% by 2021. Any of these segments will require compatible controls and buy-in from indoor facilities managers as well as municipalities for public lighting. The capability to make lighting work harder and smarter with additional data collection that can enable traffic and parking management, public safety communications, facilities usage analytics, indoor location services, and more could be part of the conversation where investment is concerned.
The Strategies in Light Europe Investor Forum will be held alongside LuxLive, Europe's biggest annual lighting event, bringing together an exhibition and two days of exciting presentations, demos, and discussions. Visit luxlive.co.uk for updates, registration information, and program details on the entire event.