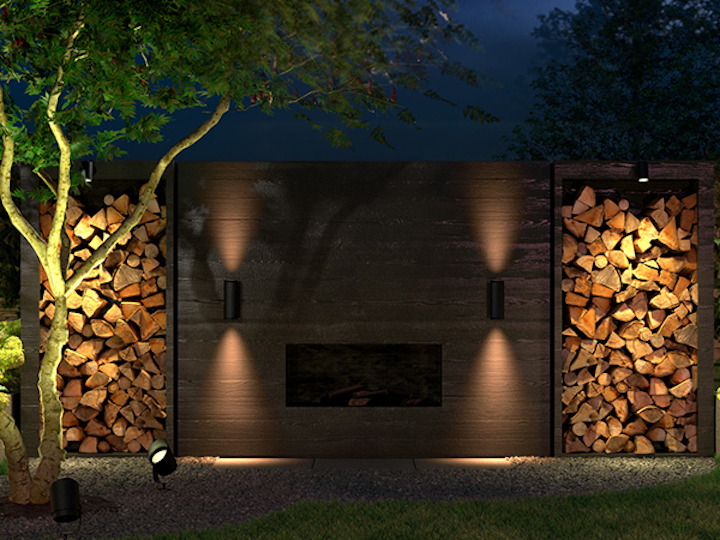 Signify continued to expand its Hue line of smart lighting, unveiling voice controls for home entertainment systems, introducing new outdoor luminaires and new wall switches, and enhancing the "zone" feature in Hue's control app that lets users subdivide the settings of a room's lights.
The company launched the new products and features at the CES consumer electronics show in Las Vegas, determined to push ahead with Hue following a financial setback in its Hue-dominated Home business group in the third quarter ending Sept. 30. The additions came as Signify also announced a new head of the Home group.
Users of Signify's home entertainment system will now be able to control those systems verbally, commanding them to sync light settings to the action in movies, television shows, video games, and music. Until now, users have relied on touchscreen app controls, which they can still use.
Like with the touch controls, users will communicate with Signify's Philips Hue HDMI Sync Box, which connects to video and audio systems. Using the Hue Sync mobile app, users can talk to the Sync Box via either Amazon Alexa, Google Assistant, or Apple Siri, giving instructions that will prompt lights to flash, dim, brighten, change colors, and react in other ways in response to the actions in a show.
"This feature makes it even easier to control the sync box and adjust settings," said Jasper Vervoort, business leader, home systems and luminaires, Philips Hue. "We are happy to keep expanding our entertainment options with the latest innovations so that we can offer our consumers the best immersive surround light experience."
The new voice feature will be available in the spring as an update to the app, Signify said.
In a related move, Signify said that users can now program standard infrared remote controls to program Sync Box. And as of Feb. 4, Signify is adding over a dozen countries where it will make Sync Box available.
Meanwhile, for outdoor use, Signify introduced a mix of eight wall-mounted and pathway lights, including two models that it said accentuate directional lighting effects, and three that avoid electrician installation by running off a cable connected to a low-voltage power supply.
The new Appear and Resonate wall-mounted luminaires deliver triangular light in both up and down directions, a new feature for the Hue line of color-and-white-tunable outdoor lights. Appear is priced at €139.99 and €139.99 for European and US markets, available in Europe starting at the end of this month and in North America starting in mid-March. Signify priced Resonate at €129.99 and €139.99 for a black and stainless-steel version, respectively, available in late January. It did not reveal Resonate's pricing or availability for North America. Three other new models called the Attract, Daylo, and Nylo round out the five new Hue lights powered by standard electrical connections.
In the low-voltage range, Signify added the Lily XL spot, the Impress wall light, and the Econic pedestal. All three are based on existing models of the same name but have been adapted for use with the low-voltage power supply and cabling system, in which low-voltage cable plugs into the light. The Lily XL is priced at €139.99 and $139.99, available in the corresponding geographical territories in late January and mid-March. Signify priced the Impress at €129.99 and did not give North American pricing for it. Conversely, it priced the Econic at $129.99 but did not provide European information.
The company introduced a 100W power supply at €59.99 for the low-voltage line, and a 40W power supply at €39.99, available at the end April. It did not indicate North American pricing or availability.
Back indoors, Signify said it has refined the Hue control app so that users can configure accessories including the Philips Hue Dimmer switch and the portable Philips Hue Smart Button controller, to divide rooms into zones that deliver different light.
In another move, Signify said that German retailer Voltus is now offering a battery-free light switch for Hue, in partnership with German switch manufacturer Jung.
MARK HALPER is a contributing editor for LEDs Magazine, and an energy, technology, and business journalist (markhalper@aol.com).