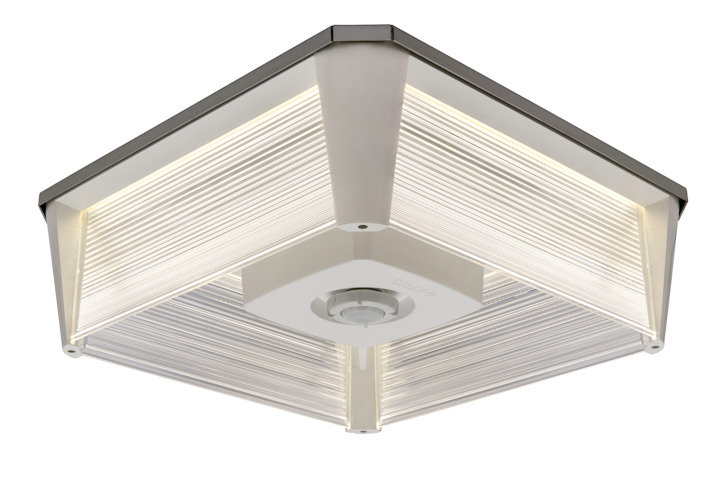 Cree Lighting has announced a partnership with Synapse Wireless to supply the latter's SimpleSNAP wireless connectivity for solid-state lighting (SSL) applications in commercial & industrial (C&I) high-bay lighting, parking-area lighting, and outdoor street and area lighting. Synapse is a longtime player in wireless connectivity predating the LED lighting era, and has vast experience in building and municipal connectivity including Internet of Things (IoT) applications. Cree Lighting will now offer that technology with the OSQ Series of outdoor luminaires, the IG Series of parking area luminaires, and the KBL Series of high-bay luminaires.
Cree Lighting has followed a varied path in terms of connected lighting technology. The company long offered its luminaires with optional support for third-party controls such as from Lutron and for the DALI (Digital Addressable Lighting Interface) standard. In 2014, the company rolled out its own SmartCast technology. Originally, the target was control scenarios in one room with plug-and-play installation. Later, Cree Lighting would expand the wireless SmartCast system for building-level controls and even integrate Power-over-Ethernet (PoE) support. But Cree Lighting had not developed an outdoor connectivity scheme of its own.
SimplySNAP will immediately enable Cree Lighting to offer connectivity in industrial and outdoor settings and open the door to the Synapse ecosystem. "More and more customers are looking for intuitive, intelligent lighting solutions," said Tom Hinds, director of intelligent lighting at Cree Lighting. "Cree Lighting's area, parking, and high-bay luminaires enabled with SimplySNAP deliver just that for outdoor and industrial applications and are a great complement to Cree Lighting's SmartCast Intelligence Platform for indoor applications including office, education, and healthcare."
The SimplySNAP system uses a proprietary mesh network to connect as many as 1000 luminaires to a single gateway device that Synapse calls a Site Controller. The range is about one mile. The wireless scheme relies on 128-bit AES security. The Site Controllers can communicate with a CMS (central management system) or a BMS (building management system) via Ethernet or wireless options. Ultimately, the user can control the systems with a PC, tablet, or smartphone with the ability to control luminaires individually or in zones and to capture data for analytics and preventative maintenance.
Cree Lighting will support the SimplySNAP platform in different ways for different products. In the case of the IG parking luminaires and the KBL high-bay luminaires, Cree Lighting will sell a specific model of the luminaires with an integrated SimplySNAP module that Synapse calls an Embedded Wirelesss Lighting Controller. There are multiple choices in those controllers relative to features such as sensors supported or white-point tunable capabilities. In the case of the OSQ outdoor area light, the SimplySNAP support is implemented in a twist-lock module that connects to the typical NEMA socket. Cree Lighting will also supply other SimplySNAP elements needed in a smart lighting installation such as a BMS gateway and more.
Cree Lighting customers can now buy the wireless connectivity and Synapse products directly from the company. And those customers will have access to the SimplySNAP ecosystem, including third-party applications. "Cree Lighting luminaires enabled with SimplySNAP are a secure end-to-end system that is simple to install, easily customized, and comes with standalone functionality that scales to campus-wide deployments," said Hinds.