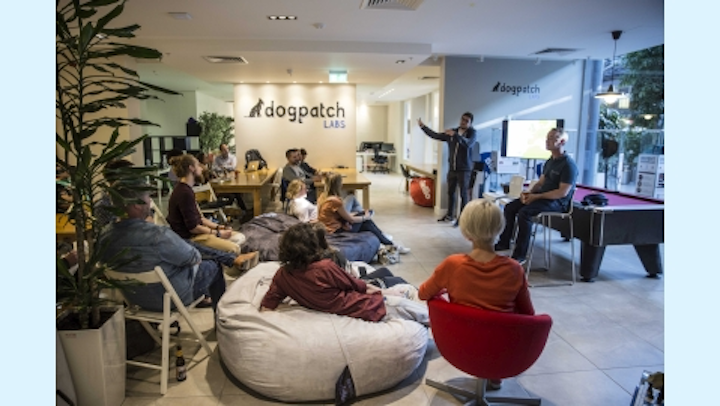 In a reminder that the lighting industry will have to compete against the information technology industry in its bid to win smart building business, semiconductor design stalwart Arm Holdings has launched an Internet of Things (IoT) initiative to gather data about facility use.
Arm's new Space Analytics program collects data from sensors in devices — including lights but also other things — and sends the data off for analysis and insights that help facilities managers determine how to make better use of offices, conference rooms, lounges, lobbies, and the like.
In an early user example, Arm has deployed Space Analytics at a shared working space for startup tech firms in Dublin, Ireland, called Dogpatch Labs, where the sensors initially do not reside in the lights but might eventually, an Arm spokesperson told LEDs Magazine.
With a marketing spin that could come straight out of any lighting company's own IoT push, Arm noted that Space Analytics "empowers property managers of co-working spaces, commercial offices and hotels with better visibility and predictability of space utilization and availability."
Cambridge, England-based Arm, a subsidiary of Japanese IT giant Softbank, is adding Space Analytics to Arm's existing IoT platform called Pelion, which Arm introduced last August in a step up from its earlier IoT platform dabbling.
"Space Analytics securely gathers and analyzes data from off-the-shelf IoT devices (such as smart lighting, sensors, locks, IP cameras, badge readers) to deliver actionable insights and predict availability of space," Arm said. "Through the solution's machine learning capabilities, we're able to provide actionable data insights on space and resource usage, all of which work toward driving greater efficiencies and maximizing revenue."
For example, insights gleaned from the IoT data could help facility managers devise discount schemes for off-peak use, could help them schedule cleaners more efficiently, and can help cut energy-related costs of lighting and other operations, the company noted.
Such benefits exactly echo those articulated by lighting companies such as Signify, Osram, and many others in their efforts to transform themselves into IT companies.
So LEDs asked Arm if it is competing head-on with the lighting industry.
"We can potentially," the spokesperson told us. "We haven't typically run into that to date."
Arm's Space Analytics and the underlying Pelion infrastructure do not require that IoT sensors go inside lights per se, since the sensors can reside elsewhere. Indeed, that is the case for now at Dublin's Dogpatch.
Thus, Arm could take IoT business from a lighting company trying to convince a facility that the IoT should reside in luminaires. Barclays plc deployed that sort of set-up at its headquarters in London, where it is using data occupancy sensors from Cad-Capture mounted independent of the lighting system.
But in the rapidly emerging world of the IoT, there are also partnership possibilities.
If Arm is to embed sensors in the lights, it would behoove the $1.8 billion company — known first and foremost as a semiconductor design firm — to have lighting partners. In fact, Arm has already teamed with British lighting controls firm Prolojik on smart lighting projects aimed at intelligently turning lights off on, up, and down, using Bluetooth Mesh wireless technology. Prolojik in turn has luminaire partners.
As Arm looks to increasingly leverage lights beyond smart illumination and into smart data analytics, the company hopes to form partnerships with more lighting companies, the Arm spokesperson said.
"We have conversations ongoing with several different lighting companies," he noted. "Our focus with them has been around Space Analytics.
As those conversations happen, the competition could boil down to which party would lead a potential partnership and how they would share revenue.
"We look at the lighting industry as a partner," he said. "As we go into this space, co-opetition happens. While it might be that lighting partners might want to lead in some aspects, at the end of the day we can find business models where both sides can work together. It's just coming down to that point of where do people land in the value, especially as they're looking at new markets and at the way they're trying to transform their business."
Lighting and IT partnerships are beginning to pick up pace. Recently, Osram teamed up with facilities services and technology company Facility Solutions Group. Watch for LEDs' upcoming feature on how smart lighting specialty Ingy is teaming with systems integrator Fujitsu on a smart building project at University Medical Center Utrecht.
MARK HALPER is a contributing editor for LEDs Magazine, and an energy, technology, and business journalist (markhalper@aol.com).
*Updated Jan. 23, 2020 for company name spelling.