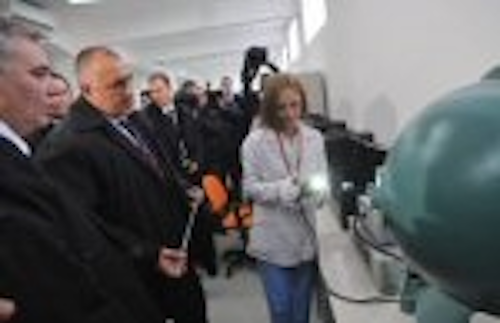 Octa Light held in mid February an official opening ceremony for the first high-power LED assembly line in Bulgaria. As a major event for the country and for the semiconductor industry, the ceremony was attending by the Bulgarian Prime Minister and his Deputy, as well as scientists from the Bulgarian Academy of Sciences and the Insistute for Solid State Physiscs, representatives of the major Bulgarian technical Universities and the Bulgarian National Comitee for Lighting, business partners and international guests.
With its new state-of the-art faciltiy, including a 4000 sq.m build area, laboratories, clean rooms and lighting-fixture manufacturing areas, Octa Light has also launched its first packaged LED named Bullstar.
Octa Light Bulgaria PLC is a privately-held company owned by major investors Monbat PLC (50.5% shareholding) and Octagon International (49.5%).
The first Bullstar LEDs offer full color-binning according to the ANSI standard, including cool white (6500K, 5700 K), neutral white (5000K, 4000K) and warm white (3500K, 3000K, and 2700K), as well as other colors.
Octa Light says that the the Bullstar series offers a typical emission of 110 lm for cool white, 100 lm for neutral white and 90 lm for warm white. Also, the silicone lens has a half emission angle of 110 degrees, permitting direct insertion in area-lighting luminaires without the need for additional secondary optics. This boosts luminous flux efficiency and lowers the final product costs, says the company.
Octa Light says that it plans to "continue its expansion the field of LED lighting technologies, by amplifying its packet of intellectual property and by pursuing a coherent policy for the improvement of its management following the best European and world practices."
The company will publish its brand catalogue for luminaires for general lighting by the middle of the year. Its products are aimed mainly at the European market. Octa Light Bulgaria PLC is certified under ISO 9001-2008, and the brand Octa Light is a registered Bulgarian Trademark.
Background
The Octa Light brand was created in 2003, when the first high-power LEDs appeared. In the intervening period, Octa Light has focused on the creation of innovative, energy-saving lighting fixtures, which the company has sold into the Bulagrian market starting from 2005, and to international customers within Europe starting from 2006.
Major successes for the company included the first oil stations entirely illuminated with LEDs; these were part of the biggest Buglarian fuel supplier Petrol. Other projects include illumination of government buildings, parks, restoration areas and production facilities, as well as the export of products within Central European countries.
In 2010, Octa Light commenced plans for the production of its own brand of LEDs. As of February 2011, Octa Light is a 100% private company developing the following areas of activity:
• Manufacturing of the Octa Light BullStar LED series.
• Manufacturing of high efficiency, cost efficient and energy saving lighting fixtures for application in street, internal, external, architectural and underwater lighting.
• Developement of luminaires for general use, as direct replacements for conventional sources.
• Project and design of illuminant systems and installations with LED core sources, analysis of economical and revenue benefits from higher energy efficiency
• On-field installation and overall maintenance of lighting systems, varied from street lighting installations to lighting of sport arenas, tunnels, administrative areas, indoors and outdoors.