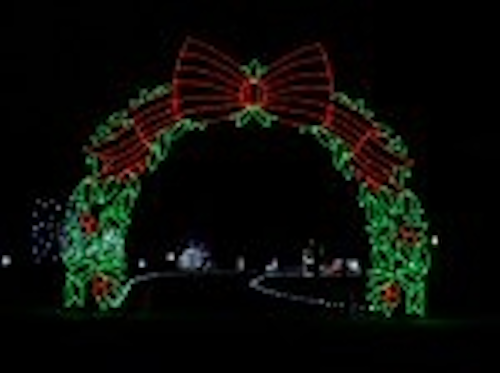 The
Bull Run Festival of Lights
in Virginia is a unique drive-through holiday light show, which this year features a series of animated displays that use around 60,000 multi-colored LEDs.
Located at Bull Run Regional Park in Centreville, Virginia, just outside Washington, DC, the 2.5-mile drive attracts 130,000 visitors each year.
The >$1 million installation was designed and manufactured by Carpenter Decorating and installed by Mosca Design. "The Bull Run Rark installation used our 12V LED systems along with proprietary animation controllers and LED drivers," says Carpenter's Jeff Callahan. Displays include a Tin Solider, Santa's Workshop, The 12 Days of Christmas, candy canes, Old Man Winter, tinkering elves, and leaping reindeer.
"Initial feedback says people were impressed by the vibrant pure-color look and the first-of-its kind low-voltage LED installation," says Callahan. "The power savings are phenomenal, since we tailored high power-factor correcting and extremely efficient LED drivers for the entire drive-through show."
This full adoption of low-voltage LED lamps and animated displays has now been proven as a viable alternative to incandescent technology on a very large scale in drive-through holiday parks.
More holiday tidings
The New York State Energy Research and Development Authority (NYSERDA) is encouraging New Yorkers to save energy by using LED lights this holiday season. "Decorating our homes for the holidays is a tradition for many New Yorkers and there are ways we can do so without wasting energy," said Peter Smith, president and CEO of NYSERDA. "LED holiday lighting uses less energy than standard holiday lights, making it a more cost-effective alternative when decorating for the holidays."
The Christmas tree in front of the Rotes Rathaus (Red City Hall) in Berlin with fairy lights containing a total of 24,000 white LEDs From Osram. With conventional light bulbs, the power consumption would be 35 kWh, compared with 4.2 kW using the LED technology. The estimated carbon dioxide saving between now and early January corresponds to the amount of CO
2
absorbed in a year by 225 trees through photosynthesis.
Philips improves LED snowflake efficiency at Saks