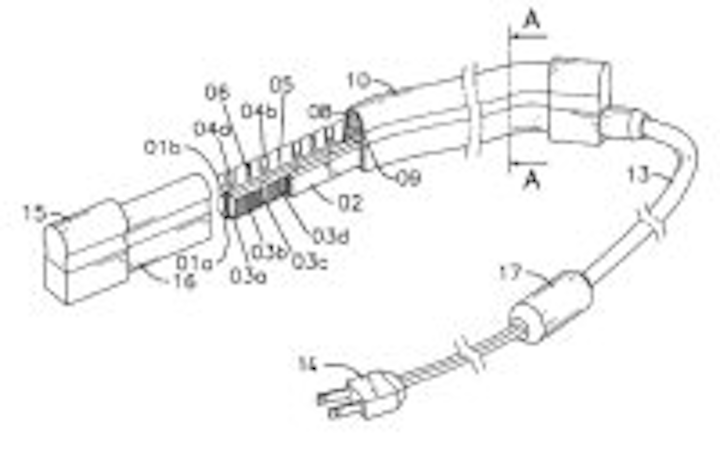 LED lighting manufacturer Neo-Neon has been granted US patent
number 7,048,413
entitled "Light string using a cladding to scatter light from light emitting diodes to present a neon light effect." The patent was granted on May 23, 2006, with a filing date of April 14, 2004.
The patent describes a light string comprising a core made of soft material and having multiple axial holes defined in one side of the core. LEDs are positioned in the axial holes and connected with wires that feed through the other side of the core.
A scattering body is placed on top of the core and the LEDs, and this is enclosed within a cladding layer that has a curved upper surface. The scattering body and the cladding ensure that the light emission from the LEDs is refracted and scattered to present a soft and continuous lighting effect.
Though neon has long been the mainstream of the outdoors linear lighting, it is also known for its technical weaknesses, including complicated installation, fragile glass nature, potential shock hazard, high maintenance cost and high power consumption.
However, the market of outdoor linear lighting is so vast that many manufactures try to find a perfect substitute for neon, but they all fail to solve the above problems. With,
Neo-Neon says that it has spent over 2 years' advanced LED technological research and development work to produce LED Neon-Flex to replace glass neon. Compared with glass neon, it is easier to cut and can be bent into whatever angles by hand, installation can be within minutes and most important, it gives no hot spot on appearance.
Features and benefits of LED Neon-flex include low voltage, low energy operation, high and uniform brightness, long lifetime and durability, flexibility, safety, and ease of transportation and installation.