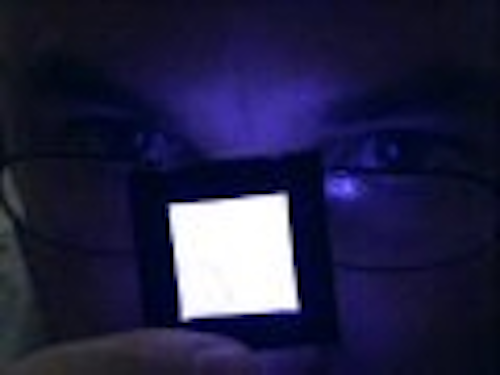 Design LED Products Ltd, a UK-based specialist in LED light-guides, has developed a unique low-cost light-guide design and manufacturing process for thin, flexible and patterned LED backlighting.
LEDs can be viewed as point sources of light; however, for many applications, thin illuminated panels are required. This has been the drive behind the development of LED backlights for LCDs, explains Design LED's technical director and founder, James Gourlay. "The development of patterned illumination on a panel - i.e. areas with independent control of the light - opens up many other applications," he says.
Design LED's products are typically ~1mm thick and mechanically flexible, with a bend of 5mm over 40mm distance. According to the particular product specification, LEDs are embedded within the light-guide material using a proprietary process. Therefore the LEDs can be placed anywhere across the panel and not just at the edges.
The resulting product performance is similar to standard injection-molded, acrylic backlights, typically providing 500 cd/m
2
luminance from a single medium-brightness LED over a 1.5-inch diagonal area. The company has patent-protected the concept and manufacturing process, and operates an outsourced manufacturing business model.
Typically, the products are produced on transparent polyester or polycarbonate substrates. Standard printing processes - UV screen-printing, press or machined cutting, and lamination - are used to make up the patterned structure. There is no injection molding of the light-guide, so it is effectively a tool-less process.
Panels of up to 1m x 1.5m size can be produced, limited only by available screen-print equipment, but individual panels of much smaller size are the norm.
The company uses industry standard side-mounted LEDs, and has developed critical design and process know-how to enable good cost/performance.
Advantages and applications
Design LED's products can be viewed as an alternative to electroluminescent (EL) film or in-mould decoration/injection molded light-pipes for many applications.
Compared with conventional LED light-pipe products, which use separate injection-molded acrylic light-guides and LEDs on rigid PCBs, Design LED products are thin, mechanically flexible, give patterned lighting, and deliver a fully integrated module, including connector and LEDs. They also have low non -recurring engineering (NRE), very low unit cost, and are manufactured using only printing process.
Compared to EL film products, Design LED says that its low-voltage products have long life, no electrical noise, wider color range, color-change capability, and lower unit cost.
Gourlay says that Design LED is targeting market sectors outside of the conventional LCD backlighting sector, commencing with high-value products sold into the drinks branding sector.
Other sectors will include promotional (animated graphics), industrial human/machine interface (graphics/switch illumination and indication), automotive (interior lighting and indication for instruments and systems), consumer electronics (product/brand/keypad enhancement), and low-resolution displays (thin/flexible patterned panel).
Research and development programs
The company has a number of on-going R&D programs and is developing bare-die LED processes to enable thin light-guides, down to 100 microns thickness for backlight panels. Down at this thickness, the products are a direct replacement for thin EL in space-constrained applications.
The company is also working on the screen printing of advanced micro-optical structures to give improved light efficiency with low-cost manufacturing methods.