Smartphone app for Android or Apple devices delivers simple access to core lighting-industry data that designers/specifiers and others working in the LED and SSL sectors would find useful on a day-to-day basis.
The Illuminating Engineering Society (IES) has announced the availability of the IES Ready Reference App for Apple and Android smartphones, delivering an easy-to-access repository of data and knowledge centric to the lighting industry. The app was developed primarily for lighting designers and specifiers, yet anyone working with LEDs and solid-state lighting (SSL) will find the tool useful. The app delivers tables of data, explanations of principles of the lighting craft, and a calculator for energy and economic calculations.
You can find the app easily on the Apple Store or on Google Play. Download and installation takes perhaps a minute. And the IES has a dedicated webpage on its website with information on the app.
A search feature allows users to quickly find information stored in the app, although there is also a user interface through which you can explore different resources. The available information starts with what the IES calls core lighting knowledge and includes regularly used data such as values from illuminance tables.
An example of core knowledge is a repository of information on lighting controls and smart lighting that is directly accessible from the home screen of the app. There is an opening explanation of why controls are important and of the concepts of manual and autonomous approaches to controls. Then the app goes into detail on various types of sensors. There is also a section on different approaches to dimming.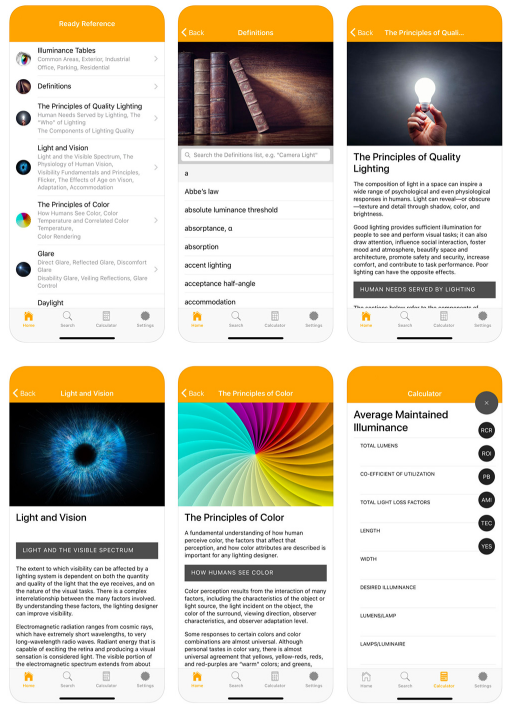 IES releases Ready Reference App on lighting practices for free download
The Ready Reference App has been developed by the IES for Apple and Android smartphone users to quickly find calculation tools, data tables, and information on core lighting principles.
The Lighting Handbook published by the IES, and now in its 10th edition, remains the most complete reference for designers and specifiers, and the app will not replace that reference. But the app does include valuable information from the handbook and IES standards. And a calculator customized for lighting-centric needs such as energy use and project cost is a valuable tool.
Users of the app will find a comprehensive definition of lighting industry terminology. There is a very informative section in the app on glare, for instance. Another section explains basic color science and how humans perceive color. And there is a section on energy codes and the organizations that establish such regulatory specifications.
The IES has developed an incredible set of standards, recommended practices, test methods, and more. For example, we have regularly covered the work on the IES TM-30 color metrics. In the app section entitled "The Principles of Color," you will find a full explanation of TM-30 along with details on other metrics including CRI.
In coverage centric to LED sources, we regularly write about the LM-80 standard for characterizing LED performance and the TM-21 approach to projecting the useful life of an LED based on LM-80 data. Using the app, we searched for LM-80 and the app produced a link to the "Electric Light Sources and Peripheral Equipment" section. There we found a discussion of LED basics and details on how LM-80 and TM-21 are applied.