The US Department of Energy (DOE) has published the evaluation report from a Gateway demonstration in New York City's Central Park, conducted in collaboration with The Climate Group and the New York City Department of Transportation. Four complete LED post-top luminaires from Spring City, King Luminaire, Philips Lumec, and Osram Sylvania were installed, along with one retrofit post-top luminaire kit from Sentry Electric. The LED luminaires were evaluated for energy savings, lifecycle cost, and light quality relative to the existing metal-halide (MH) luminaires.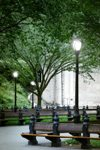 The LED products demonstrated significant energy savings and four of the five had lower lifecycle cost than the MH incumbents. A new method was developed to compare horizontal and vertical illumination given varied pole spacing. Following this report, an updated version of the Spring City luminaire was chosen for the retrofit of 1588 post-top luminaires in Central Park, which began in May of this year and is still in progress (more details below). The full Gateway report is available at
www.ssl.energy.gov/gatewaydemos_results.html
.
Post-top LED luminaire comparison
In Central Park, the pathway lighting is performed by 9-ft tall post-top luminaires that are spaced 80-ft apart, but this spacing varies both due winding paths and foliage. Walkway lighting must consider both horizontal and vertical illuminance values. Horizontal measurements confirm the amount of light available for navigating the path, while vertical measurements are necessary for safety purposes. The report stated that that because current Illuminating Engineering Society (IES) guidance on appropriate measurement procedures is limited for this application, a polar measurement system was devised for horizontal and vertical measurements to enable consistent comparison of luminaire performance regardless of location. Two of the LED products provided better horizontal illuminance values and three products provided better vertical illuminance values than the MH incumbent. Four LED products had better BUG ratings than the MH luminaire.
All of the LED products evaluated provided significant energy reductions relative to the MH baseline, measured at 51% for the King Luminaire, 55% for the Sentry Electric, 58% for the Philips Lumec, 67% for the Spring City and 83% for the Osram Sylvania luminaire.
Four of the LED products offered lower lifecycle costs than the incumbent luminaire based on an analysis period of 75,000 operating hours. The Osram Sylvania luminaire had the lowest lifecycle cost, followed by Philips Lumec, King Luminaire, and Spring City, then the MH baseline and Sentry Electric luminaire.
Upon full evaluation, the New York City DOT selected an updated version of Spring City's Central Park luminaire to install throughout Central Park. The newer version is 15% more efficacious than the one evaluated in the Gateway study. The Spring City luminaire in the study was the only one of the five evaluated luminaires with a warm-white color temperature (3000K CCT) and it also offered the highest CRI at 85.
The re-illumination of Central Park
Spring City Electrical announced in June 2012 that it had been selected as the supplier of LED luminaires for New York City's Central Park re-lighting project, beginning with the installation of 1588 LED luminaires. Central Park is replacing 175 existing metal-halide (MH) lamps (210W) with Spring City's Central Park 67W LED luminaire. The energy savings is estimated at up to 62% annually, with an annual maintenance savings of $29,618 based on component and lifecycle cost. In addition, the LED luminaires are estimated to save 314 tons of CO2 annually.
The evaluation of the LED luminaires began in the fall of 2009, and by June of 2011, New York's DOT appeared ready to place a contract with Spring City for the Central Park project.
"The Central Park LED luminaire has been put through the most rigorous LED testing procedure the industry has ever seen. We feel that our engineering capabilities and customer service tied with our old world craftsmanship allowed us to be successful," said Chris Rosfelder of Spring City Electrical.
These LED luminaires will be placed on existing nine foot tall B-9 cast iron posts mostly manufactured by Spring City Electrical, some of which date back to 1911. Alan Brink, President of Spring City Electrical commented, "An LED system that will last well over 75,000 operating hours mounted on a 100-year-old lamppost is sustainability at its best and not to mention an outstanding lifecycle cost!"
Photos of luminaires in different parts of the installation in Central Park can be viewed here.