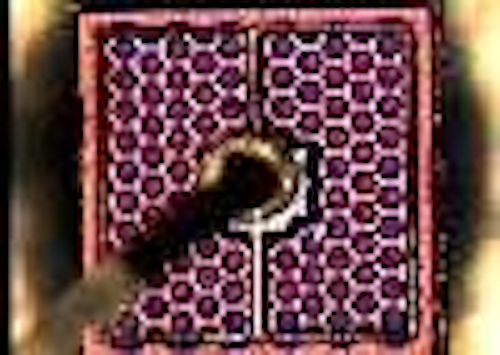 Numerous techniques have been developed to enhance the extraction efficiency of LEDs, and several of these rely in part on the emission from the sidewalls of window layers and transparent substrates. In some cases, notably Lumileds' TIP-LED and Cree's XBright device, the chips are shaped. Sidewall emission becomes less effective when the chip area is increased, so that in larger chips the extraction efficiency and hence the luminance (which correlates to brightness) is reduced.
Osram Opto Semiconductors has developed a new approach that does not rely on sidewall emission, and allows the luminance to be scaled with chip area.
Osram's "Thin Film" technology involves bonding the LED structure to a metallized carrier substrate, after which the original epitaxial growth substrate is removed by laser lift-off. The company has manufactured prototype 5 mm radial blue (460 nm) LEDs with an output of 16 mW at 20 mA.
At the Intertech LEDs 2003 conference, Osram's Klaus Streubel described the fabrication of AlGaInP Thin Film devices, a process carried out using 4 inch wafers. After growth, microprisms are etched into the epitaxial layer structure, and the surface is coated with isolation and metallization layers. This structure is bonded to a metallized carrier before removal of the original GaAs substrate.
In the final device structure (see image, left), a p-contact is formed at the top of each microprism. Light emission takes place from the active layer within each microprism, but does not take place in the area directly underneath the n-contact bond pad. Furthermore, the geometry of the microprisms causes light to be efficiently reflected towards the top surface. As shown in the right-hand image, each device contains a number of microprisms.
According to Streubel, 618 nm Thin Film devices have demonstrated an extremely high luminous efficacy at 20 mA of 96 lm/W, with a wall-plug efficiency of 33%. At 10 mA, the efficacy was slightly higher at 98 lm/W. The 300 x 300 µm devices had an output of 12 lm at 70 mA. Streubel also reported yellow LEDs (595 nm) with an efficacy of 49 lm/W at 20 mA and an output of 7 lm at 70 mA.
In comparison, Lumileds has reported an efficacy of 100 lm/W for its 605 nm TIP-LED chip, which has a much larger size of 1 x 1 mm.
The above results have been generated with Osram's third-generation Thin Film devices, while first-generation devices have been commercially available for about a year. At a current of 600 mA, large first-generation devices measuring 1 x 1 mm generated an output of 44 lm at 615 nm.