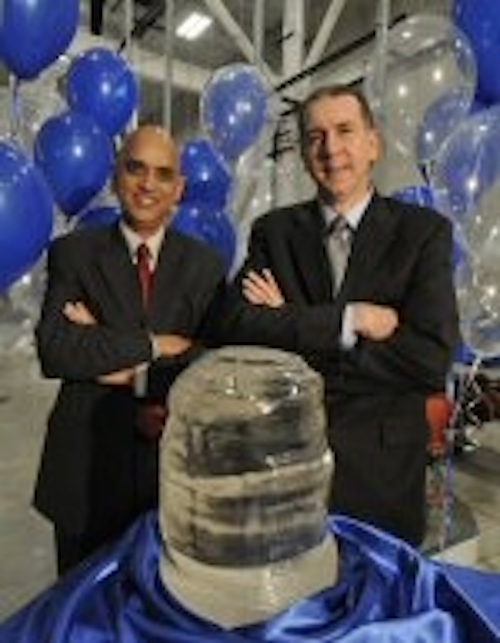 Rubicon Technology, Inc. (Nasdaq: RBCN), the US-based sapphire wafer manufacturer, is currently enjoying a "strong pricing environment", to quote one of its financial analysts, based on substantial increases in the prices of sapphire wafers for the LED market.
For the quarter ended September 30, 2010, Rubicon's overall revenue grew by 30% sequentially to $20.5 million. For the LED market alone, revenue was $19.4 million, up 39% compared with $14 million in the previous quarter.
Since the company was operating at full capacity, the revenue increase was due mainly to an approximately 30% increase in average selling prices (ASPs) for substrates during the quarter. Prices have been rising rapidly since the beginning of 2010. Notably, however, analysts say that prices for 2-inch wafers have risen much more rapidly than for other wafer sizes, with estimates of 50-80% quarter-to-quarter price increases during 2010. Rubicon estimates a further ASP increase of 15% during the current quarter across all wafer sizes.
So why have prices risen so sharply?
LEDs Magazine
spoke with Rubicon's CEO, Raja Parvez, who pointed out that, during the market downturn in 2009, prices fell substantially to a level that was not sustainable from the point of view of sapphire suppliers. So in part the recent price rises are due to a market correction, but in part they are also due to an imbalance in supply and demand, particularly for 2-inch wafers.
Parvez explained that a massive amount of MOCVD growth capacity has been added recently, particularly in China and Taiwan, which in turn has created strong demand for 2-inch sapphire. (In the MOCVD growth process, high-quality semiconductor layers are deposited onto a thin, circular wafer or substrate, which for LEDs is usually sapphire).
Adding to the imbalance, Parvez said that a number of LED makers are moving or have moved to larger-diameter (3- or 4-inch) wafers. With suppliers manufacturing these larger products, this has reduced the availability of 2-inch wafers.
However, it should be pointed that several of Rubicon's larger customers for 4-inch wafers are focused on the TV backlighting market, which has experienced softness in recent months. This resulted in a build-up of sapphire inventory at the LED makers, and reduced demand for Rubicon's products. Parvez said that Rubicon's customers "expect the current excess panel inventories to clear out in the next few months."
Customer satisfaction
Andrew Huang, an Equity Researcher at Sterne Agee, believes that Rubicon "runs the risk of alienating its customers" due to recent and ongoing price increases, particularly for 2-inch wafers. "Though Rubicon may believe they are the only game in town today, a year from now, the competitive landscape could be very different," he said.
Huang points out that many of Rubicon's customers are polishing companies, and some are looking to grow their own sapphire boules, instead of purchasing from Rubicon. "Today, all the top sapphire makers today make their own furnaces," says Huang. "Now that you can buy furnaces from companies like GT Solar (and lots of others in Russia), barriers to entry are much lower."
LEDs Magazine asked Parvez whether he thought that the recent price increases could alienate customers in the longer term, especially when more supply comes on line, both from Rubicon and its competitors. With the opening of two new facilities (see below), Rubicon has placed itself in a strong position to increase its output volume. Parvez points out that "it's much easier to add consumption than to add to capacity" for sapphire.
"We are not concerned about our ability to maintain market share," said Parvez. "We have been responsible with our pricing structure. Also, it's very expensive to qualify new suppliers. No-one likes the price increases, but the LED industry has changed and now requires high-volume and stable supply, which we can offer, along with high quality."
Growing capacity
On November 5, 2010, Rubicon celebrated the first boule (sapphire crystal) produced in its new facility in Batavia, Illinois. The 135,000 square-foot sapphire-crystal manufacturing plant is expected to double Rubicon's capacity, which currently stands at 5 million 2-inch-equivalent wafers (in other words, the total wafer area — including all wafer diameters up to 8 inches — is the area of a 2-inch wafer multiplied by 5 million).
Parvez says that new furnaces are now being installed for crystal growth; these are all home-built systems that use proprietary technology. The installations should be finished by the fourth quarter of 2011. Also, with crucial infrastructure in place, for example to provide water and cooling, the facility has additional space to allow further rapid expansion in 2012 and beyond.
While the Batavia facility will carry out crystal growth, Rubicon has also opened a slicing and polishing facility in Penang, Malaysia. This will focus on producing polished 6- and 8-inch wafers for direct sale to customers. For smaller wafers (2-, 3- and 4-inch wafers), Rubicon will continue to supply whole crystals to polishing companies in Asia. Some 4-inch polished wafers can be produced internally, depending on demand for larger wafers.
6-inch demand
Although most of Rubicon's revenue is currently from smaller wafers, the company has a focus on large-diameter (6- and 8-inch) wafers, using its internal know-how and experience in supplying such products to other (non LED) industries. The company's revenue from 6-inch polished wafers was $4.7 million in the third quarter of 2010, of which $4.5 million was from the LED market, a sequential increase of $1 million. Rubicon expects the majority of its revenue to come from 6-inch wafers by the end of next year.
"We have supplied 6-inch wafers to multiple LED customers since the beginning of 2010," says Parvez. "Most are at the R&D stage but at least one is in volume production." This is the same company that signed a $71 million supply agreement with Rubicon back in August. Parvez explains that the customer is already receiving 6-inch wafers, but that the large order, which began in November 2010, will "lock in" the supply going forward. This was essential so that the customer could move into production. "We are the only manufacturer that can supply [6-inch sapphire] in such volumes," says Parvez.