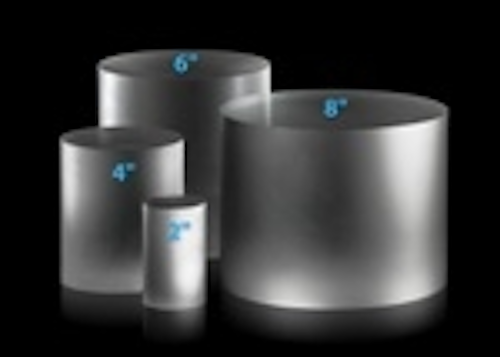 Larger wafers are one avenue toward lower-cost LEDs and a faster uptake in solid-state lighting (SSL), and Suzhou Hyperion Geocrystal has announced that it has entered production on wafers up to 8 in (200 mm) in diameter. The company, located in the Jiangsu Province of China, is using ARC Energy Controlled Heat Extraction System (CHES) furnaces to produce the cores and is selling cores, epi-ready wafers, and patterned sapphire substrate (PSS) wafers.
Larger wafers are one of a number of avenues that manufacturers may take looking to lower manufacturing costs. Larger wafers result in a greater number of die produced in the epitaxial process – assuming the manufacturers can maintain yields with the larger wafers.
ARC Energy says that its furnaces are superior to the competition in that the equipment enables sapphire to be grown directly on the c-axis of the core. That ability yields higher material utilization as the diameter of the core grows.
"Our CHES furnace customers are in a unique position to deliver large-diameter sapphire with high quality at low costs due to the high material utilization inherent with our on-axis growth technology," said ARC Energy senior vice president Hap Hewes. That advantage led to Hyperion Geocrystal choosing the CHES product. Ares Fang, president of Hyperion Geocrystal, said "We chose CHES technology because its unique approach to high quality sapphire growth gives us a distinct advantage in the marketplace, including our material's acceptance at several LED chip manufacturing customers."
The CHES furnace can actually produce cores in 2-, 4-, 6-, and 8-in (50-, 100-, 150-, and 200-mm) diameters. ARC Energy refers to that capability as scalable yield as core makers can move to larger diameters as the market demands them.
As we covered in another recent news story, there is a lot of activity in a move to silicon-based wafers in larger diameters seeking lower costs. ARC Energy, however, believes sapphire can maintain its incumbent position with the ability to scale to 8 in and perhaps beyond.