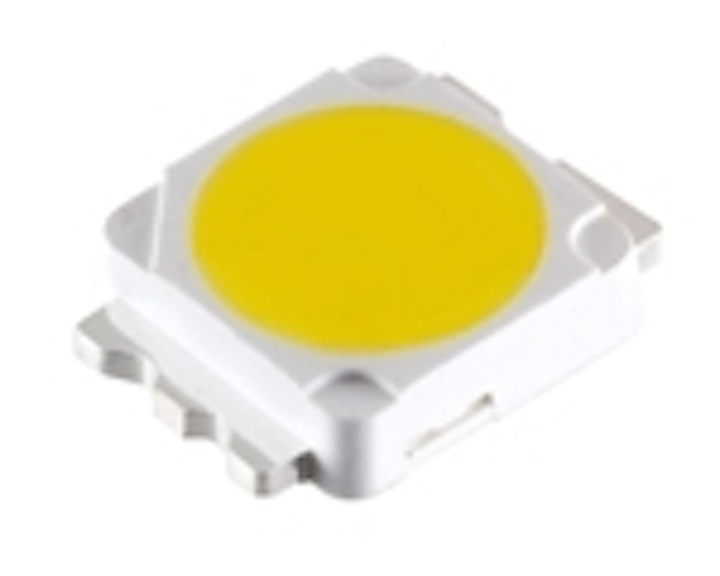 Toshiba has announced that it will begin production of white LEDs on 200-mm (8-in) silicon substrates this month. The TL1F1 1W LED is the first product and will deliver 112 lm at 350-mA drive current. The combination of larger wafers and access to automated back-end manufacturing tools in depreciated IC fabs has the potential of lowering the cost of LEDs and accelerating solid-state lighting (SSL) deployment, although obstacles remain in reaching the optical efficiency of sapphire-based LEDs.
The race to gallium-on-silicon (GaN-on-Si) has been a heated one and Toshiba, among others, will claim a win in the race to begin production. The company said back in July that it hoped to begin production in October and came close to hitting that target using the technology that it had licensed from Bridgelux earlier.
Details on the new LEDs aren't fully available beyond the luminous flux mark mentioned previously. That spec is almost certainly applicable to a cool-white LED because it's likely Toshiba would have used the highest flux spec in the family at announcement.
Based on the statement in the release that the announced product is a 1W device, that would put the forward voltage at about 2.85V and efficacy at 112 lm/W. Bridgelux has said that it produced GaN-on-Si LEDs in the lab with an efficacy of 150 lm/W.
For comparison, Cree announced the new XM-L2 LED family last week that is similar in size. The Cree LED measures 5×5 mm while the Toshiba LED measures 6.4×5 mm. Cree said the XM-L2 LED can deliver 186 lm/W in cool white at 350-mA drive current. Still, it's not fair to judge the Toshiba offering until we see a detailed data sheet.
Toshiba said it is planning to produce 10 million units per month. The company did not say how long it will take to reach that rate.
Other GaN-on-SI players
We've been expecting more news from the GaN-on-Si players throughout the fall. Azzurro Semiconductors has been attacking the problem building template wafers that have the base GaN layer applied, upon which LED companies can then build their own LED structures. That company has been linked to both Osram Opto Semiconductors and Epistar.
Partners Lattice Power from China and Plessey Semiconductors from the UK are also working on the technology. Lattice had claimed that it was in production of such devices back in the summer, but SSL products using such LEDs haven't been in evidence.