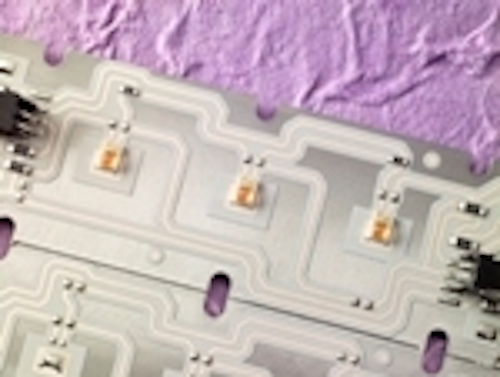 +++++
This article was published in the July/August 2011 issue of LEDs Magazine.
View the Table of Contents and download the PDF file of the complete July/August 2011 issue.
+++++
As the LED market grows, companies that assemble LED-based products are looking for methods to make them more efficient and reliable, thus making them more cost-effective for the consumer. To guarantee high-quality performance from an LED, efficient heat dissipation is crucial. LEDs convert only 20-30% of their electric power into visible light; the rest converts into heat that must be conducted from the LED to the atmosphere. This excess heat reduces the LED's efficiency and reliability, resulting in a shorter lifespan. Thermal management, therefore, is essential for maximum performance.
In the standard method of LED assembly, the LED component is soldered to a metal-core printed circuit board (MC-PCB), a thermally-enhanced PCB or a ceramic substrate, which is then bonded to a heat sink. While such a configuration is currently popular in the industry, it does not manage heat conduction well and is expensive to produce. Consequently, many manufacturers are interested in mounting LED components directly on aluminum substrates. Although aluminum offers excellent thermal conductivity and is less expensive than ceramic or metal, it requires an insulation layer on the substrate.
Thick-film substrates
For one LED assembler, Norbitech AS, finding an insulation system for aluminum substrates was important in meeting their customers' requirements. Norbitech, headquartered in Roros, Norway, is a supplier of electronic manufacturing services to the international market. The company executes SMT and high-level assembly, and is well-known in the industry for its thick-film production techniques.
"We use thick-film technology to manufacture hybrid circuits with inorganic substrate materials," says Roar Sundt, Sales and Project Manager for Norbitech. "Typically, the circuit-manufacturing procedure entails the deposition of several successive layers (resistive, conductive or dielectric) onto an electrically-insulating substrate using a screen-printing process."
Although the most common substrate material is ceramic plate, thick-film pastes can be printed on special steel alloy plate or aluminum alloy plate. Thick-film pastes offer a highly reliable solution for many purposes such as automotive, high-frequency applications, and high-power/high-voltage electronics.
Fig. 2. shows the stages in a typical thick-film process. Thick-film substrates can be assembled with all types of SMT electronic components by using soldering, gluing or wire-bonding processes. With these methods, thick-film technology has several benefits, which are also shown in Fig. 2.
Manufacturing challenges
Working with high-power LEDs and ceramic substrates can present challenges, says Sundt. "In 2005, we started working with high-power LEDs using standard thick-film material," he says. "At that time, this was a good solution since thermal conductivity was acceptable (28 W/mK) with ceramic plates (alumina) compared to similar PCBs. However, the mechanical strength of ceramic substrates is fragile, making the ceramics prone to cracking. Mounting to the heatsink was becoming a challenge for our customers."
Norbitech needed to find a solution to the mechanical problems, and they found their answer in Heraeus Materials Technology's Insulated Aluminum Materials System (IAMS). Heraeus, a supplier of products for thermal-management applications, developed IAMS as a low-temperature firing (less than 600°C), thick-film insulating system that can be printed and fired on aluminum substrates. The IAMS material set consists of dielectric pastes, conductors, solder masks, and resistors.
According to Mitsuru Kondo, Global LED Project Manager for Heraeus' Thick Film Division, IAMS was designed to be compatible with aluminum processing conditions. "The IAMS technology allows the LED circuit design to be screen-printed directly onto the aluminum substrate," explains Kondo. "Because the IAMS pastes can be fired at less than 600°C, the problems of cracking and bowing are eliminated."
Solving the problem
Heraeus' paste system permitted Norbitech to print directly onto aluminum, allowing them to take advantage of all the benefits aluminum has to offer. "Aluminum is a less-expensive base material than ceramics," notes Sundt. "Since a lot of today's high-power LEDs are electrically insulated at the heat slug, IAMS allowed us to print directly between the LED and the aluminum. The heat transfer from the die to the substrate is excellent."
Another advantage to using IAMS pastes is minimal material waste, resulting in lower production costs compared to etched MCPCBs and thermally-enhanced PCBs, where sheets of copper are chemically etched to create the circuit.
"IAMS is an additive process with selective deposition capability," says Kondo. "The conductor paste is deposited only where the circuit is located. Thermal vias connect easily to the aluminum substrate."
Norbitech used several of the IAMS products including IP6075 Lead-Free Dielectric Paste, an insulating paste that produces an extremely dense, grey, hermetic-fired film; C8829B Low-Temperature Silver Conductor, a low-firing, lead- and cadmium-free, silver-conductor paste; and PD5200 White Epoxy Insulator, a screen-printable, single-component, fast-curing, modified-epoxy coating for circuit protection.
Successful cooperation
In past experiences, Norbitech was not able to find a standard paste system that would exactly fit the application needs of its customers. By working closely with its customers and Heraeus, Norbitech was able to fine-tune the quality and the functionality of its customers' products to fit the application.
"IAMS minimizes thermal resistance by reducing the number of interfaces or layers required in an LED module," explains Kondo. "It allows low-cost design changes, offers the ability to use less expensive substrates, increases conductivity, and lengthens the LED's life span."
All IAMS pastes also meet RoHS requirements, which are especially important to Norbitech, since all the products they produce must meet these standards. Norbitech has held ISO 14001 environmental certification since 2004, and Heraeus has been in the forefront of developing RoHS paste systems.
To ensure that IAMS can provide the thermal management properties that are so crucial to LED manufacturers, the system has undergone extensive independent testing.
"The test results concluded that LEDs soldered with IAMS paste operated at cooler temperatures than the LEDs that were soldered on MC-PCBs," notes Kondo. "The measured thermal resistance between the LED active junction and the board's bottom was up to 10-percent lower with IAMS than in the MC-PCBs."