New York Blue Light Symposium will address topics surrounding blue-light emitters
May 1st, 2015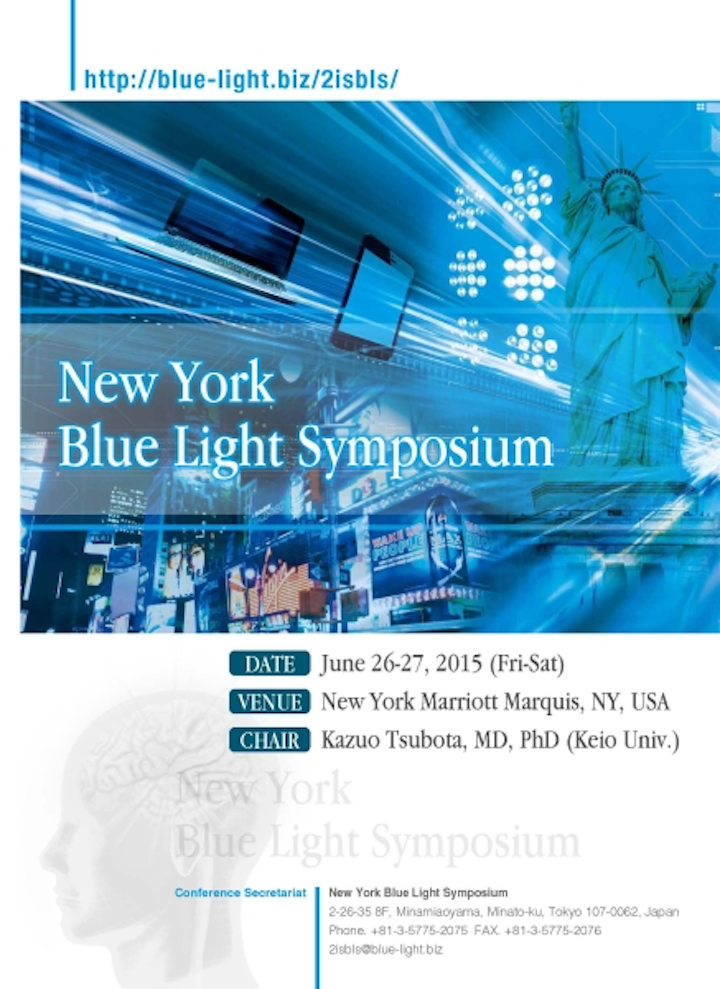 Dates: June 26-27, 2015 (Fri-Sat), Marriott Marquis, New York With the explosion of blue light-emitting LEDs in homes, illuminated screens in personal devices, and increase in time-shift working hours, humans today are exposed to more light than they have ever been before. Recent studies have demonstrated the adverse effects of blue light on human health, including susceptibility to metabolism disorders and cancer. To highlight this issue, the International Blue Light Society was founded in 2013 with 21 charter members from five countries. The 1st International Blue Light Symposium was held in Tokyo that same year, attracting 300 attendees from all over the world. The New York Blue Light Symposium is a venue to discuss and heighten awareness in light studies. Basic scientists, clinicians, students, and other professionals are welcome to attend. Register early to avail of discounted rates. Program summary: - Blue Light Matters: The Eye is a Camera and a Clock*, Kazuo Tsubota, Keio University - AMA report: Adverse Health Effects of Nighttime Lighting, Richard G. Stevens, UConn Health - Blue Light Update, Kazuo Tsubota, Keio University - Non-visual Effects of Light: Implications for Human Health, Claude Gronfier, University Claude Bernard - Effects of Light on Circadian Regulation of Melatonin and Its Consequences for Human Cancer Signaling, Metabolism and Growth Progression, David E. Blask, Tulane University - LEDMOTIVE: Multi wavelength light sources and spectral selection tools to foster research in biology, neuroscience and blue-light-related phenomena, Josep Carreras, Catalonia Institute for Energy Research - Retinal photo-damage and the underlying mechanisms, Yoko Ozawa, Keio University - Thin-Film Optical Notch Filters for the Treatment of Migraine and Photophobia, Bradley J Katz, The University of Utah - New Theory of Dry Eye Related Light*, Kazuo Tsubota, Keio University - Computer Usage, Eye Strain and Eye Protection*, Joshua A. Young, NYU Langone *Title is tentative.
Contact:

Maki Fukasaku, Gazeta USA, Inc. - for NYBLS
+1-212-260-9300
E-mail:

Web site:

Submit new products, case studies/projects, and other press releases at http://www.ledsmagazine.com/content/leds/en/addcontent.html and http://www.ledsmagazine.com/content/leds/en/iif/add.html.