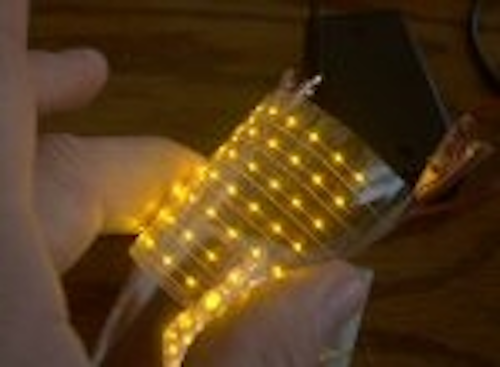 Articulated Technologies has recently unveiled Light-Sheet, a credit-card thin solid-state lighting product that is suitable for a universe of applications in the commercial, marine, medical and consumer markets.
The company, based in Higganum, Connecticut, has a patented fabrication processes employing established semiconductor technologies to make high efficiency, low-energy, solid-state lighting which is environmentally-friendly, long-lasting, and flexible yet durable.
"Our approach offers the advantages of scaleable roll-to-roll manufacturing, greatly increasing the form-factor options for solid-state lighting," company founder John Daniels said.
The company's patented process fabricates light sheets by using a grid of LED chips embedded between sheets of laminated conductive substrates. The light sources employed are at the bare die level, rather than the traditionally used packaged LED lamps.
The resulting panels are extremely lightweight, long-lived, and easily installed or deployed. The lights are also rugged, and can be punctured or cut without affecting performance. For many purposes, the LED lighting is additionally competitive because it does not shatter or break.
The light is bright and diffuse at low power, can function with either alternating or direct current, and is compatible with photovoltaic sources.
The economies are enhanced by several factors: one is the ability to operate the lights off-line and off the power grid. Another is the ease of disposal and minimal degrading impact upon the environment due to the absence of mercury, lead, or any trapped gases in the device structures or manufacturing processes, making this lighting technology RoHS compliant.
The technology also makes it possible to fabricate panels of two or more colors within the same structure. Articulated Technologies has also demonstrated a Light-Sheet embodiment driven as a pixilated display.
For brighter applications, Articulated uses a metal lower substrate which acts as a heat sink, and PWM control can be employed.
The nominal operating voltages are from 3 to 5 volts, depending on the color and intensity. Inorganic LED chips that are appropriately driven are more efficient, produce less heat, and have exceptionally long service lifetimes. Energy savings are realized by reducing the demand for ambient heat dissipation associated with conventional LED lighting systems.
To generate greater light output from the Light-Sheet without generating heat, more LEDs chips can be used. The resulting increase in manufacturing cost is minimal because the LEDs are arrayed between the thin films of the Light-Sheet structure rather than being solder-mounted packaged lamps as is done by other solid-state lighting manufacturers. Avoiding the use of conventionally packaged LED lamps avoids the need for solder, and achieves a significant cost savings as compared with the conventional methods for manufacturing LED lighting arrays.
"Cost-effectiveness and design flexibility are two keys to developing the solid-state lighting industry," said Daniels. "Our manufacturing breakthrough addresses both of those concerns."