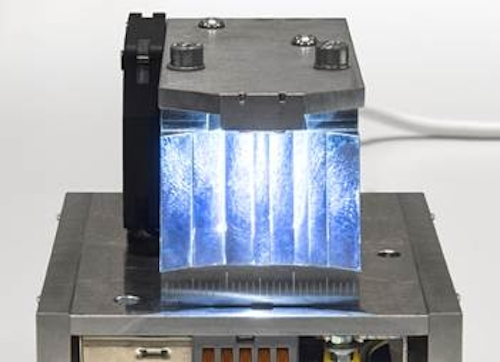 Future automotive headlamps could be implemented as simply as one laser diode for the high-beam function and one high-output LED for the low-beam function.
Osram Opto Semiconductors has revealed a laboratory development of a single LED that delivers 1400 lm and that, combined with a reflector, can implement an automotive low-beam headlamp function that meets relevant global standards. The company believes that in the next two years a module smaller than a box of matches will be all that is required for a capable low-beam implementation.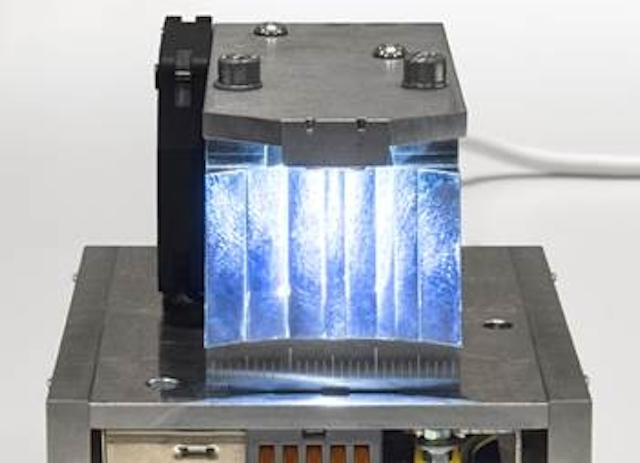 Osram Opto demonstrates single-LED low-beam headlamp in lab
The laboratory work combines a number of technologies in the LED manufacturing process ranging from epitaxy to phosphor conversion to perhaps most significantly packaging. The new LEDs are based on Osram's UX:3 chip technology. UX:3 is a thin-film flip-chip process that results in the contact being on the bottom of the die. After epitaxy, the die is flipped with the light emerging from what was the gallium-nitride (GaN) layer that was originally adjacent to the substrate.
The company also uses a ceramic-based phosphor for the headlamp LEDs, and that phosphor is more capable of delivering consistent lumen output over long life, especially in adverse thermal environments. To help mitigate thermal issues, Osram adapted some packaging technology originally developed for the high-output Osram Ostar LEDs used in projector applications. With the contacts on the bottom of the LED, the component can be soldered directly to copper in the package.
"Osram applied its extensive experience in projection applications to combine the high-current technology with UX:3 chip technology and ceramic conversion technology, which is standard practice for white headlight LEDs," said Stefan Grötsch, senior key expert in application engineering at Osram Opto Semiconductors.
The result is an LED that outputs 200 Mcd/m2 (mega candela per square meter). The company said the LED offers triple the luminance of existing LEDs targeting the auto application. Moreover, the company has tested the LEDs at an elevated 85°C operating temperature where lumen depreciation is less than 10%.
The result is potentially a low-beam module measuring only 30×50 mm. The nearby photo depicts a prototype. The LED is mounted near the top of the modules and radiates into the reflector that is optimized to deliver the desired far-field beam pattern.
Of course, such a simple low-beam headlamp wouldn't be desirable in every auto model. Luxury vehicles will use implementations such as the Audi Matrix where multiple LEDs can steer the beam and even eliminate the need for a dedicated low-beam unit. But the one-LED design could enable broader usage of LED headlamps across mainstream vehicles.