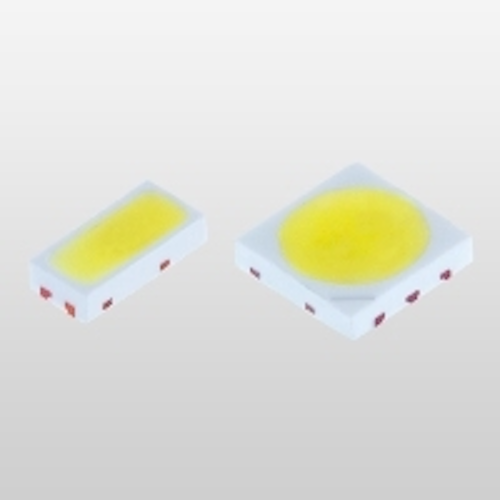 Toshiba has announced two mid-power white LED families that are being manufactured using gallium-nitride-on-silicon (GaN-on-Si) technology. The company said that the LEDs offered in 3×3-mm 3030 and 3×1.4-mm 3014 packages specifically target indoor general lighting applications — retrofit lamps and tubes to linear/planar fixtures.
Both of the new LED families are available across a range of 2700K to 6500K CCTs with a minimum CRI of 80. The 5000K LEDs also can be specified in a 70 CRI version. The TL3GA series (3030 package) can be operated over the range of 0.6–0.9W while the TL2FK series (3014 package) can be operated over a range of 0.2–0.5W.
Toshiba touted a low forward voltage as being important to low-power solid-state lighting (SSL) products. The single-emitter TL2FK products have a typical forward voltage of 2.85V while the dual-emitter TL3GA products have a typical forward voltage of 5.7V.
Still, the efficacy of the GaN-on-Si products trails the efficacy of sapphire-based mid-power LEDs considerably. For example, just last week Seoul Semiconductor announced a mid-power LED in the 5.6×3-mm 5630 package touting an efficacy of 180 lm/W. The company has since clarified that the efficacy claim was for a 5000K LED driven at 60 mA.
It is almost impossible to get an apples-to-apples comparison because different manufacturers specify products under different conditions. But based on some datasheet calculations, the 5000K Toshiba LEDs offer efficacy in the 100–110 lm/W range with the 3014 devices driven at 80 mA and the 3030 devices driven at 100 mA.
The mid-power product launch marked the second major announcement of GaN-on-Si LEDs from Toshiba. Late last year the company announced the 1W TL1F1 LED family. While Toshiba has said that those products are shipping in volume, we have yet to see a prominent SSL product that uses the LEDs.
As we have covered previously, the proponents of Si-based LEDs believe that the technology will yield lower-cost components both because of lower wafer costs and the ability to use depreciated and automated silicon IC fabs for the back end of the LED manufacturing process.
Toshiba had been partnered with Bridgelux in pursuing the Si-based manufacturing technology developed by Bridgelux. Recently, however, Toshiba bought that intellectual property outright, although Bridgelux will presumably get access to Toshiba LED manufacturing capacity as part of the deal.